QuestionPro Internal
QuestionPro publishes API V2 and documentation
Function of QuestionPro API
With QuestionPro-API (Application Programming Interface), users of the survey, market research and experience management platform can use a wide variety of applications, such as ERP, CRM or sales systems QuestionPro connect so that these applications can interact with each other. The primary interaction of external applications with QuestionPro takes place via a so-called API access key. This access key enables other applications to access your user account without a password.
What has changed?
REST architecture
We have extended our API to follow the REST architecture that is used by most SaaS platforms and is currently the best industry standard for APIs, i.e. for providing interfaces for connecting different applications to one another. REST stands for Representational State Transfer. What REST means is a kind of thinking model in which the architecture of interfaces should be developed so that systems can optimally interact with one another. REST technology is generally preferred over other similar technologies. This is usually the case because REST requires less bandwidth and is therefore more suitable for efficient use.
Intuitive and safe
We use built-in HTTP functions such as HTTP authentication and HTTP verbs so that you can securely interact with our API from a client-side web application. All returned responses within an interaction are JSON objects. API V2 is also very intuitive and secure.
As seen below, the endpoints for accessing our email list in API V1 had a different structure and all followed a single HTTP protocol - the POST method. API V2 uses a single resource that leaves no room for confusion.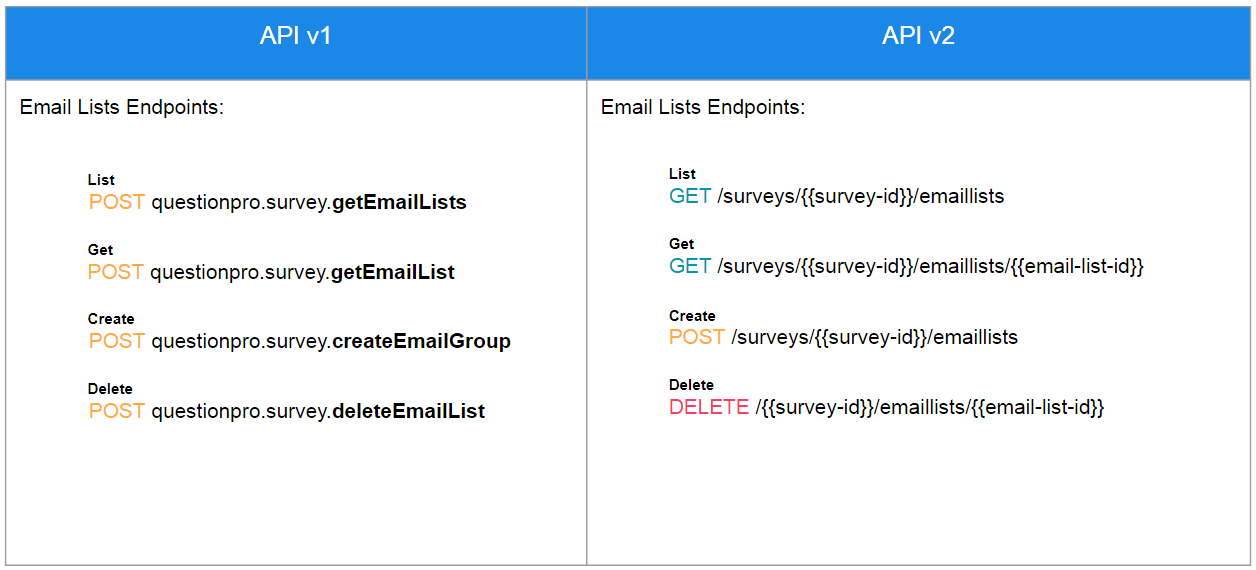 No system impairment during and after the API migration
The "conversion" of the interface architecture from API V1 to API V2 will not affect your day-to-day work with QuestionPro to have. Based on our regular security tests, we did not find any vulnerabilities including buffer overflows. We also have these tests carried out regularly by third parties. With an intuitive URL pattern, it is easier than before for our users to make calls and QuestionPro- Use functions via other applications.
Resources
→ API documentation
→ API V1 to V2 migration
Über QuestionPro
QuestionPro is one of the leading providers of technologies and services for market research, Customer Experience Management and reputation management with over 4 million users in more than 100 countries. The use of QuestionPro enables companies and organizations to convert findings from surveys and surveys as well as from the collection, structuring and analysis of data from third-party systems into better decisions. Our reliable and innovative technologies have been used for more than two decades by the TOP 100 companies, universities, SMEs and in market and opinion research.
---
You have any questions to this topic? Simply contact us via contact form. We look forward to speaking with you!
---
Try software for market research and experience management now for 10 days free of charge!
Try QuestionPro's market research and experience management platform for free.