Customer experience management
Complaint management software with closed loop feedback function
It's that easy to use QuestionPro in the context of complaint management for the recording of complaints and complaints, for complaint and complaint handling and to analyse data from complaint and complaint processes
Good complaint management is essential and needs a good complaint and complaint system
Use the Customer Experience Management platform from QuestionPro as a workflow-based complaint and complaint system for your complaint management as well as for your complaint management! Define online input masks for your customers on your website or data input masks for your customer service or support for telephone complaints quickly and easily. Create sophisticated complaint processes and intelligent complaint management quickly and easily using an intuitive user interface.
Complaint management as a marketing tool
Make your complaint management a real marketing tool with the QuestionPro Feedback promotion function, in which successful complaint processes can be shared by customers in the social networks! The complaint and complaint management software within the Customer Experience Management platform QuestionPro is high-performance, reliable, secure and collects data centrally via distributed systems and also triggers processes and workflows for smooth complaint management!
Insights into complaints and claims
You can also gain valuable data on complaints and complaints. Evaluate the data obtained from complaints and complaints centrally and generate an NPS (Net Promoter Score) or a CSAT score (Customer Satisfaction Score) fully automatically with the complaint and complaint management software. The complaint management software from QuestionPro provides you with real-time insights for quick business decisions!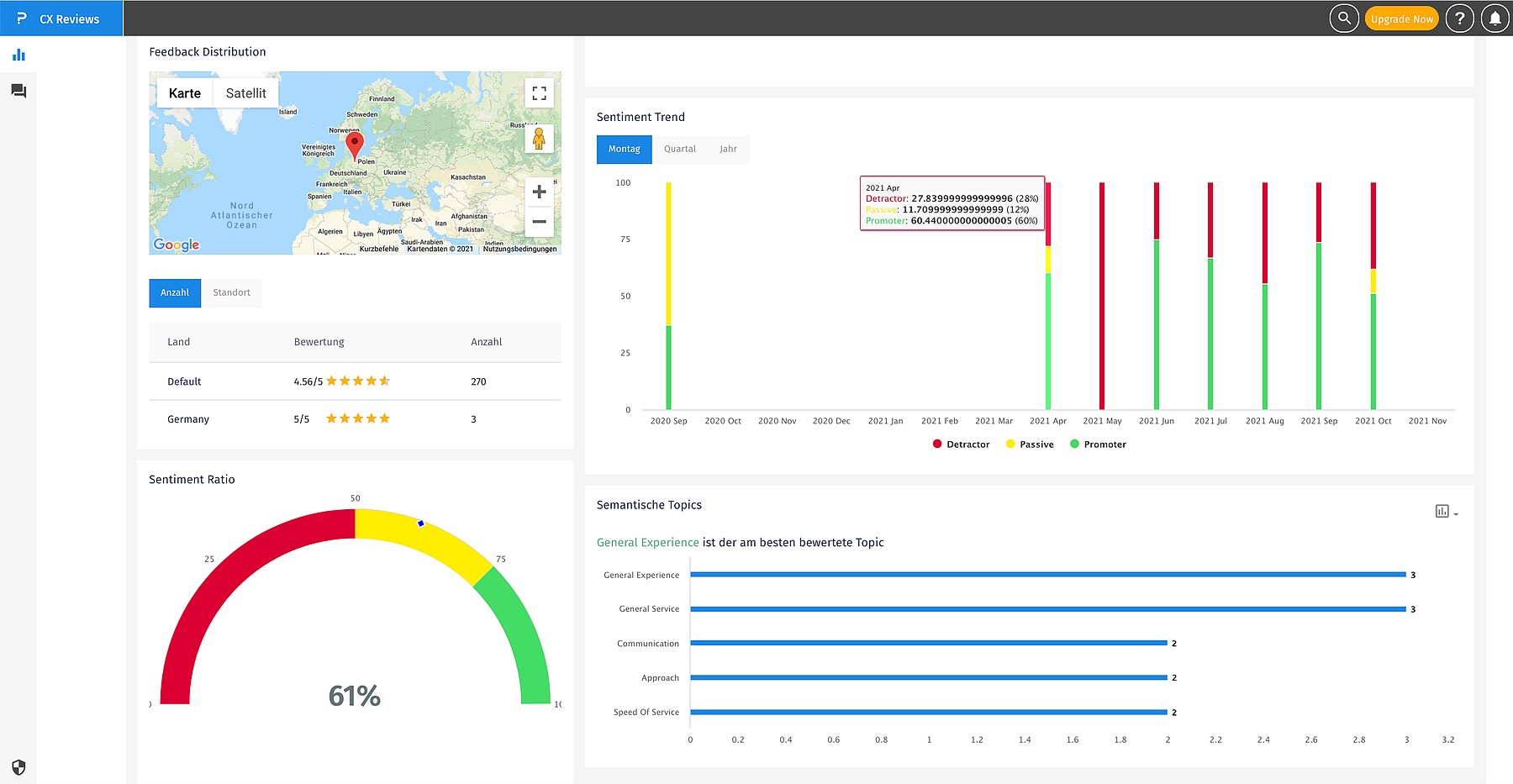 Tip: Act before complaints and negative reviews reach the public - use the closed loop ticket system from QuestionPro. You can get more information here: Closed loop feedback
Few complaints and complaints equal satisfied customers?
It is a big mistake for companies to believe that a low number of complaints and complaints suggests that their customers are generally satisfied. Because only a good 15% of all customers complain at all. Still others break off the complaint process or complaints prematurely because companies do not offer the appropriate infrastructure for a fast, simple and smooth complaint or complaint process or even deliberately make it more difficult by making service numbers difficult to find or telephone waiting loops last indefinitely. Soothing music from the earpiece alone does not make customers happy and satisfied! A bad complaint management system that is awkward to use or not very efficient can also cause frustration on the part of employees.
Avoid loss of knowledge due to neglect of complaint management
Companies with inadequate complaint management or complaint management lose the opportunity to gain important knowledge and insights into the satisfaction of their customers and the quality of their products and services, for example if they neglect complaint management in principle or if complaints and complaints are not covered by corresponding complaints or complaints Follow up on complaint systems. And often employees do not even know how to deal with dissatisfied customers because they either do not have the appropriate skills or they lack communication skills. The result: disappointed customers eventually wander away quietly and secretly.
Complaint and complaint management is important: Satisfied customers remain loyal to the company!
It is so easy to set up a good and low-administration complaint management system. And it makes sense: the majority of all customers who have been satisfied after a complaint or complaint remain loyal to the company! And they pass it on! For example via social media platforms such as Twitter, Facebook or the relevant review portals. In this way, good complaint management can become a real marketing tool!
Complaint management and complaint management with QuestionPro
Create input mask for recording complaints and complaints
First, with the help of the in QuestionPro integrated questionnaire and form editor an input mask for recording customer complaints. More than 50 question types, comprehensive validation functions, question logics, database comparisons and plausibility checks are available to you, which support your customers in providing information on the complaint quickly, easily and in a structured manner. The input mask is fully adaptable to the CI of your company and can be easily integrated into your website or a special landing page for your complaint management with the help of an automatically generated code snippet. Of course, you can also use the form to receive complaints and complaints by telephone - also automatically using Interactive Voice Response!
Define complaint management processes with a workflow and process-capable system
During the creation of the form, you also develop the complaint or complaint management process. To which responsible employees should the data from the complaint be sent? Which automated processes need to be initiated? What should happen in the event of escalations? Which messages should customers receive when the complaint data arrives in your company? QuestionPro offers you sophisticated feedback and reaction management in real time and can also be easily embedded in your existing BPM and workflow infrastructure. The possibility of connecting the complaint and complaint management software from QuestionPro to CRM, sales and ERP systems is a matter of course! QuestionPro guarantees holistic and comprehensive complaint management!
Closed loop feature
So that no complaint can be lost until it is resolved or closed, offers QuestionPro a closed loop ticket system (CLT), with which complaints and complaints can be tracked according to defined processes.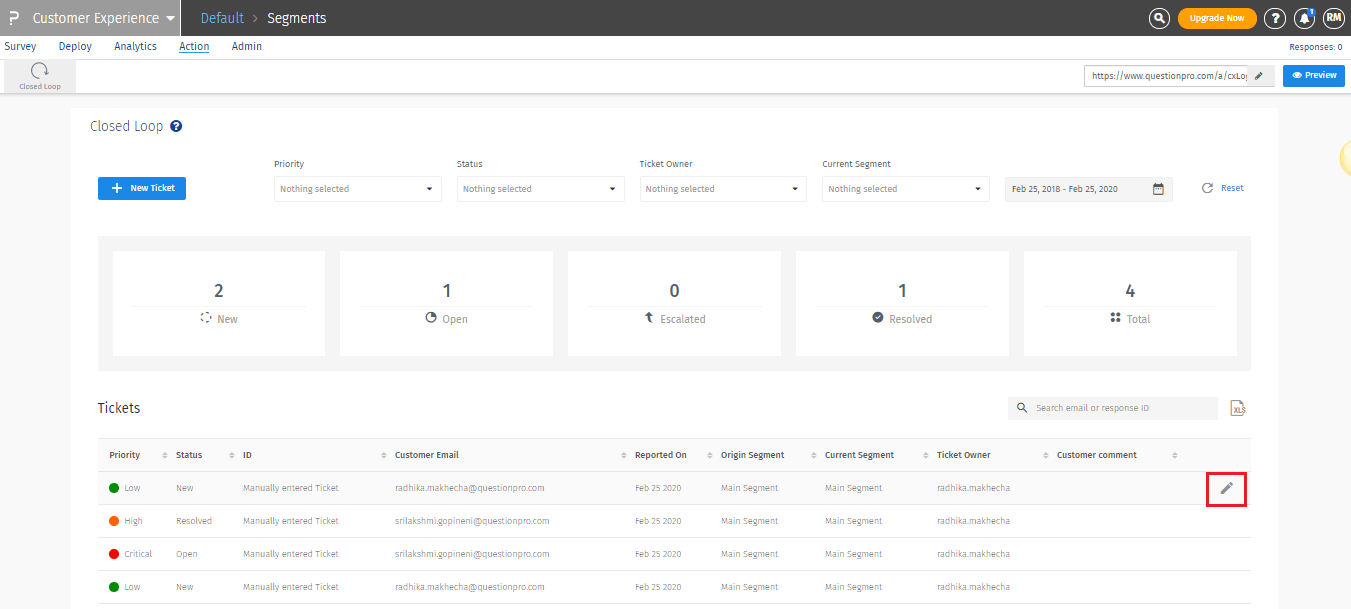 Problem solved? Spread the word!
If you have been able to satisfy your customers after successfully processing a complaint or complaint, then there will be a great willingness to do you a favor and to spread these positive customer experiences! And you can actively support your customers with the in QuestionPro included feedback promoter function. After the complaint has been processed, you send your customers a response by email that contains a question about the satisfaction of the complaint process. If your customers answer this question positively, it is possible, provided that your customers agree, to share this positive feedback directly in your defined social media networks!
Data analysis in complaint management and complaint management in real time
QuestionPro offers you the opportunity to analyse all incoming complaint and complaint data and to create real-time evaluations of the type and scope of complaints and complaints. With the clear reporting dashboard you have everything at a glance! And so that you can also create evaluations with third-party systems offers you QuestionPro the function of data export in all common formats, such as CSV, XLS or SPSS and others. The export of the in QuestionPro The graphic reports contained in PowerPoint, Word or PDF, for example for presentation purposes, are possible at the push of a button.
Complaint management and complaint management with QuestionPro as a complaint and complaint system
Easy-to-use complaint management software and workflow and process-oriented complaint system in one!
Easy and quick creation of forms for recording complaints
Easy integration of the forms on websites
Definition of complaint and complaint processes already during the creation of the form
Ticket function, ticket tracking & closed loop
Automatic feedback to customers
Definition of escalation scenarios
Graphical analysis of the complaint data at a glance
Integration into existing workflow
Problem-free connection to third-party systems such as CRM or ERP
CAPI / CATI - capable
Interactive Voice Response
API interface
Definition of webhooks
Complaint management and complaint management as a marketing instrument
Determination of KPIs such as NPS, CSAT, CES, CSS
---
Test complaint management software now for 10 days free of charge!
Do you have any questions about complaint management, complaint management or our complaint systems within the scope of Customer Experience Management? Simply contact us using our contact form. We look forward to speaking with you! you are welcome to QuestionPro Test as a complaint management system (web-based software) for your complaint management for 10 days free of charge.
Try QuestionPro's market research and experience management platform for free.
---
1:1 live online presentation: complaint management with QuestionPro
We would be happy to show you how your complaint management process will be included in a 1:1 live online presentation QuestionPro be able to map, obtain, process, track and analyse data from complaints.
Arrange a personal appointment now
---