Customer Experience Management in Practise
The Process of Conducting Customer Surveys
Customer Experience Management is a high priority for 78% of all marketing managers
Study: The Importance of Customer Experience Management
78% of all marketing managers surveyed said Customer Experience Management is a high or very high priority according to a study titled "Customer Experience Management: Hype or Real Added Value?" by ECC Cologne.
Most of the respondents said Customer Experience Management was a high priority but the study also shows that high costs, privacy issues and fear of rejection cause many CEM programmes to stall.
What is Customer Experience Management?
At its core, Customer Experience Management is about the consistent recording, control and optimisation of all contact points between a company or brand and its customers. Thus, Customer Experience Management is a process of identifying customer touchpoints, measuring satisfaction at those touchpoints and then increasing positive experiences while decreasing negative experiences. This has become increasingly important as businesses learn it can be much more effective to differentiate based on they experience they provide to a customer even if their product is similar to the competition.
---
"QuestionPro is a great choice to quickly and easily create questionnaires to measure customer feedback at all touchpoints and optimise in real-time. The high ROI and first-class support convinced us QuestionPro was the right choice."
---
How does it look in practise?
The first step is document all of the touchpoints where a customer comes in contact with your brand, product or services. This is called Customer Journey Mapping. Some examples of touchpoints could be listening to a radio commercial, visiting an online shop, queuing at the checkout in a supermarket, an order process, a check-in at a hotel or office, etc. These points of contact are divided into different phases within the customer journey ranging from first awareness to consideration to purchase.

Simplified representation of the customer journey – the customer journey map
---
Examples of Customer Experience Management Outcomes
Collecting feedback at the various touchpoints in the customer journey will uncover new initiatives and outcomes that can improve the entire customer experience. These can be big projects like holding a customer conference or small projects like adding more information on the website.
Reducing waiting times in the store

Easier order processing on the website

Allowing for new payment methods

Customer loyalty events

Improved usability of a mobile app

Free shipping

Extended warranties
Many of these outcomes will depend on the creativity, budget and support of those responsible for improving customer experience. Ultimately, it all comes down to what outcomes will have the highest return on investment in increasing positive customer experiences and minimising negative customer experiences. All of this should be based on the continued feedback you are collecting at each of the customer touchpoints.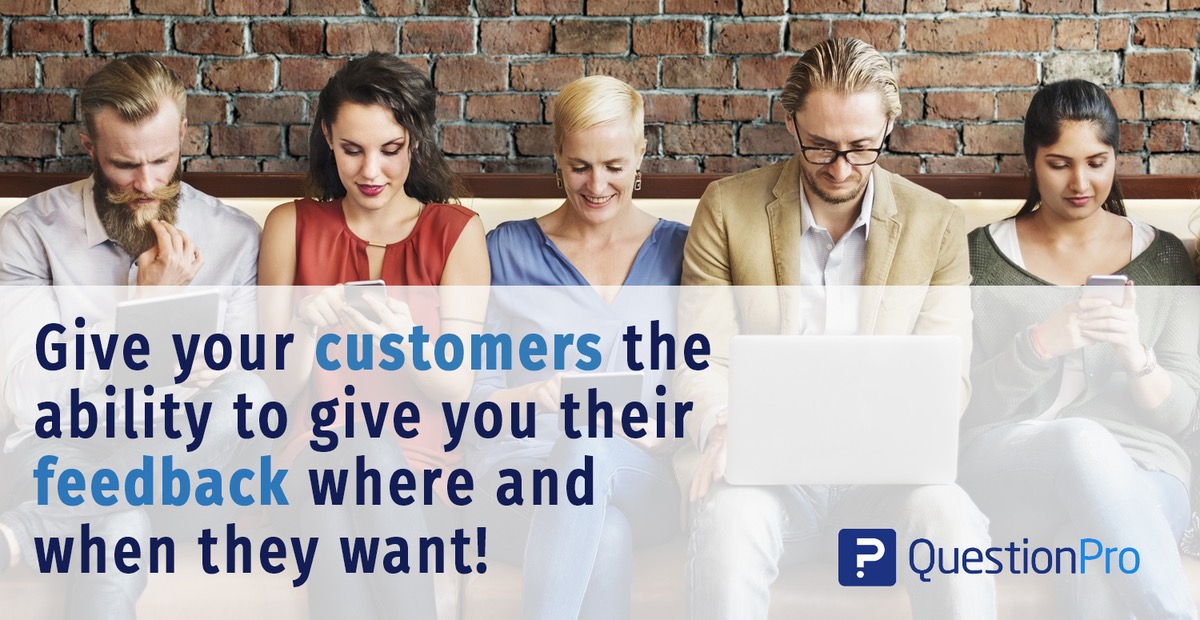 ---
How do I know if our Customer Experience Management efforts are working?
Simple: measure, measure, measure! You need to be asking your customers for feedback whenever possible. Thanks to modern survey technologies you can now ask your customers for feedback at every touchpoint in the customer journey. These should be ongoing surveys that are automatically triggered wherever each customer is in their personal customer journey. These surveys help you identify areas of improvement and they tell you if your initiatives to improve the experience is working.
Examples of Customer Experience Measurement
Online intercept surveys: you ask your customers about the quality of content and usability while visiting your website.
A feedback terminal after leaving an aircraft where you can tell the airline how satisfied you were with the flight.
Receiving a survey link in an email from a hotel after checking-out.
Asking your customers on your website whether they would recommend your company, product, service or brand to a friend. This allows you to determine your Net Promoter Score.
Conducting surveys to measure the perception of your advertising campaigns.
A hospital conducts patient surveys after an appointment.
You are invited to a personal feedback session after attending an event.
There are countless examples of customer surveys within Customer Experience Management. It's important to have a comprehensive view of the entire customer journey. There are always creative ways to ask for feedback no matter what touchpoint a customer is at.
Everything at a Glance:
Customer Experience Measurement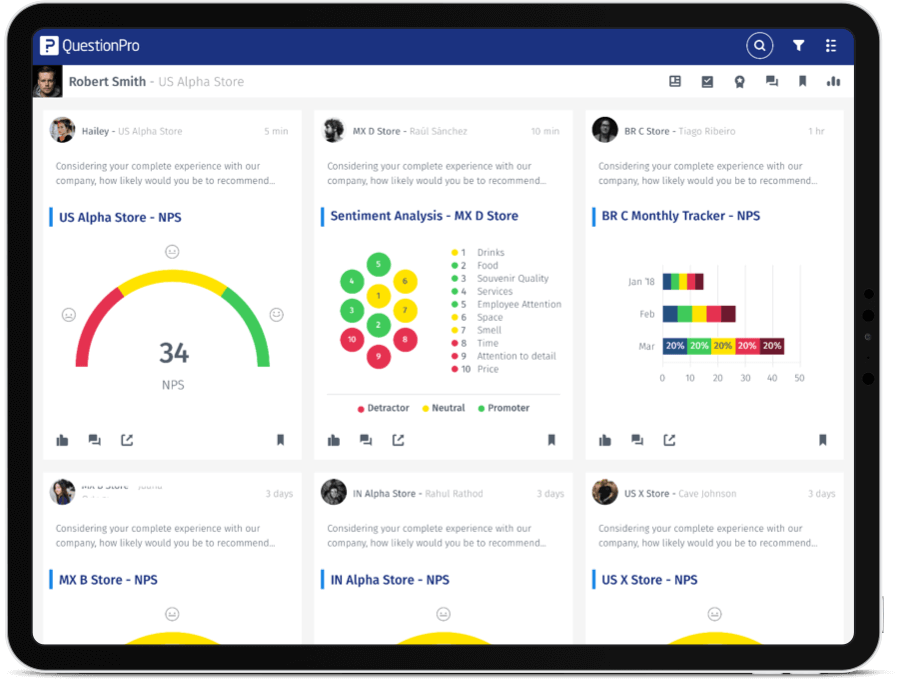 There are many different ways to ask for feedback but all of that data needs to come back to a central database and dashboard. You should avoid looking at data from third party applications in isolation. For example, you may see some feedback through social media monitoring but that is only one piece of the puzzle. There could be other touchpoints that warrant even more attention. The comments on social media may be coming from a certain segment of customers that you will not be able to identify until you have a full view of that customer. Thus, it becomes essential to have a holistic survey and analysis platform that can be embedded in all of your existing IT systems and across all of the customer touchpoints. QuestionPro's Customer Experience Management Platform can help!
Conduct customer surveys with QuestionPro
Notice we did not say customer 'satisfaction' surveys. It's not enough to just ask how satisfied someone is. You should ask why, ask about areas for improvement, ask specifics about your product or service. You can use advanced logic and question types in QuestionPro to keep surveys short while still getting high quality feedback.
Start early with customer surveys!
Many companies believe they should only start asking for feedback once they are mature and have lots of customers. Instead, you should start with your customer surveys from day 1. This is when you are most agile to make changes and when customer feedback is most valuable to lead to a long term competitive advantage. It's not enough to rely on subjective opinions or raw sales metrics. Conduct customer surveys early and often!

---
You need to make sure customer experiences are documented through surveys
Another Example: Imagine one store at a large national chain is seeing declining sales. Leadership may have many ideas on what could be wrong. One leader thinks it is because the attitudes of employees at that particular store. This can be hard to bring up objectively without having real documented survey data to point to. Often times the areas with the least data never get focused on. Customer surveys makes the customer the point of truth and gives you visibility into every area they come into contact with.
Customer Experience Management: What tools and touchpoints are most popular?
McKinsey has published results of a study showing some of the most popular methods companies use to measure customer experience. The most popular method was customer surveys since it is the most efficient and comprehensive in terms of effort and cost. The 2nd most popular method is online customer monitoring using online intercept surveys based on visitor behavior. The 3rd most popular method is to observe customer interactions such as support calls and then document these in a CRM system or sales tool. 23% of companies said they use this form of 'offline surveys'.
Only 6% rely on text analyses in Customer Experience Management
Interestingly, just 6% of the surveyed companies rely on the analysis of free text comments as part of their CEM efforts. Often, this is because they do not have a text analysis tool to gather insights at scale. QuestionPro allows for this based on density of terms or frequency of word combinations. Try it out with a full version trial.
Merge data from distributed systems
The data collected from customer surveys becomes much more valuable when viewed within the context of other data the company has on that same customer. This is typically found on different systems like web analytics, CRM or ERP. Merging this data can lead to very valuable insights. For example, do customers working with certain account managers tend to have a better experience? Are customers who buy certain products reporting a worse experience than others?

---
The starting point is conducting customer surveys often and in as many places as possible.
More and more companies say the customer is their most important focus. How many are actually doing everything to collect insights from those customers as often as possible? The companies who find every way to collect feedback will eventually win.
Question your customers as often as you can!
We realise it is not always the right time for a customer survey. For example, in the sales process there are likely other priorities more important than having the customer fill in a survey. That said, your sales reps and account managers are in direct contact with those customers and having conversations with them. Requirements, obstacles and insights should be recorded by those employees in a CRM system. That data can then be imported into a Customer Experience Management platform like QuestionPro to be analysed as free text.
Get data from customer surveys
by email, app, at the point of sale, by phone, in-person…
Where and how you want to question your customers or collect and evaluate data relating to the customer life cycle is entirely up to you and the contact structure with your customers. However, it should not fail due to a lack of technical infrastructure to be able to collect and analyze this data in one place! With QuestionPro you gain information about your customers and prospects by email, via mobile app , at the point of sale, by telephone, in person, via your website, using social networks, structured or unstructured. With QuestionPro you can conduct customer surveys across all media. We help you to gain a 360 degree view of your customers – comprehensive, thorough, immediate.
Do you have any questions about customer experience management? Simply contact us. We look forward to speaking with you!