Customer Experience Management
Building a Customer Insight Community with QuestionPro's Customer Community Platform
These are the most important reasons for building your own Customer Insight Community
Customer Community Platform: Strengthening the own brand through identification
A Customer Community, or Customer Insight Community, is a kind of "brand home" for your customers. It is a "coming home". Customers "go there", log into a closed room, encounter familiar names, avatars and structures. Members of a Customer Community Platform have a very high degree of identification with the company that runs the Customer Community, and especially with its brands and products. Community members are aware that they have an influence on the design of the brand and products and thus also have a certain degree of responsibility for their successful further development. Customer Community members have a special closeness to the brand that "ordinary" consumers do not have. This high degree of identification strengthens your brand, because it is proactively conveyed to the outside world by the members. Members of a Customer Community become real promoters and multipliers.
A Customer Insight Community creates real customer engagement
The Customer Community is a virtual place where customer meet each other and can intensively exchange ideas about the brand and make suggestions to strengthen the brand and improve the products. Accordingly, they are and feel part of a real, living community and act accordingly, are active, get involved, want to create added value, contribute ideas, actively participate – and ultimately be rewarded for it. Members of a Customer Community provide a lot of input! But the members are not just important "data suppliers", they are also ambassadors of a brand, talking about it in social networks or at the kitchen table. This kind of customer engagement also distinguishes the members of a Customer Community!
A Customer Community is very easy to build, control and manage with the right Community Platform.
Another important argument for building a Customer Community is clearly the possibility of using technological tools to control the virtual community and thus to exert direct influence! For example, ad hoc surveys or small live polls can be fed into a Customer Community, guaranteeing a high level of feedback, e.g. by incentivising with vouchers and bonus points, which in turn can be redeemed by the members with retail partners. Focus group discussions can also be easily initiated within the Customer Community by means of chat or video chat functions, and without much effort. Thus, companies that operate a Customer Community Platform also save a lot of time and money! A Customer Community Platform that is technologically very advanced also has a central evaluation and analysis dashboard with which those responsible can monitor all activities within the Customer Community. Simple member administration, clear event planning, simple administration of forums and topic boards as well as the quick setup of incentive, gamification and engagement tools are a matter of course for technologically innovative Customer Community Platforms.
With a Customer Community you gather valuable and deep insights into the thoughts and feelings of your customers
In a Customer Insight Community where your customers feel comfortable and valued and are also rewarded for their engagement, customers reveal a lot about themselves. From simple ideas on product features to complex tips on brand communications: Members of a Customer Community are a real source of ideas and information. For example, you can gather important qualitative insights through discussions among Customer Community members within forums and topic boards, without having to actively initiate surveys and discussions. With the help of a Customer Community Platform, you gather deep insights into the world of thoughts and feelings of your customers and can develop your products and services accordingly close to the wishes of your customers!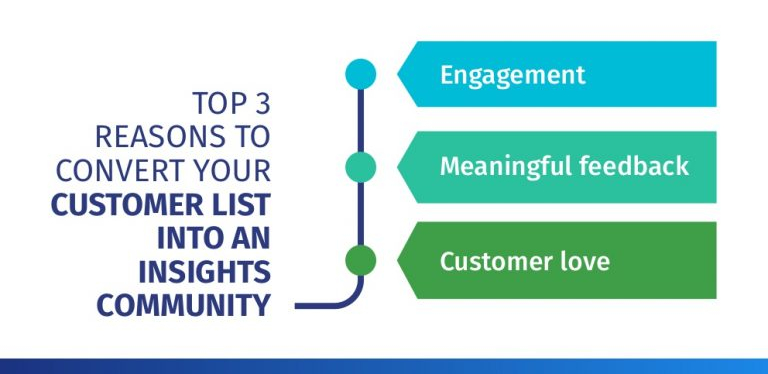 The professional and innovative Customer Insight Community platform from QuestionPro
The QuestionPro Customer Community Platform is one of the most technically advanced and functionally comprehensive online community systems in the world. We asked our customers to tell us why they value our Customer Community Platform so much. What makes QuestionPro's Customer Insight Community so special? What are their favourite features? We have summarised the answers for you.
Short set-up time of the customer community
With the QuestionPro Customer Community Platform, the Customer Community is productive in no time. It contains so many integrated standard functions that setting up a virtual community can be done virtually at the touch of a button within a few minutes.
Direct access to customers
It is, among other things, the direct access to the customers! The easiest way to invite a large number of people to an online survey, directly from the integrated survey software. And the data gathered can then be easily analysed in the Customer Analytics Tool. Everything on one Community Platform.
Easy recruiting of new members
The recommendation function within the Customer Community Tool enables existing members to easily recruit friends and acquaintances as new members and to be rewarded for this.
Incentivisation and gamification
The possibility of offering incentives for particularly active, committed and reliable members of the Customer Insight Community, for example in the form of vouchers. This is a great incentive for active participation.
Conducting focus group discussions
Being able to hold focus group discussions easily, without much organisational effort, and without having to rent overpriced rooms for it, is very appealing, especially for young companies.
Integration of an online panel
The uncomplicated integration of an online panel into the feedback community is a valuable expansion option, especially for start-ups that do not yet have a very large customer base. But corporate groups also use the online panel intensively and with pleasure.
Selection of members according to socio-demographic criteria
The possibility of selecting members of the Customer Community according to certain socio-demographic criteria and thus being able to select a specific group of people, i.e. a target group, for surveys or discussions, for example.
Customisable look & feel of the Customer Community
Complete control over the look and feel of the Customer Insight Community, so that it can be designed exactly according to the guidelines of your own CI, so that community members actually feel at home.
Clear community analysis dashboard
The clear analysis dashboard is very tidy, simple and contains all relevant information, community activities and evaluations at a glance.
Easy management of customer communication
The simple administration of the Customer Community Platform by means of a clear user interface makes it easy to manage such a complex and multifunctional application as the customer community.
Use of the Customer Community App
With the Customer Community App, members of the Customer Insight Community have easy and quick access to the system. The Community App also has feed functions, push notifications and a very simple and intuitive user interface.
Clear user administration and member area
Both on the part of the operators of the Customer Community Platform and on the part of the Customer Community members, the very clearly structured and easy-to-administer member area is praised above all.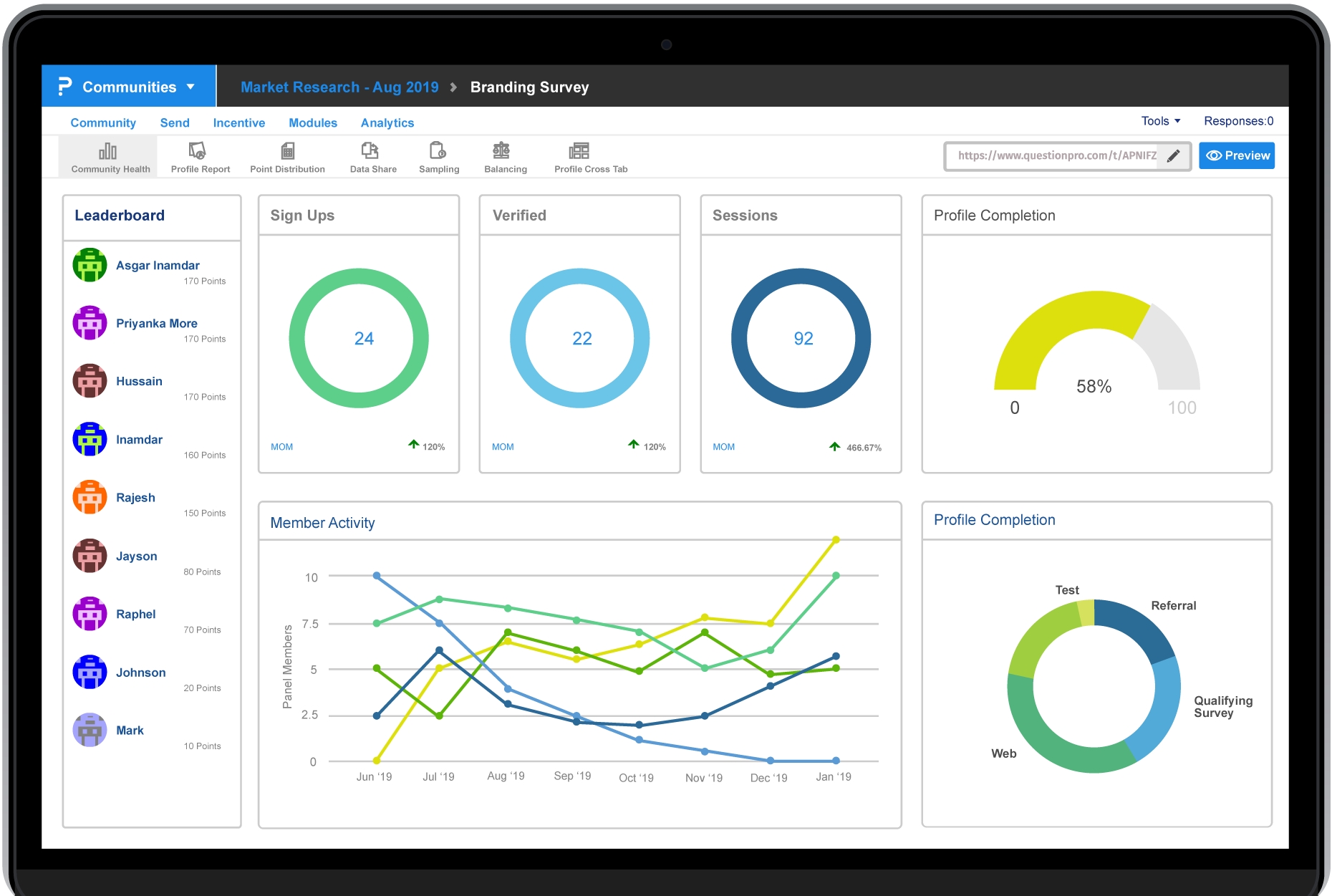 A well-designed Customer Community benefits customers and companies alike!
Gather customer feedback effortlessly with an engaged Customer Insight Community
There were times when a customer's contact with a company was limited to reaching into the shelf, namely when buying a product. And even otherwise, dialogue was rather rare: Who had bothered to write to a company back then if a product did not fulfil the expectations it promised in its advertising. Hotlines didn't really exist yet, at least not in the form they do today. Retailers also did not record or forward complaints or suggestions from customers in a structured way, so that customer feedback to the manufacturer was basically almost exclusively done via elaborate market research methods, such as group discussions where participants still had to be present. Or by means of mall-intercept interviews and standardised paper & pencil surveys.
Brand home for customers
That is different today! Of course, there are still presence tests today where test persons have to be present, for example in taste blind tests or when it comes to haptic product experiences. But the majority of market research activities have shifted, namely to the internet. Thanks to the internet, companies and customers are now more closely intertwined. And more and more often, companies are giving their customers a home on the Internet, for example to be able to articulate complaints, ideas, suggestions and experiences. This virtual home is called a Feedback Community or Customer Insight Community.
In a well-managed and engaged Customer Community, customers and companies grow together quickly
Within the Customer Community, customers can – depending on the functional scope of the Customer Community Platform used and in contrast to the social networks – not only vent frustrations or compliments, but also actively participate in the development and improvement of products, for example by taking part in online surveys, quick polls, virtual group discussions and brainstorming sessions, contributing ideas, evaluating and commenting on the ideas of others, helping other customers with support, reacting to product complaints and even mediating between companies and disgruntled consumers. As you can see, the possibilities for interaction are almost inexhaustible. And from all these interactions, companies receive feedback that is collected, structured and analysed. This feedback then flows directly into, for example, improving products or addressing target groups more precisely. A Customer Insight Community is an important part of the customer experience management programme.
A Customer Community offers advantages for customers and companies alike
Depending on the development stage of such a Customer Community Platform, companies can incentivise their customers, i.e. members of the Customer Insight Community, for their commitment. Incentivising means that community members are rewarded for their commitment, for example with vouchers, product tests, promotional items, BahnBonus points or access to certain information and special areas. This varies from company to company. Community members certainly won't get rich from it. But those who contribute more are rewarded more often. Companies receive more feedback when they are more involved, and customers in turn benefit from product improvements. But not only that: the feeling of responsibility, co-determination, community experiences and being able to actively help and support are also soft criteria for a higher level of commitment on the part of community members.
1:1 Live Online Demo:


Building a customer community with QuestionPro's Customer Community Platform
Make an appointment with us and we'll give you a personalised walkthrough of all our Experience Management & Market Research Solutions
Contact and 14 Days Free Trial
Do you have any questions on this topic? Simply contact us via the contact form. We look forward to the dialogue with you. Test QuestionPro's web-based survey software, market research software and experience management platform 14 days for free!