Customer Experience Management
Customer Survey: Definition, Tips, Examples, Questionnaire, Analyses
Customer survey: Definition
The term customer survey is often closely associated with customer satisfaction surveys. However, the term customer survey should be understood much more broadly, namely as a collective term for methods of obtaining and analysing data to gain insights into the satisfaction, purchasing and consumption behaviour, brand awareness and brand loyalty, expectations and desires, loyalty, engagement as well as the interaction experience et al. of customers AND prospects of a company.
Changing customer survey: rapid development through technological progress
Due to the rapid development of survey technologies, the methods for conducting customer surveys have also changed considerably over time. Whereas some time ago, for reasons of cost efficiency, classic customer surveys were carried out rather rarely from today's perspective, today one even speaks of survey fatigue or over-surveying. Because in contrast to the past, thanks to the internet and smartphones, companies and market research institutes can reach their target group much faster, cheaper and, above all, everywhere and at any time. In particular, standardised, quantitative customer surveys, which are both uncomplicated to create and easy to distribute and can be answered with just a few mouse clicks or fingertips, are currently experiencing a boom.
Qualitative customer surveys are becoming easier and more cost-efficient to conduct
The qualitative methods of customer surveys have also changed. Take the example of the focus group discussion. In the past, a lot of effort had to be made to recruit discussion participants and bring them together. Literally, a "room" had to be created for this, and there were costs for travel and materials. Today, focus group discussions largely take place online with modern technologies such as video chats, virtual idea boards, voice recording and automatic transcription of what is said using speech recognition. Added to this is semantic text analysis, which, with the help of artificial intelligence, is even able to infer the personality profile of the author from mere text comments.
From customer survey to touchpoint analysis
The customer survey has not only changed in terms of the frequency with which it is carried out. A lot has changed methodologically as well. Whereas customer surveys used to contain a whole battery of questions in order to obtain as much information as possible at once, customer surveys today are usually "split up", and are interaction-based. This means that customers are surveyed whenever they come into contact with a company's products, brands or services, for example during a telephone enquiry, after an order process or even after an order has been cancelled, after a support request or in the event of a complaint. This form of customer survey is called touchpoint analysis.
Example: Unboxing survey
Another example of such an interaction-based customer survey is the so-called "unboxing survey". When customers take a product out of its packaging and hold it in their hands for the first time, this should be a real "experience" for customers. To ensure this, companies place slips of paper in the packaging, which usually contain a QR code or a URL that leads to an online questionnaire. Here, customers can then rate the "unboxing experience".
This form of interaction-based customer survey is called touchpoint analysis, as already mentioned above. In the following article, we would like to explain the term touchpoint analysis in more detail and make it understandable with the help of examples.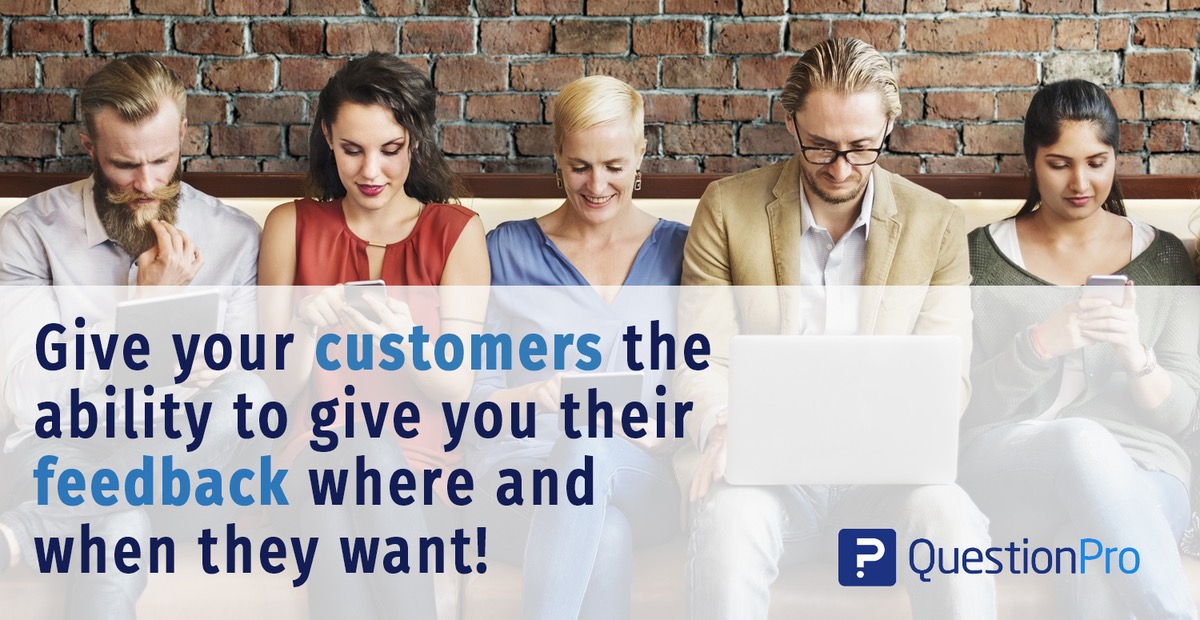 Touchpoint Analyse: Definition
Touchpoint analyses are micro customer surveys at the touchpoints between customers and your company, products, brands and services, which should usually consist of one to a maximum of three or four questions. Whenever customers come into contact with your company, you should ask your customers about their experiences. Innovative companies now no longer conduct the classic, all-encompassing customer survey only once a year, but use the method of touchpoint analyses and survey their customers regularly and interaction-based. This has several advantages. On the one hand, companies that regularly conduct customer surveys in the form of touchpoint analyses receive real-time feedback from their customers, i.e. unfiltered feedback with an immediate impression of the customer experience. On the other hand, touchpoint analyses are far more "fine-grained" in their questioning, as they refer to concrete interactions. A one-time customer survey per year could definitely not do that. Who remembers after several months whether an order process went smoothly or how quickly a complaint was dealt with?
Create positive customer experiences: Identify weak points in the interaction with your customers and prospects by means of customer surveys in the form of touchpoint analyses.
In highly competitive markets, it is important to make the customer's journey from initial perception to after-sales service as positive as possible and to eliminate negative customer experiences! Because every bad experience your customers have with your company can and will influence the buying process in a negative way!
Systematic management of all touchpoints between customers, companies, products and brands will significantly improve customer experiences and thus inevitably increase sales. According to a study by the consulting company ESCH, professional touchpoint management can increase turnover by up to 22% and reduce investments by 16% at the same time! At the same time, customer satisfaction increases significantly by 35%. The brand awareness of companies that operate professional touchpoint management is 29% higher than the competition. These are clear figures!
Approach to touchpoint analysis
As already described above, in contrast to the classic customer survey, touchpoint analysis tends to be carried out in relation to individual customer interactions, such as the completion of an order process, the evaluation of content on a website, the check-out from a hotel or, for example, following a support or complaint case. In order to carry out really meaningful touchpoint analyses within the framework of a customer survey, you therefore need to know which contact points, i.e. touchpoints, actually exist with your customers. These need to be identified. Because only if you actually know where you meet your customers can you also conduct micro-customer surveys there and thus gain valuable data for the analysis of your touchpoints and ultimately also create correspondingly positive customer experiences at each of these touchpoints. Below you will find the flow chart of a touchpoint analysis.
IDENTIFY: Where are the points of contact between your company and your customers? Trace the path of your customers and prospects from initial perception to after sales service. The sum of all touchpoints that your customers come into contact with from the initial perception of your products, brands and services to the purchase and after-sales service is called the customer journey.
OPTIMISE: Based on the survey data gained, you can now eliminate any negative experiences and create positive experiences that your customers have during the buying process. Increase your turnover and reduce investments with touchpoint analyses.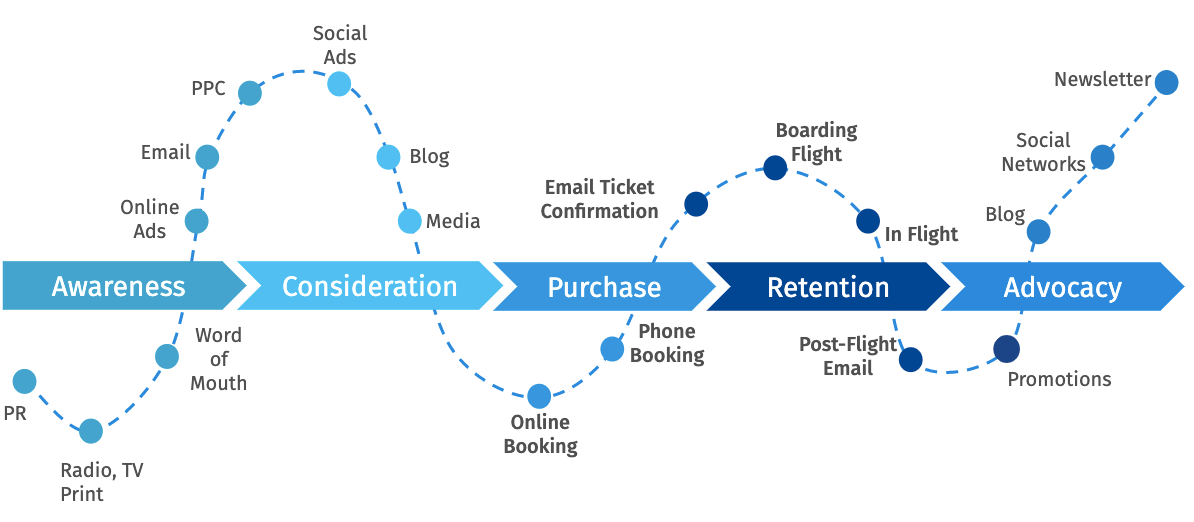 Example of a customer journey: Here you can see different possible touchpoints of your customers with your products, brands and services. At each of these touchpoints, you should conduct customer surveys in the form of touchpoint analyses.
Examples of methods and applications for conducting customer surveys
The simplest of all methods to distribute a customer survey is to send the questionnaire link via serial email to all your customers. This makes perfect sense for a "classic" customer survey. But if you conduct customer surveys in the form of touchpoint analyses, things get trickier! After all, you want to survey your customers based on interaction at all possible contact points. Here we show you some examples of how you can conduct customer surveys at the touchpoints of your products, brands and services.
Customer survey via feedback terminal
The use of a feedback terminal makes sense if you want to enable your customers to give feedback in passing. A feedback terminal can be found in virtually every store, in waiting areas, at exits or in corridors, either mounted on a wall or on a stand. With feedback terminals, you can ask your customers specifically about their impression of the customer experience, for example whether waiting times were too long, whether rooms are attractively designed or whether the service was satisfactory. Since customers usually don't want to spend a long time on surveys, it makes sense to ask a single, simple question that can be answered at the touch of a finger via the touch display. If you want to ask several questions, you can simply vary them so that each customer is presented with a different question.
Feedback Tab
Feedback tabs on the website are a very "serious" variant of the customer survey, because website visitors have to click the tab (button) proactively to give feedback on product information, usability or simply to get rid of suggestions or general criticism. In contrast to pop-ups or layers that appear out of the blue and are often annoying, the feedback is a very sympathetic variant of the invitation to customer dialogue.
Online intercept surveys
Intercept surveys are a powerful tool for obtaining feedback in the context of customer surveys and touchpoint analyses. For example, it is possible to have surveys appear during a visit to your website via layer, pop-up or as embedded HTML code only if the visitors meet certain criteria, such as coming from a certain region, having found your website via certain keywords or from certain search engines. But random selection is of course also possible, i.e. the selection of survey participants according to the random principle.
Exit surveys
Exit surveys are typical survey applications in the context of touchpoint analyses. Here, web visitors who are about to leave the website are presented with a layered survey, for example on the reasons for abandoning the website visit or questions on usability.
Check Out Surveys
Unlike exit surveys, which appear whenever visitors leave your website, check out surveys are used to find out if an interaction, usually an ordering process, went smoothly or if there were challenges for customers. For example, if a website visitor abandons an ordering process, it is possible to present them with a survey aimed at finding out the reasons why the order was abandoned. Typical questions here are the following:
Do you miss any preferred payment options?
Was the ordering process simple and straightforward?
Did you feel confident when entering your credit card details?
Free text question: May we know why you did not complete your order?
But even if the ordering process was successful, questions can be asked about optimisation, for example about the duration, confidentiality or the smooth process. Check-out surveys can be conducted directly after the order process via the confirmation landing page or via email when the order confirmation message is sent.
Customer Effort Score (CES)
What effort do your customers have to put in to achieve a certain goal?
Today's customers want to make as little effort as possible, for example when it comes to repairs, returns, complaints, reorders, spare parts procurement, etc. But also the easy finding of information on the website, a fast and smooth payment processing or the quick response to enquiries are part of a customer's self-understanding.
Optimise self-evident things
Customer Effort Score, or CES for short, deals with the fulfilment of such self-evident and basic expectations in the broadest sense. In many crowded markets, providers of products and services have to come up with more and more ideas in order to ultimately win the customer's bid. Faster accessibility via all possible channels, short complaint times, free return of goods, quick and easy exchange… There are endless other examples! Whether a company can actually keep its promise to make it as easy as possible for customers is determined by the CES, i.e. the Customer Effort Score.
Include the Customer Effort Score question in your customer survey or touchpoint analysis.
Finally, the Customer Effort Score is determined through targeted surveys of customers in the context of touchpoint analyses. An example of the Customer Effort Score: A customer complains that the invoice shows an incorrect amount. The company solves the problem quickly and, following the complaint process, the customer receives, for example, an email asking whether their concern has been satisfactorily resolved. If you survey your customers on a regular basis, be it when they complain, when they return goods, during the navigation on your website or after the ordering process, you will receive a meaningful Customer Effort Score.
Customer Satisfaction Score (CSAT)
Measure the satisfaction of your customers with the Customer Satisfaction Score
In contrast to the CES, i.e. the Customer Effort Score, the CSAT, i.e. the Customer Satisfaction Score, is not just about meeting the basic expectations of customers. The Customer Satisfaction Score goes deeper into the nitty-gritty, namely the satisfaction of your customers with regard to the products and services that are consciously perceived by the customer, i.e. the opposite of the "obvious".
Gain customer satisfaction score data through various touchpoint analytics surveys
The Customer Satisfaction Score is basically determined by standardised questions such as "How satisfied are you with…". Such feedback can be collected within the framework of touchpoint analyses by mail, via a feedback terminal, through surveys on the website or also through personal interviews. Such regular surveys help you to maintain and improve the quality of your products and services. But beware: customer satisfaction surveys have gained popularity in the recent past, mainly due to new survey technologies that are cost-efficient and easy to use. This can lead to an inflationary use of surveys and thus to very annoying over-surveys for customers. Use customer surveys wisely and sensibly.
Customer Service Satisfaction Score (CSS)
The Customer Service Satisfaction KPI measures the satisfaction of your customers with your service. Unlike the Customer Effort Score or the Customer Satisfaction Score, the Customer Service Satisfaction Score is even more targeted at your customers' satisfaction with customer service. You can measure the CSS Score very easily by collecting feedback from your customers every time they interact with your company's service departments, such as support, complaints management or traditional customer service in the field of craftsmanship and installation. You can do this via forms, pop-ups on the website, live chat for service requests or via customer surveys and touchpoint analysis. If you use a standard rating scale to determine the Service Satisfaction Score, you can better identify trends and patterns over time. This will help you to identify and track actions for improvement. The question itself that you ask your customers is quite simple: "How satisfied were you with our customer service?" An answer of 5 expressions, roughly from very satisfied to very dissatisfied, is the standard here.
Net Promoter Score (NPS)
We have already reported in detail on the Net Promoter Score in one of our earlier blog articles, but we would like to remind you of the topic again here, as the Net Promoter Score, like the Customer Satisfaction Score and Customer Effort Score, is an important Key Performance Indicator (KPI) that measures how high your customers' willingness to recommend you is. You will find an example of this in the following chapter.
Customer loyalty or customer churn?
The NPS score is a great way to measure how likely a customer is to remain your customer (customer loyalty), whether they will recommend your company and your products, and at the same time shows you how many customers are toying with "churn thoughts". And you determine all this with just one question: "How likely are you to recommend us to someone you know very well?" The Net Promoter Score should not be missing from any customer survey or touchpoint analysis.
Customer surveys offline or via Feedback App
With QuestionPro's customer survey software, it is of course also possible to conduct a customer survey offline or via Feedback App. For example, interviewers can record data via smartphone or tablet PC in a personal conversation – for example in a store, in a shopping centre or during a trade fair – save it and then synchronise it with the user account. For example, you can also conduct "hybrid customer surveys", namely online and offline, with the data flowing into the same database and not first having to be laboriously consolidated manually.
Customer survey by telephone
You can also use QuestionPro as an application for telephone customer surveys and, thanks to the possibility of the so-called branching logic function, design the corresponding input masks in such a way that they function as a conversation guide. QuestionPro is of course CAPI and CATI capable.
Customer survey directly by e-mail
Another variant of the customer survey is the sending of a micro-survey, which can be answered directly from the email client without your customers having to click on a link to a URL beforehand to get to the questionnaire. Questions about the Net Promoter Score or the delivery time of products, for example, can be initiated excellently with this type of customer survey.
Excursus: What types of customer surveys can be roughly distinguished?
Customer surveys can be roughly divided into three different categories. Here we would like to go into them very briefly.
1. Relational Customer Surveys
As the name suggests, the relational customer survey is a brief summary of the customer's entire relationship with the company, product or service, which is conducted relatively rarely or even only once a year. The aim of the relational customer surveys is to find out how customers summarise their entire experience with the company. This form of customer survey is still carried out today, but it is extremely rare among innovative companies, because they tend to rely more on touchpoint analyses, namely transactional customer surveys.
2. Transactional Customer Surveys
Transactional customer surveys do not ask "the big picture", but rather speak to the satisfaction or opinion of customers after a specific transaction. Transactional customer surveys are conducted, for example, after an order process, after a support call, while searching for information on a website (via online intercept survey) or via a feedback terminal when leaving a store. Transactional customer surveys are therefore touchpoint analyses and relate specifically to contact points within the customer journey and can provide accurate insights into the performance of a company's core functions/departments.
3. In The Moment Customer Surveys
One of the main reasons customers switch brands is that they do not feel valued enough. As actual customer experience experts and knowing their market power, customers' goal is to feel valued and heard throughout the entire customer journey. The easiest way to ensure that customers actually feel valued is to make sure that someone is actually always available! No annoying queues, no forwarding to "relevant colleagues" and no "please read the FAQs first before contacting us". And if you are already talking to your customers personally, then ask them directly for their opinion! The difference between the "in-the-moment" customer survey and the transactional customer survey is that the feedback takes place DURING and not AFTER a transaction.
Qualitative and quantitative customer survey via customer community
More and more companies now operate a customer community in order to gain deeper insights into the thoughts and feelings of their customers, to track down customer wishes or to gain valuable customer feedback on innovations and product developments. Companies that have a customer community naturally find it easier to initiate customer surveys. This is because a customer community is a closed group of customers who have consciously decided to be part of a community and to support the operating company in product design and product development. QuestionPro offers companies a community platform with many valuable features and functions for obtaining quantitative and qualitative feedback. For example, it is easy to initiate customer surveys and distribute them to community members at the touch of a button, who then receive a notification. Focus group discussions can also be conducted to gain quantitative insights. QuestionPro's customer community also includes a topic and idea board, a forum as well as engagement and incentive tools.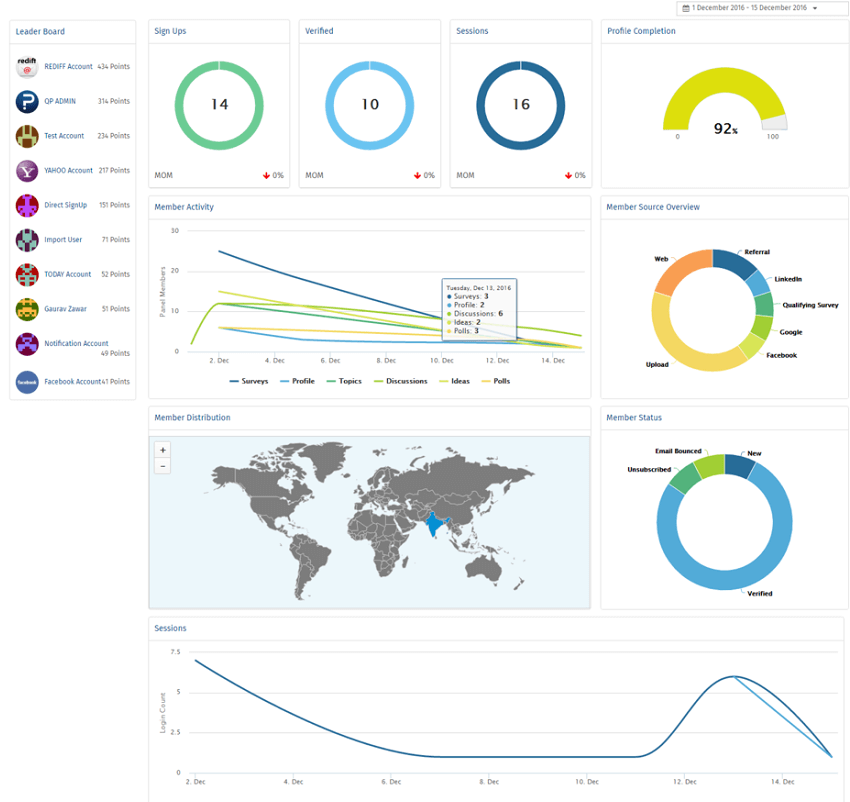 QuestionPro's customer community has a central analysis dashboard that not only allows you to view evaluations of your customer surveys, but also provides you with up-to-date information about member engagement and the level of "community activity", such as sign-ups or participation in discussions.
Online Panel
Not every company knows its customers personally and has the corresponding customer data for distributing customer surveys. Nevertheless, these companies do not have to do without customer surveys. With the help of QuestionPro's online panel of more than 22 million members, companies gain valuable data from customer surveys quickly and easily. Here's how it works: You create a customer survey, which is fed into the panel software. If desired, you can define selection criteria beforehand as to who may participate in this customer survey, i.e. with regard to gender, age, place of residence, income, etc. Then the notified panel members receive a message that a new survey has been initiated. By means of introductory questions, you can further narrow down whether the panel members know your company or your brands and products at all. Feedback on your customer survey is then provided and you have access to the real-time evaluation at any time.
Asking the right questions: Examples of questions for your customer survey & touchpoint analysis
Below we list some questions for you that are typically used in the context of customer surveys by means of touchpoint analysis. With QuestionPro's customer experience management platform and the integrated questionnaire editor, these questions can be easily integrated into your questionnaire for your customer survey and evaluated at the click of a mouse. Below you will find an example questionnaire as a template / sample for your customer survey.
Questions for your customer survey & touchpoint analysis that should not be missing from any questionnaire
Looking back at your overall experience with our company, how likely are you to recommend our products to friends or colleagues? Surely you have already encountered this question somewhere. It is called the Net Promoter Score. The Net Promoter Score belongs in every questionnaire of a customer survey and measures the loyalty of your customers towards your company. Because only those who are really highly satisfied with your company, with your services, products and services would also make a recommendation. After all, a recommendation always reflects on you personally, which is why people think very carefully about whom they recommend. The Net Promoter Score is usually determined on a scale between 0 and 10, but there are also other variants.
Do our products / services meet your expectations? People have expectations. And they want these expectations to be fulfilled. Ideally, companies even exceed their customers' expectations with their products and services. So don't ask whether your customers are "satisfied" with a product, but whether the product meets their expectations. A customer can also be satisfied with a product if it does not meet his or her expectations, for example because the customer has come to terms with any defects or there is no other adequate product. Incidentally, this question is excellently suited as an "unboxing question" within the framework of a touchpoint analysis. A customer unboxes the product, picks it up, handles it around, tries it out and then gives initial feedback. So, for example, enclose a delivery note with a QR code with your product that leads directly to a questionnaire with "unboxing questions" after scanning it with a smartphone. The question about expectations should not be missing from the customer survey! It is best to ask this question with a single-choice question.
How satisfied were you with our ordering process? Another typical question in the context of a customer survey or touchpoint analysis is the question about the simplicity of the ordering process. This question can be subordinated to the Customer Effort Score, a key figure that measures the effort customers have to make to obtain information and buy a product. We have explained the principle of the → Customer Effort Score in detail in a separate blog article. The question about the simplicity of the ordering process can be asked in different variations. The simplest variation is the question about satisfaction with 5 expressions, i.e.- very satisfied- rather satisfied
– neutral
– rather dissatisfied
– very dissatisfied
Regarding your last interaction with our customer service: Please rate the following aspects according to the school grading system Do you know this? In the pre-sales phase, all the employees of a company are friendly, helpful, always approachable and available. But then the purchase is made and from then on everything is different! Yes, that really does happen. Sometimes intentionally, but also quite often unintentionally. And that is really not good! Because satisfied customers buy from you again and again, recommend you to others and can be real brand ambassadors! So always make sure that customer service really works!
What do you think we can do better? This question is representative of all open questions where your customers can answer with free text. Give your customers the opportunity to express themselves without any restrictions and without having to give an answer. Often things come out that you didn't even think of yourself. Use open-ended questions more often in customer surveys. And free text can also be easily analysed and graphically displayed, for example in the form of a word cloud or with the QuestionPro free text analysis.
Considering all your experiences with our products and the company: How satisfied are you? The answer to this question within a customer survey gives you information about the general satisfaction of your customers.
Sample questionnaire of a customer survey as template / sample including sample evaluation
To show you how quickly and easily you can create a questionnaire for your touchpoint analysis and customer survey with QuestionPro, we have prepared the following sample questionnaire as a template, which also shows an example evaluation. You can access the evaluation of the sample customer survey by clicking on "SEND" at the end of the questionnaire. → Example of a questionnaire for customer surveys
Sample questionnaire of a customer survey as a template for existing QuestionPro customers
With this link you can easily import the questionnaire for a customer survey into your existing user account.
→ Import questionnaire template for a customer survey
Import sample questionnaire of a customer survey as a template with new registration
If you do not have a QuestionPro user account yet, you can import this questionnaire for your customer survey in one go with the registration. Simply use the following link:
→ Register now and import customer survey template
Evaluate data from customer surveys and touchpoint analyses simply and clearly
If you have gone through the sample questionnaire of the customer survey above completely, then you have probably also taken a look at the standard evaluation integrated in QuestionPro. This form of evaluation is the simplest variant of a data analysis in the context of a customer survey. If you conduct your customer surveys in the form of touchpoint analyses, then the evaluation also becomes correspondingly more complex. For this purpose, QuestionPro has an extended analysis dashboard, which allows you to carry out comprehensive evaluations according to the latest scientific standards in real time. Ultimately, the goal of touchpoint analysis is to track the touchpoints within the customer journey in real time, so that you can act quickly if you realise that there are problems with one of your touchpoints.
Real-time analysis dashboard
To give you an overview of your touchpoints, QuestionPro offers you a real-time analysis dashboard with which you can monitor your customer touchpoints easily, clearly and graphically appealing and evaluate data from touchpoint surveys. An almost infinite number of options for evaluating your customer surveys and touchpoint analyses are available to you. The dashboard can be configured individually and according to your personal needs. Examples of possible evaluations:
Net Promoter Score
Customer Satisfaction Score
Customer Effort Score
Gap Analyses
Comparative analyses
Trend analyses
Data Segmentation & Filters
Weightings
Sentiment analyses
semantic free text analyses
Conjoint analysis
TURF Analysis
Image Testing
Video Analyses
Cross tabulations
Correlation analyses
Benchmarks between departments, sites, subsidiaries, regions et al.
Word Cloud
Max Diff Analysis
and many more
---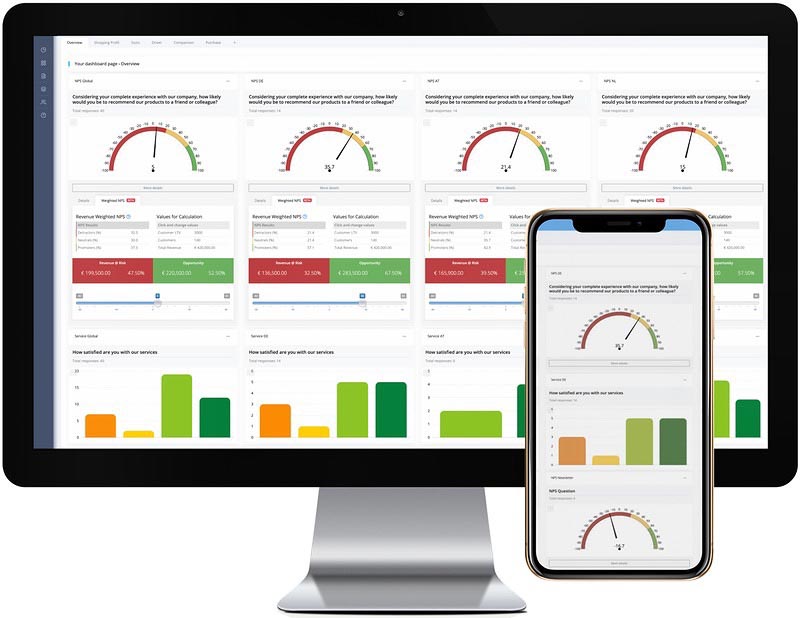 Example of an individually configured dashboard. Of course, the analyses of your customer surveys can also be viewed clearly via smartphone or tablet PC.
---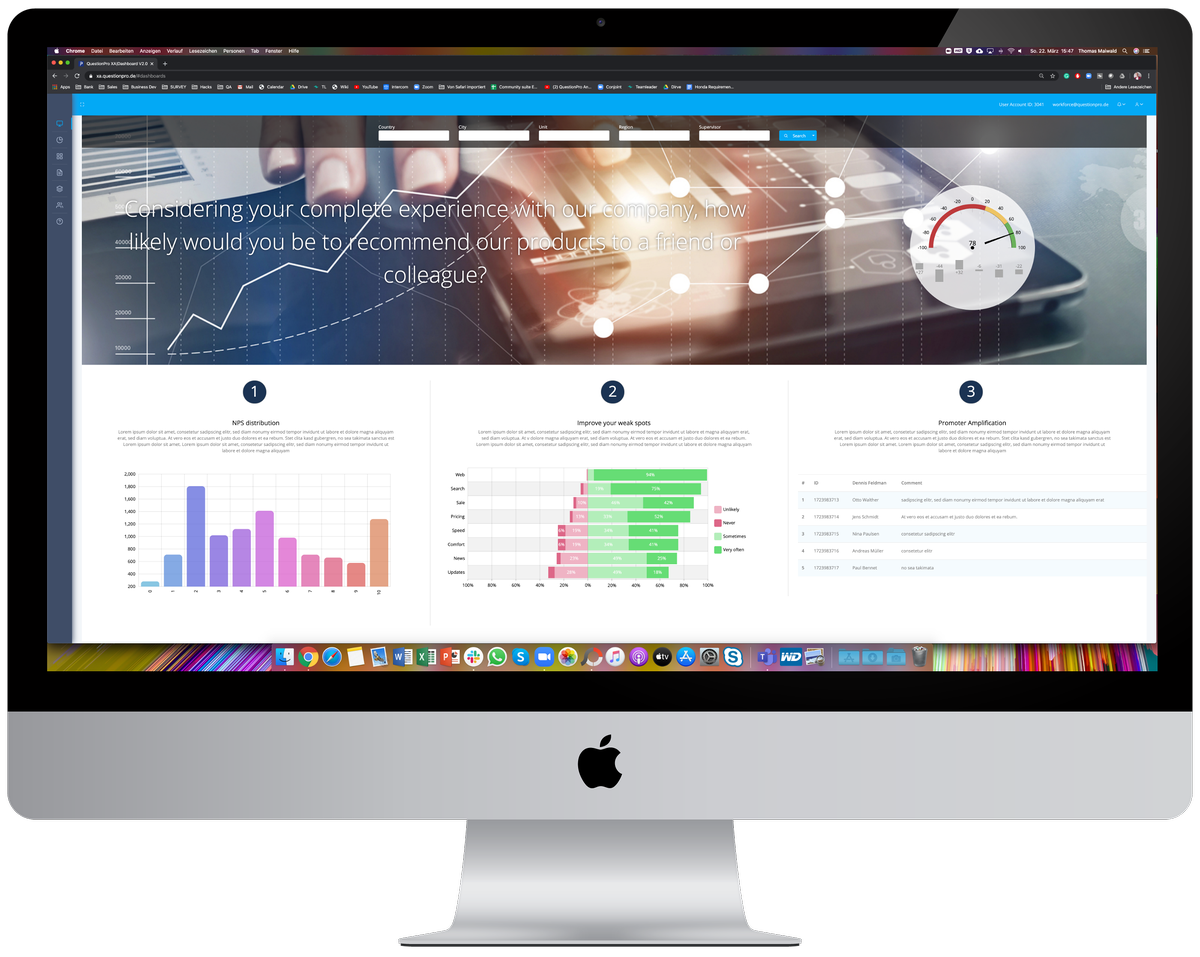 Here you can see another example of the individual configuration of the Analysis Dashboard.
---
Push Metrics with Alert Function
QuestionPro's customer analysis dashboard offers you the function of automatically sending reports and evaluations of data from customer surveys and touchpoint analyses. You define the intervals at which you would like to be informed by mail about current data, figures and evaluations. In addition, it is possible for you to store critical values in the analysis dashboard. As soon as these values are undershot, you automatically receive an alarm by e-mail for the corresponding evaluation, so that you can react immediately.
The importance of conducting customer surveys
The topics of customer satisfaction and customer surveys are moving more and more into the foreground. In the past, one almost always spoke of customer satisfaction surveys. But the word part "satisfaction" has long since been banished from the term. Not because it is no longer of interest. But because it reduces too much to the moment of satisfaction. Because being successful on the market goes far beyond mere customer satisfaction with regard to a service or a product! In today's densely crowded markets, it is much more important to create positive emotions in addition to pure satisfaction on the part of your customers with your products and services in order to increase customer loyalty and customer retention. Therefore, it is important to question all aspects within the framework of a customer survey where customers and companies meet and interact in some way, i.e. at the contact points, the touchpoints.
Customer experience
A simple example: If a company has brought a groundbreaking product innovation to the market, but the accessibility or competence of the support leaves too much to be desired, there are risks involved. As long as the company is still alone on the market with its new product, it may do well. Often, shortcomings do not become visible because there is no focus on asking customers. And if a customer complains, well, that's just the way it is. Often nothing is documented! It works! That's up to the customer. And the first imitator of this product innovation does it better from the start, conducts customer surveys, optimises product and service. Only if you consistently conduct customer surveys from the very beginning will you create the transparency that will enable you to make important business decisions. Do not rely on subjective impressions or bare sales figures, conduct customer surveys regularly!
Another example: Imagine that in a branch of a department store there is a negative culture among the colleagues, which is reflected in the mood of the customers because they notice it. No matter how great the assortment is: The customers will eventually stay away! And when the sales figures start to decline, it may already be too late! But seriously: when was the last time you were asked in a department store how you felt, how you felt about the atmosphere? That often doesn't even get to the crucial levels. That is the practice, no matter how unbelievable it sounds. Therefore: Collect as many customer experiences as you can. With QuestionPro, you can conduct customer surveys regularly and cost-efficiently.
It is therefore important to look very deeply into the processes and interactions between your clientele and your company and, of course, into the structure of your own entrepreneurial actions themselves. And this in the form of regular customer surveys and employee surveys! Everything interlocks, there are no marginal aspects. Nothing is to be neglected.
Tips for conducting customer surveys and touchpoint analyses
Below we have compiled some valuable tips, tricks and best practices for conducting your customer survey. These include increasing the data response, i.e. customer feedback, more dialogue and the possibility of publishing positive feedback from your customers in social networks.
How to gain more feedback from customer surveys
Keep customer surveys short and simple, use simple question formats and language
In the introduction to this blog article, we wrote about "survey fatigue" and "over-surveying". And indeed, apart from very loyal and engaged customers, not many consumers have a particularly strong desire to spend time filling out questionnaires. So keep your customer survey short and sweet. A good value is anything between 3 and 5 minutes. Formulate your questions as simply as possible in understandable language and also use simple question formats, such as choice questions or sliders. Work with page breaks or automatic question advancements, which means that your customers are shown one question per page and when a question is answered, the next question is automatically displayed without respondents having to click on a next button.
Clear design of the questionnaire and optimised presentation of your questionnaire on mobile devices
The clear design of your customer survey questionnaire plays an essential role in the response rate! Imagine opening a URL and seeing a totally desolate and unfashionable questionnaire with small fonts, checkboxes that are too close together and garish colours. You would probably not want to invest any time there. So invest a little more time in the look and feel of the questionnaire! It is also very important that the questionnaire of your customer survey is designed in such a way that it can be accessed and easily completed on all mobile devices. Because in the vast majority of cases, your customers will open the survey with a mobile device.
Incentivisation: Reward your customers for taking part in a customer survey with small gifts.
Customer feedback is a high and valuable commodity. If you are not satisfied with the response rates of your customer survey, try incentivising, i.e. offering rewards. For example, raffle off a cinema voucher, theatre tickets or an overnight voucher for a hotel, an iPad, a balloon tour – or whatever your imagination and budget allow. If you as a company operate a customer community and initiate customer surveys, then incentivise your community participants by allowing them to collect points for each completed questionnaire, which in turn can be exchanged for vouchers and finally redeemed at an online shop.
Feedback promotion: Use positive feedback from a customer survey as a marketing tool!
Today, customer reactions reach the critical public faster than ever before. Social networks do a good job here! Whether Facebook, Twitter, Google+ or rating portals: they all make customer thoughts visible en masse and thus also transparent. Of course, the whole thing also works in reverse order. It is not new knowledge that bad news spreads much faster and easier than good news. Therefore, you should actively ask your customers and collect, publish and spread positive reviews. Surveys of your customers at the so-called touch points, i.e. at the interfaces between your customers and your company, your brands and products, help you to do this. With QuestionPro CX, the web-based customer survey software, you make positive customer experiences visible in Customer Touchpoint Management!
Make positive feedback from customer surveys easily visible with feedback promotion!
QuestionPro offers you the possibility to make positive feedback from your customers visible. For example, if you conduct an online customer survey with QuestionPro and receive positive feedback here, you can set the system to ask your customers whether they would like to share this positive feedback with friends and acquaintances on social media. QuestionPro offers its own question type for the so-called "feedback promotion".
Make it easy for your customers to give you feedback!
Create opportunities that make it easier for your customers to give you feedback on your products, brands, services and support. For example, include feedback cards with a QR code printed on them that contains a link to a customer survey. Call your customers, ask them via SMS and e-mail, show yourself ready for dialogue in the social networks on Facebook or Twitter. QuestionPro offers you the possibilities to conduct customer surveys across all channels. Use every customer touchpoint at the most diverse interfaces between customers and companies, for example when they are surfing on your website, after an online order, during the booking of a hotel room. Use every customer contact to get feedback. Analyse exactly the interfaces that connect your customers with your company.
Dialogue-oriented customer survey:
Real-time reaction to negative customer feedback
QuestionPro's Customer Experience Management Platform offers you the option of using so-called feedback alerts within your customer survey. This works as follows: When creating your questionnaire for your customer survey, you define that certain responsible persons in your company receive an "alert" by e-mail with the corresponding customer feedback in case of a certain response behaviour of your customers – for example in case of negative evaluations regarding the support or the accessibility of the hotline. If the customer survey is carried out in a personalised manner, the corresponding employees can contact your customers directly and thus react immediately to this feedback!
Real-time reaction to free text comments
With the help of QuestionPro's sophisticated text analysis, which we will explain in the following section, it is also possible for you to react to certain terms when entering free text. In this way, data from customer surveys in which certain words or phrases occur in a free-text input field and which you have defined beforehand can be controlled and brought to the attention of responsible persons. For example, in the case of expletives that indicate a heightened negative emotion on the part of the customer. This enables you to react in a time-critical manner if you really care about each and every one of your customers!
Use and analyse free text comments
Free text comments in customer surveys give your customers the opportunity to get something off their chest that you may not have asked for. You also get more details, more detailed reasons and more qualified answers. Thanks to new possibilities for analysing free texts, open comments can now be easily structured and quantified, for example by means of keywording, context and sentiment analyses. Within its evaluation module in the Customer Experience Management Suite, QuestionPro offers an excellent function for tagging and evaluating open text comments.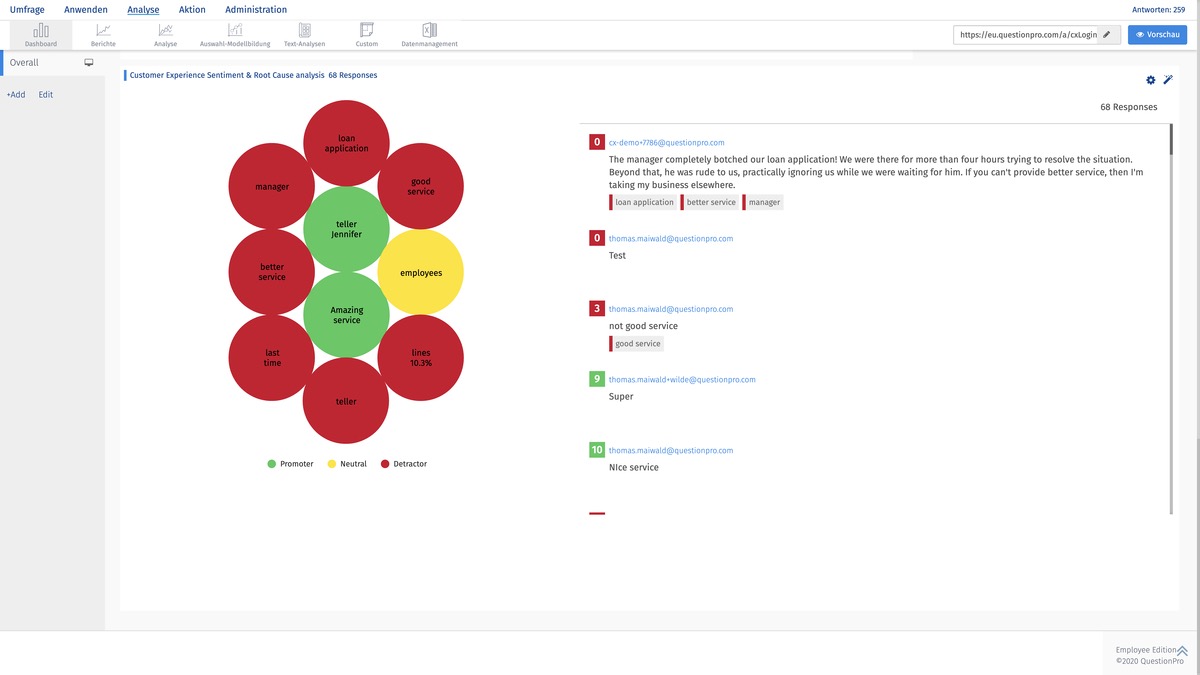 Free text comments within the customer survey can now be easily evaluated using semantic text analysis.
---
Complaint management is also a way of surveying customers
Many companies make it difficult for their customers to complain. Lengthy processes, unreachable hotlines and contact persons who do not have enough competence to answer questions adequately. Yet complaints provide you with important data about your products and also about your customers, namely about their expectations and wishes. Therefore, do not just document complaints statically, but also use the complaint to question your customers. Because every contact, every interaction with your customers can provide you with valuable information. QuestionPro is also used in the area of complaint management, namely as an entry form for recording complaints. Complaints can be classified, prioritised according to importance and distributed to specific areas of responsibility. But QuestionPro can do much more!
Use every contact with your customers to conduct a customer survey!
As long as customers do not have any contact with your company, for example through a support request, a complaint or a grievance, your customers will be relatively indifferent to the relationship with your company. But once your customer actually comes into contact with your company, show them that you really care about them and not just their wallet. See every criticism, every complaint and every product enquiry as an opportunity to take care of your customers, this creates a strong bond. But don't wait until the customer approaches you: actively approach your customers too! QuestionPro gives you tools to initiate and analyse customer surveys in no time and document every customer experience. The data you gain from both active and reactive customer surveys enables you to conduct qualitative and qualitative analyses to improve your products and service. We provide you with the necessary infrastructure to do this.
Survey your customers as often as you can!
At the same time, really getting to know your customers also means being able to interview them in the most diverse situations and phases of the customer life cycle. This already starts with the acquisition or the enquiry and actually ends – never! After all, you will never want to lose your customers if you know what they want from you and what you can do to meet their needs.
It may not be possible for all companies to contact their customers in the sales or even pre-sales phase or to conduct customer surveys. Depending on the industry and sector, however, this is possible, namely where, for example, sales staff have direct or telephone contact with potential customers. Here, for example, wishes, requirements, obstacles of all potential customers can be recorded, analysed and evaluated in the form of free text within the framework of the sales report. Of course, this also works for initial e-mail enquiries from interested parties, in which the content of these e-mails is also recorded – and this is now fully automatic. All this information then flows into a data pool and can be interpreted by means of text analysis.
Gain customer feedback by mail, by app, at the point of sale, by phone, in person…
It should not fail due to a lack of technical infrastructure to refrain from conducting customer surveys or not to conduct customer surveys to the full extent to which this would be possible according to the current state of the art. With QuestionPro's customer experience management platform, you gain information about your customers and prospects by mail, via mobile app, at the point of sale, by phone, in person, via your website, using social networks, structured or unstructured. With modern survey technologies, customer surveys can be conducted easily and cost-efficiently across all media.
Show your customers that you are really interested in them and use customer surveys as an instrument of your communication policy!
Those who conduct customer surveys do not only contain valuable information regarding service or product quality. A satisfaction survey signals to your customers that you are really concerned about the wishes and sensitivities of your clientele. Surveys are therefore an important aspect of communication policy in addition to the pure acquisition of information.
Bring together data from all applications, departments and external sources and analyse this valuable information centrally
Every company has countless amounts of data and information on customers and prospects. From mere address data from the CRM or ERP system to purchase transactions, support requests, complaints, product returns, product requests, additional purchases, feature requests and much more. This information often simply lies idle! But if your company succeeds in bringing all this information and the data from customer surveys together, linking them in a meaningful way and evaluating them, then you have a powerful body of knowledge on the basis of which important operational and strategic decisions can be derived. QuestionPro offers you exactly this possibility with its analysis tools, namely to combine and evaluate data centrally. And this does not only apply to internal data. You can also use data from rating portals, import them and evaluate them as well. Since rating portals usually deal with qualitative information, simply use the semantic text analysis integrated in QuestionPro.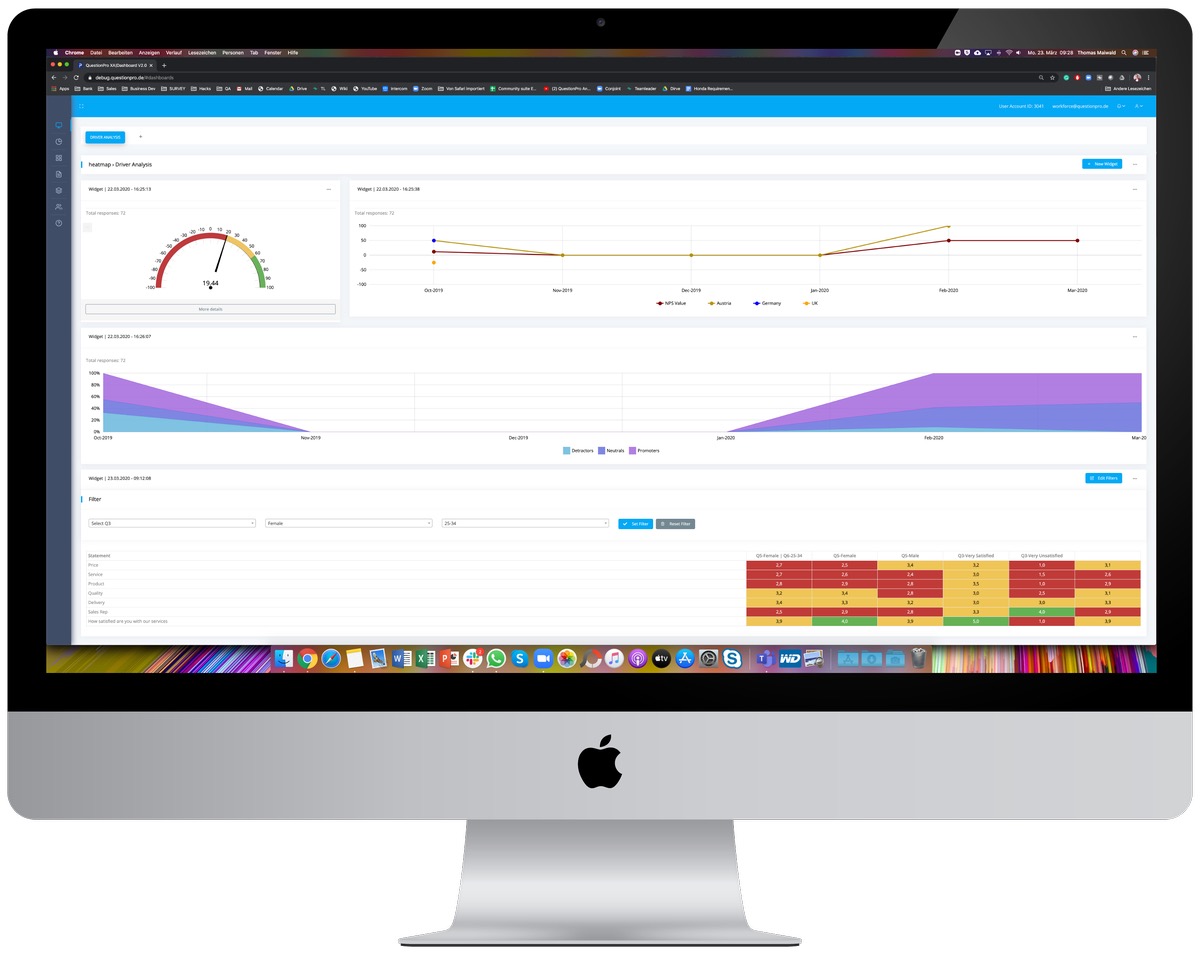 Live demo: Conduct customer surveys with QuestionPro
We would be very happy to show you in a personal live online presentation how to create, distribute and finally also evaluate a questionnaire for a customer survey or touchpoint analysis with the customer experience management platform QuestionPro. Simply use the following form to make an appointment for a presentation. We will then contact you at your convenience.
Test QuestionPro, the web-based software for customer surveys, now in the full version 14 days free of charge
Do you have questions about this article or about customer surveys? Please contact us! We would also be happy to set up your survey account for conducting customer surveys and touchpoint analyses for a 14-day trial period free of charge. No automatic conversion to a paid licence after the trial period. The survey account is automatically converted to the free Essential variant of QuestionPro, so that your test customer surveys and test data are retained.