Employee Experience Management
Employee Journey Analysis: Best practices and tips for conducting employee surveys
What is Employee Experience Management?
Employee Experience Management is a strategy designed to provide employees with as many positive experiences as possible throughout their employment period. Companies that operate an active Employee Experience Management program have lower attrition and more satisfied employees. The job of an Employee Experience Manager is to create a positive, pleasant and inspiring working environment for their employees.
Touchpoints in Employee Experience Management
The first step to developing an Employee Experience program is to define the points of contact that the employee has with the company. These become the points where you can collect feedback and begin to influence positively. This may sound obvious at first, but it is not. If you trace the path of employees throughout their entire employment relationship, it becomes clear that there are many different touchpoints. Let's look at some examples:
Employee onboarding
The period when a new employee gets to know the company. Even at this early stage, new employees are often unhappy because the training process is slow, not all the work equipment is available from the start or because their colleagues are not helpful enough.
Feedback meetings
The feedback meeting is another such touchpoint. For example, when employees have the feeling that they receive predominantly negative criticism, when appointments for feedback meetings are permanently postponed or even cancelled, or when there are no real results and changes.
On-the-job training
If, for example, learning content is poorly prepared or the content of such courses has nothing to do with work practice, employees feel that in-company advanced training is unsatisfactory.
Food in the cafeteria
The cafeteria also represents such a touchpoint within the framework of Employee Experience Management. If the food is only of average quality or if there are too few alternatives, for example for vegetarians or allergy sufferers, frustration quickly sets in here.
Daily routine
Yes, even the daily routine of tasks is such a touchpoint. If the work is monotonous, if there is a lack of equipment or if delegated tasks cannot always be completed in the given time, this can quickly take away the motivation to work.
There are many other touchpoints within Employee Experience Management. It is important that those in charge are really clear about which touchpoints exist in the company so that they can ultimately be designed in a consistently positive way.
Need for employee surveys in Employee Experience Management
The entire workforce must be surveyed regularly in order to ensure employees have a good working environment and that the Employee Experience Management initiatives are actually effective. Employee surveys are necessary for both large and small companies in order to identify a specific need for action, for example with regard to improving corporate communications or workplace design. Large companies are recognizing the necessity of employee surveys but smaller companies still have difficulties. The reason: there is often a lack of knowledge regarding the methodologies or there is no time to implement such a survey.
Nevertheless, even small companies should survey their employees regularly. External consultants can help with the methodology. But there are also examples of employee surveys readily accessible on the internet. Implementation can be easily done with special survey software and experience management platforms that allow users to create & distribute web-based questionnaires and perform the necessary analysis.
Define clear goals for your employee survey
Why do you want to conduct the employee survey? Explain to your staff what it is all about, why you are conducting an employee survey, what you want to learn about your organization, your company and what you want to improve. If your employees recognize that you really want to change something by conducting an employee survey, then they are more likely to complete the survey honestly and comprehensively.
Conduct employee surveys anonymously & voluntarily
You should carry out the employee survey anonymously, i.e. no personal data is collected and the answers to the questions should not allow any conclusions to be drawn about individuals. For example, it's quite possible to draw conclusions about a specific individual if you ask for their team name and their team only consists of three people. Try to avoid these scenarios because if your employees sense they can be identified then they are likely to submit answers that will make them look good. They could also decide not to complete the survey at all. It is important to make the survey voluntary to build confidence and trust. They should be motivated to complete the survey as the feedback they provide will make their lives better in the long run. Sometimes employees will have doubts that online surveys are truly anonymous. QuestionPro's technology specifically addresses this.
---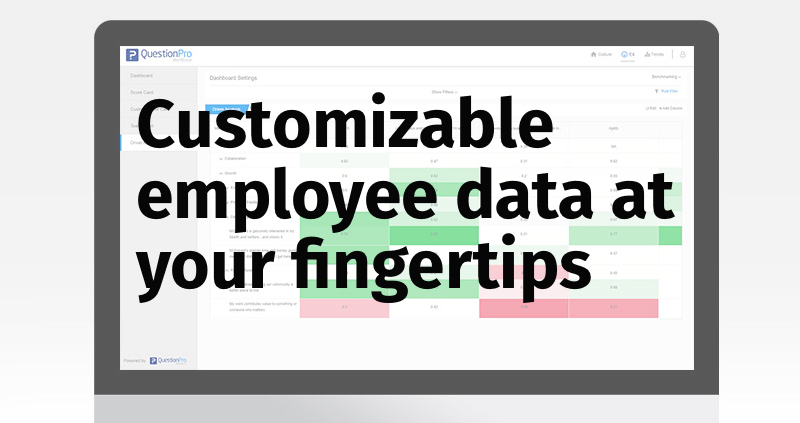 ---
Employee Journey: Conduct employee surveys regularly in the form of Touchpoint Analysis!
The times when companies distributed a once per year employee survey are long gone. These days, companies recognize the importance of keeping a regular pulse on employee satisfaction throughout the year and at different points in the employee journey.
Touchpoint Analysis along the Employee Journey
The implementation of employee surveys in the form of touchpoint analyses along the employee journey has proven to be really useful. The Employee Journey can be understood as the summary of all Employee Touchpoints that employees pass through during the entire period of employment in the company. This means instead of one large all-encompassing employee survey, there are several small surveys that are precisely tailored to the various touchpoints.
Examples of Employee Touchpoint Analysis
During the familiarization period, new employees are surveyed about the onboarding process.
At the end of a working week, employees are asked whether the weekly goals have been achieved.
Survey teams and groups after completion of projects (e.g. PR or marketing campaigns, introduction of new IT infrastructure)
In the cafeteria employees can provide feedback on the quality and diversity of the food via touch screens or offline terminals.
Conduct exit surveys when employees leave the company.
Conduct regular pulse surveys on the satisfaction and well-being of your employees.
Have your employees regularly evaluate managers.
Conduct surveys after training sessions.
Employee surveys also show that you value your employees and take them seriously
By initiating a survey, you show your employees that you are interested in their opinion, that you want to change something to their advantage and that this change also has positive effects on the company. You will receive honest answers because it is important to employees that their experience at work is always improving.
Employees expect changes after the implementation of an employee survey
Important: if you have decided to carry out an employee survey in your company then you must be aware that your staff actually expect changes that result from the outcome! If the employee survey doesn't have any follow-up action then you will have difficulties in the future to motivate your staff to take part in further surveys. Furthermore, it could be that management loses its credibility after an inconsequential employee survey. "Nothing will happen anyway", "What's the point?"
Ensure acceptance through participation!
In order to gain a high level of acceptance among your employees, have the workforce elect "arbitrators" who act as contact persons at all times and who accompany the employee survey as "referees" so to speak. These persons can help educate about the process and that the data collection is actually anonymous. If the arbitrators are elected directly by the workforce, they enjoy a high degree of credibility. The effort involved is very low using a simple online voting procedure. Please feel free to contact us in this regard!
Switch off organizational blindness and put ideas about day-to-day business into perspective
It's very important for you to receive honest and unvarnished feedback so you don't become blind to the reality of what employees are thinking, especially under the surface. If you really know what is going on in your company, where the potentials for improvements are, what your employees need to be able to work efficiently, then you can react and actively improve the working climate and environment.
Pay attention to the questions when surveying employees
Avoid suggestive questions or questions that provoke desired answers. If you are really interested in the honest opinion of your employees then try to ask your questions as factually and neutrally as possible. Avoid questions that your employees might answer tendentiously, for example:
Don't ask: Did you enjoy your last company trip?
Ask instead: How did you like the last company trip?
Ultimately, your goal is to achieve real changes and not to score as positively as possible in the employee survey.
You should also avoid combined questions like these:
How satisfied are you with your manager and with the company management in general? very satisfied / satisfied / rather not satisfied / dissatisfied
It may well be that the employee is quite satisfied with the company management, but not with his direct superior.
Use open ended questions
Another advantage of professional survey software for conducting an employee survey is the ability to analyse open, so-called qualitative questions. Your employees are forced to put some thought into their response. Analyses can be efficient using comprehensive text analyses tools. This provides you with important additional information for your employee survey.
Use the Employee Net Promoter Score
The Employee Net Promoter Score is a key performance indicator that provides information about employee satisfaction and loyalty. The Employee Net Promoter Score contains only one question, namely whether your employees would recommend the company to friends and acquaintances as an employer.
When the employee survey is completed you should inform your employees about the results! This creates trust. Not only when you already have an action plan to improve the survey results. Quite the contrary: involve your employees in the change process from the very beginning. The presentation should be graphically simple and very clear, understandable for everyone and easy to read. No fancy business terminology! No incomprehensible graphics. Everyone should feel involved and above all taken seriously.
Action plan, implementation & success measurement according to the employee survey
Once you have put your heads together and decided on measures for change, you present your action plan and initiate implementation! As soon as you declare the measures to be completed, a new employee survey should be conducted to assess and evaluate their effectiveness.
Implementation of the employee survey
Rely on a professional survey tool to conduct the employee survey. This is not just about easily designing the questionnaire or analysing the data. You need to consider data security and system stability. Also consider limitations, for example with regard to the number of questions within the questionnaire or limited feedback. You do not have to pay enormous amounts of money for a professional solution. QuestionPro for example, offers fair licensing and usage models.
Employee survey:
What role does the software play?
If you conduct employee surveys regularly or even only occasionally yourself, then the software naturally plays a major role! You should make sure that you can fully implement your ideas for carrying out the survey. With its web-based experience management platform for conducting employee surveys, QuestionPro offers a wide range of tools that make it much easier for you to create the employee survey, distribute the online questionnaire and analyse the feedback gained. For example, predefined question sets, a question library, an intuitive questionnaire editor, the automated sending of invitations to participate in the employee survey, a rights- and role-based reporting tool, special analyses modules tailored exactly to the needs of employee surveys, to name just a few.
Create and conduct employee surveys with the QuestionPro Employee Experience Platform
Fast set-up of employee surveys and implementation of all theoretical survey models in practice
The creation, distribution and analysis of employee surveys is completely hassle-free with the QuestionPro Employee Experience Platform! Basically, with QuestionPro you can put all theoretical models for employee surveys into practice. From ad hoc and micro-surveys to employee monitoring or pulse surveys to 360° feedback or even company-wide data mining, everything is possible!
Graphical presentation of results and comprehensive reporting
Whatever findings, results, trends and comparisons are important to you: with QuestionPro's analysis tool for Employee Experience Management, you will be able to present them in an appealing way. The evaluation and analysis functions meet the latest scientific standards. The integrated reporting can be completely customised and can be presented in a graphically appealing manner for presentation purposes.
Internal and external benchmarking
Department, location and branch office benchmarking: with QuestionPro's analysis tools you are equipped for comparative analyses. If you work with consulting partners for external benchmarking a simple data export function is available.
Don't be restricted!
Automation with QuestionPro makes surveying all of your employees easy. In addition, the system enables you to record and analyse free text comments thanks to the integrated text analysis function, for example according to word frequencies or word combinations. The whole thing can be displayed as a keyword cloud.
Real Employee Experience Management Software
Due to its high scalability, QuestionPro goes far beyond the mere creation and analysis of employee surveys and offers you the functions of a complete experience management platform, with rights and role models, workflow/API integration, connection to IT systems, integrated community and sample management and much more.
Example of an employee survey with reporting
We have set up an example of an employee survey to illustrate how an employee survey could look like for your company.
Personalised Online Demo: Create and conduct employee surveys with the web-based Employee Experience Management Software from QuestionPro
We will show you in a personalised live online presentation on how to gain valuable feedback quickly, easily and anonymously with the web-based software for employee surveys. Schedule an appointment now!