Community Platform
Focus group: conduct focus group discussions completely virtually with QuestionPro's online community
Definition: What is a focus group?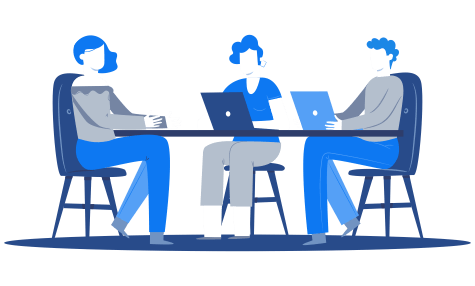 Focus group discussions belong to the qualitative methods within market research, which however has its origins in social science. A focus group can be defined as a small group of carefully selected participants, according to clearly defined criteria, who contribute in an open discussion and under moderation, for example, to the research of a new product, the further development of products or, for example, the strengthening of brands. The participants of market research focus groups ideally have a similarly strong interest in terms of the topic of the focus group discussion, such as an affinity for a particular product or brand.
The pioneer of the focus group can be considered the US social scientist Robert K. Merton, who had already used the focus group interview method in the mid-1900s. The focus group finally gathered popularity in the 1980s as a qualitative social science method.
What is the purpose of a focus group?
The purpose of a focus group is not to reach a common consensus or a certain level of agreement or to decide how to proceed with the topic under discussion. Focus groups are designed to identify perceptions and feelings and to understand what consumers might think about a particular product or service. Because the focus group uses qualitative data collection methods just like real-life dynamics, participants can interact freely and the desired outcome is usually unbiased.
Size and types of focus groups
The size of a focus group is ideally six to ten participants. In a so-called mini focus group, only four to six participants take part in the focus group discussion. The number of moderators varies from one or two people. However, there are also focus groups that are conducted entirely without moderation or where the focus group is moderated by one or more participants (participant-moderated focus group). A special form of focus group is the so-called two-way focus group. In this form of focus group, two separate groups discuss the topic at different times. While one group conducts its discussion, the other group observes this discussion. Subsequently, the group that observed the first group discussion conducts its own discussion. The second group can use the knowledge gained from observing the first discussion to delve deeper into the topic.
Duration of a focus group discussion
The duration of a focus group can vary enormously depending on the research topic and the number of participating discussants. There is no "universal rule" here. It also always depends somewhat on what the moderator can "get out" of the participants and motivate them. However, it often turns out that after about 2 to 2 1/2 hours the air is out! As a rule of thumb, a focus group session should last between 90 and 120 minutes. However, moderators can also clearly limit the time beforehand, for example to 60 minutes. This can motivate the participants of a focus group to discuss in a more committed way, as no time should be lost. However, this also increases the pressure on the participants.
Conduct focus group online
Focus groups are moderated group discussions on a clearly defined topic, for example in the area of product development. Here, for example, discussions take place about which functions a product must have in order to appeal to customers. Online focus groups are accordingly discussion rounds that take place purely virtually, for example in a chat, video or online conferencing room. With its online community platform, QuestionPro has tools for mapping an online focus group discussion.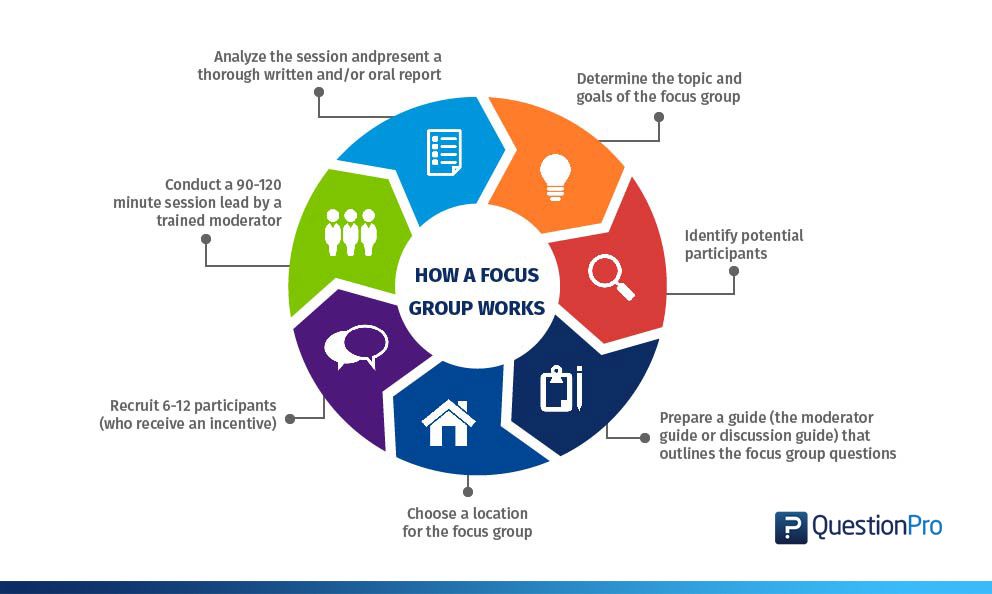 The role of moderators in the focus group
A focus group naturally needs a person to moderate it. The type of moderation of a focus group can be differentiated as follows.
Moderators as observers
In this type, the moderator is completely unknown to the focus group participants. This way of conducting a focus group discussion gives the participants more freedom to speak because they believe they are not being observed or judged.
Moderators as open participants
In this type of focus group, the moderator is known to the focus group or to the people in the sample who will be subjected to the study. In this type of study, the end goal of the moderator is known to all. In this case, the moderator can play an active role in the discussion. However, it is preferable if the suggestions given are limited so that they do not influence the research outcome or lead the group to have a particular bias.
Moderators as participant observers
In this type of focus group, the moderator leaves the focus group participants completely to their own devices and participates in the discussion. Even though the participants discuss entirely with the observer, they know that the observer is also a researcher. However, the moderator in this case is a family member or a close friend and this does not deter the participants from discussion.
This focus group method is used when deep insights into the research topic are required. In this case, the researcher is fully synchronised with the participants. The discussions are free-flowing, there are no taboos and the researcher gives himself to the discussion in a lively way. In this type of research, the participants do not know who is moderating the focus group.
Steps for conducting a focus group discussion
STEP1: Define the agenda of your focus group
Do you have a clear agenda for the focus group? What is the aim of your focus group discussion? Where and how should the discussion be conducted? The answers to these questions must be clearly defined before you select your participants. If you want to conduct a focus group online, i.e. virtually, you need a community platform that includes appropriate functions, such as chat, video or conferencing features.
STEP 2: Definition of the concrete question
Define the specific questions you want to ask your focus group participants. It is crucial that the questions are formulated in such a way that lively discussions can also result from them. So keep the questions as open as possible and use simple and understandable language and do not scare participants away by using "technical jargon".
STEP 3: Select the participants for your focus group
The selection of participants for your focus group is of particular importance, because all participants should have a great affinity with the topic of discussion. For example, if the topic is the improvement of products, the focus group participants should actually know this product and have an interest in improving it out of their own interest.
STEP 4: Create a concrete timetable for the discussion within your focus group
If possible, plan the implementation of your focus group very precisely. The time, way of conducting it, choice of tools and duration must be decided in advance and communicated to all participants. Only if you have a clear schedule and agenda can you ensure that the focus group discussion runs smoothly.
STEP 5: Execution and documentation
The facilitator provides the topics and encourages the participants to give free rein to their thoughts. Make sure that the discussion and the results are appropriately documented so that you can actually use the content at the end. For example, you can record video or online conferencing settings and descriptivise the most important content and evaluate it using semantic text analysis.
Find participants for an online focus group
QuestionPro has a long-standing and well-maintained online panel database with several hundred thousand survey participants, segmentable according to all possible characteristics such as place of residence, age, gender, origin, graduation, income, employment relationship, preferences and an unimaginable number of other criteria. Once selected, the participants for your focus group discussion are simply invited using the e-mail management tool integrated in QuestionPro – in other words, at the touch of a button.
The main advantages of an online focus group
Conducting a group discussion in the context of an online focus group can be done regardless of location.
Conducting online focus group discussions are significantly less expensive
Conducting a discussion in the context of an online focus group saves an enormous amount of time
Recruiting participants for a focus group is much easier
Online focus groups offer a higher degree of anonymity and are therefore particularly suitable for sensitive topics.
Virtual focus group discussions are easy to document
Chats in online focus groups can be evaluated by text analysis
Online focus groups can also be depicted in the form of a forum discussion, i.e. staggered and not in real time
Software and tools for running an online focus group
In order to be able to reproduce a discussion in the context of a focus group completely virtually, you need appropriate tools and software. The QuestionPro market research community offers you all the tools you need to conduct a lively focus group discussion. For example, use the integrated event planner, integrate video conferences and chat rooms and use the Idea Board. We will be happy to show you how you can easily conduct online focus groups with the QuestionPro market research community in a 1:1 live online presentation. Make an appointment now for a live demo with one of our community and focus group specialists!
1:1 Live Online Demo:
Conduct focus group discussions with QuestionPro's market research community.
We will show you in a 1:1 live online presentation how you can use QuestionPro to conduct focus group discussions quickly, easily and cost-effectively.
Contact and 14 Days Free Trial
Do you have any questions on this topic? Simply contact us via the contact form. We look forward to the dialogue with you. Test the web-based software for surveys, market research and experience management 14 days for free!