Evaluation and analysis
Text mining software tools for text analysis in online surveys. Gaining and evaluating qualitative feedback
With free text comments in online surveys, you gain valuable detailed feedback, which you can easily evaluate with the help of the integrated text analysis and text mining software tools
Text mining and free text analysis
Text analysis (also known as text mining or content analysis) is a technique that computers use to intelligently and efficiently extract valuable information from human speech. Researchers and developers can use this method to compile diverse and unorganized data in a structured form. Put simply, unstructured text is converted into structured data. Free text analysis and text mining allow you to draw conclusions from open texts by decoding, categorizing and structuring the content. QuestionPro offers you sophisticated text mining software and tools for free text analysis.
AI based, self-learning text analysis and automated text mining
QuestionPro offers you, in addition to the classic manual text analysis (manual decoding), an automated semantic text analysis based on artificial intelligence with which you can fully automatically evaluate and categorize unstructured texts and also analyse them with regard to affective states, moods and emotions. So it's not just about WHAT is in the text, but under which emotional states the text was written and what the mood of the author is. The automated and AI-based semantic text analysis is mainly used by market researchers and experience managers to automatically evaluate huge amounts of unstructured data. Here you can find information on AI-based text analysis.
The classic text analysis in QuestionPro
The classic text analysis and text mining tools from QuestionPro help you analyse texts using traditional data mining algorithms such as analysis, association and classification. Text mining is usually dependent on the statistical and rule-based model. In rule-based models, you can use various rules such as linguistic rules by specifying the conditions, and in the statistical model, you use statistical algorithms.
The text mining software from QuestionPro integrates existing data and helps you to recognize the relationship between new and existing data. The process helps to find logical relationships and creates a hierarchical relationship between the semantic terms. The text mining software from QuestionPro not only helps to search and retrieve data from the repository, but also to speed up the entire analysis process.
Examples of forms and types of text mining and free text analysis
Semantic text analysis / semantic text mining
Sentiment analysis, also called sentiment analysis, refers to the use of natural language processing, text analysis, computational linguistics and biometrics to systematically identify, extract, quantify and analyse affective states and subjective information. The sentiment analysis can therefore be used in the context of free texts, for example for comments. For certain terms that you want to analyse, the corresponding connotations from the sum of all texts are displayed in the form of graphics. A distinction can be made here between POSITIVE, NEUTRAL or NEGATIVE.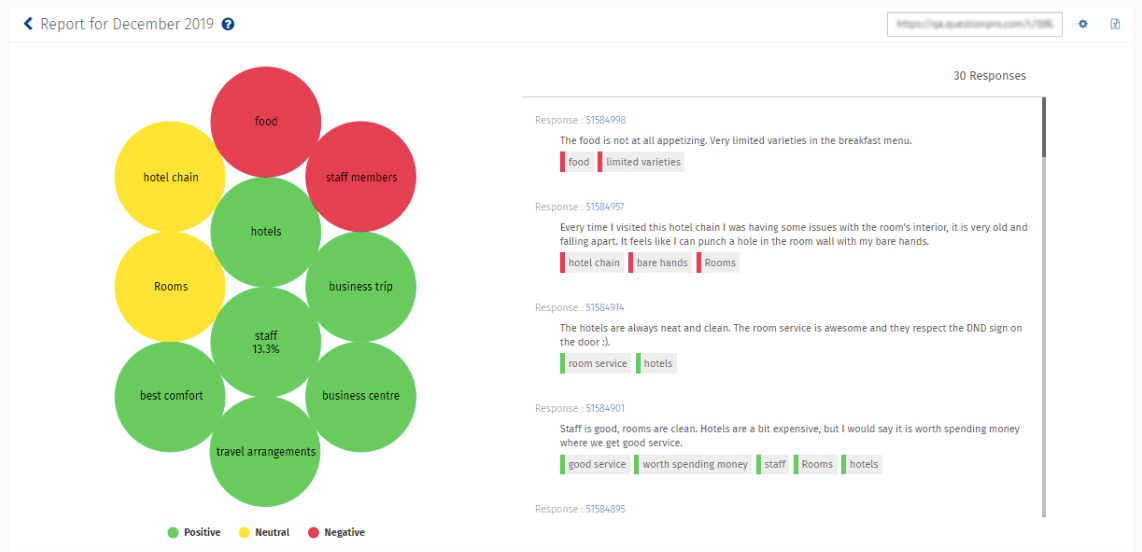 ---
Here is an example of the evaluation of the text mining and free text analysis tool: You would like to determine from all free texts within your survey how guests of your hotel describe the rooms. "The hotel room was clean and well maintained" could be such a comment. So this is a positive rating. The more positive connotations there are in free text for a certain term, the term will be marked in the graphic as green, i.e. positive. If the negative text comments predominate, the term is highlighted in red accordingly.
Context analysis
Context analysis enables the researcher to analyse the text taking into account various factors such as cultural, social or historical factors and to take into account the circumstances under which a certain content was created. Questions similar to "What were the factors that led to this text" or "What did this text say about the target audience" are answered using this technique. The best way to create context is to find a correlation between a noun and other related terms that are neighbors of the keywords, while analyzing the substantive connection between multiple terms.
Word cloud
The use of the word cloud as a function of the QuestionPro Reporting and analysis tools in the context of text analyses and text mining, for example in qualitative empirical social research, in in-depth interviews in market research or in the analysis of free text information in standardized questionnaires. The keyword cloud is generated fully automatically and is available to you with a mouse click or fingertip.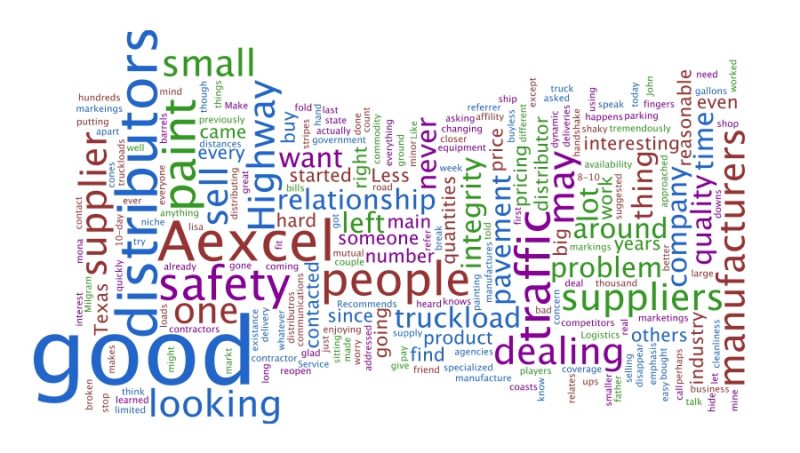 ---
Free text comments and text analysis in surveys: Use qualitative feedback!
An analysis of the mood and the feeling within the customer feedback, which is generated via online surveys, websites or social media pages, can contribute significantly to faster problem solving and to increasing customer satisfaction. It helps you understand how well your product / service is being received by your target market or what can be improved compared to other products / services in the market.
Online questionnaires should be short, concise and clear so that your potential respondents do not feel reluctant to open the questionnaire. Simple single or multiple choice questions are therefore very popular so that users can quickly click through the questionnaire. Especially when the online questionnaire is opened on the smartphone. However, many initiators of online surveys also forego valuable quantitative feedback. Therefore, in addition to standardized questions, free text fields can also be used. However, these should be carefully incorporated into the online questionnaire. So offers QuestionPro for example the "extended comment function" via dynamic comment boxes. This means that only after evaluating a single choice question does a text field open in which survey participants can enter detailed information about their evaluation. Free text can be used with QuestionPro evaluate quickly and easily using free text analysis and text mining

In this example, initially only a rating scale from 1-10 can be seen. If survey participants give a bad rating, a comment box opens in which free text can be written.
---

You define when the comment box for free text comments should appear within your survey! You can deposit one of these dynamic comment boxes behind every answer option.
---
That is why you should definitely not do without free text comments in surveys and touchpoint analyses
1. Enter more details with free text fields
Open text fields give your survey participants the opportunity to write more detailed information and qualified answers, which you can easily categorize and classify using text mining and free text analysis.
2. Gain unimagined insights
Free text comments help you to find information that you may not have been aware of, that you may not have even guessed before and that you would never have received with standardized questions!
3. Read "Between the Lines"
Through the use of open free text comments, you can also learn something about the "speech" of your survey group, about the way of thinking, mentality and read "between the lines".
4. Give your survey participants the opportunity to leave themselves out
If you work exclusively with standardized question types, you will deprive your survey participants of the opportunity to give you their opinion, that is, to really let off steam. Or to get explicit praise. It's also a form of appreciation when you give your respondents space for comments! And don't be afraid of a lot of work during the evaluation: With de text mining and free text analysis tools from QuestionPro it's quick and easy!
5. Subject free text comments to a free text analysis
Of course, especially with very extensive online surveys, it is almost impossible to read through all the free text comments. Therefore, use the in QuestionPro Integrated tools for free text analysis and text mining, in which you can analyse word frequencies using so-called tag cloud.
1:1 live online presentation:


Perform text analysis with the market research and experience management platform QuestionPro
You want to learn more about text analytics with QuestionPro Experienced? We would be happy to show you all the features related to text analysis in a personal 1:1 live online demo. Make an individual appointment now.
---
Try software for market research and experience management now for 10 days free of charge!
Do you have any questions about the content of this blog? Simply contact us via contact form. We look forward to a dialogue with you! You too can test QuestionPro for 10 days free of charge and without risk in depth!
Try QuestionPro's market research and experience management platform for free.
---
KEYWORDS OF THIS BLOG POST
Text analysis | Text mining