QuestionPro InsightsHub
Insights and research repository: definition, structure, advantages and benefits
It is essential for companies to have a source in which all information from studies, surveys and touchpoint analyses flows together and is easy to find and easily accessible. QuestionPro with its InsightsHub offers a new solution for this!
Data, data, data ...
Companies around the world use it QuestionPro for different studies of different complexity, type, type and duration. As the leading partner of choice for market research and experience management worldwide, we receive millions of responses annually with QuestionPro collected. Now you multiply that many times over by all the research that is being done worldwide. That is an infinite number of data points that have to be stored, organized and managed so that a company can actually use this data
We hear from many of our customers that the way research data is created and shared is fundamentally challenging:
Research data is often isolated.
Often the same research is carried out over and over by different teams and managers
Reports go unnoticed and eventually get lost
There are hardly any ways to transfer past data to existing and future challenges
In this article, we will address all of these challenges and show how an Insights & ResearchRepository can help you solve all of these challenges and consolidate insights in a structured workflow for knowledge management. This blog also highlights how intelligent research data management with an Insights Desk or Research Repository supports the continuous knowledge process and saves time and money for research teams and organizations.
The Insights & Research Repository of QuestionPro: Clear user interface, intelligent search functions, project management tools and intuitive to use! The QuestionPro InsightsHub.
---
What is an Insights & Research Repository?
An Insights Repository or a Research Repository is defined as a central source of data and information that those responsible have access to in order to gain insights into the research results that the company has carried out in the past and present. It is a consolidated platform for organizing, researching, searching and discovering research data in a centrally organized repository.
Think of the Insights Repository (also known as Insights Desk or Insights Hub) as a central platform that makes customer and research findings quickly accessible in an easy-to-understand model and helps with ongoing research. Often those responsible complain that they do not know which studies have been carried out or that historical data and reports are not available. The Insights & Research Repository solves this problem by providing easy access to research data to enable continuous discovery regardless of the scope or type of research, including qualitative survey research.
The Insights & Research Repository consists of three basic levels of data:
Insights: On a holistic level, the Insights Desk consists of tagged, indexed and standardized insights. These come from past and existing studies of various types of research, including qualitative and quantitative studies, user research, custom studies, advanced research modeling studies, and more. All of these insights are easily searchable through the use of business taxonomies and meta tags. These insights also monitor cost spend, study ROI, and other factors that provide insight into time and resource spending.
Observations and detailed information: The secondary level of the Insights & Research Repository aims to provide information on an even more granular level about studies being carried out by a particular team or product, insights from longitudinal studies, product improvements, marketing messaging, or a campaign that came from a particular initiative, provide. Presentations and results are also stored at this level so that tribal knowledge from silo-like studies is accessible to all.
Raw data: The last component of this repository is the original data that has come together over time, for example from market research studies or touchpoint analyses, but also data from CRM systems, such as customer dialogues, support cases, etc., from which valuable insights can be drawn!
All in all, the Insights & Research Repository is a co-creation tool that helps companies and organizations break down data silos and easily access valuable insights that would otherwise go unseen and, above all, neglected in important company decisions.
All market research and experience management projects are clearly arranged, including status view.
---
The importance of an Insights & Research Repository
Research data is often organized like a silo
Organisations conduct research on various frequencies, scales, and complexities. Different groups within an organization can conduct research themselves or entrust third parties with the research. Add to this the variable factors of research between other departments, business units, and geographic locations with different types of studies. Think of customer studies, usability research, online focus groups, quantitative research, and then the tons of survey data collected. All of these find their way into small groups, but are rarely made available to everyone who could benefit from them as well. The research data is highly isolated
Redundant data and research results
Another important factor that highlights the need to build an Insights & Research Repository is the fact that the same studies are often carried out multiple times. Often, when new members join teams, they begin by doing studies that have been done before and drawing insights that have already been gained. This adds to the loss of time and money and reduces the ROI of the insights.
Research results and reports remain unseen
Research reports are created at the end of each study, but unfortunately there is little to no structure on how they are created, stored, or distributed. In addition, the complexity of the data evaluation by the researchers and the lack of alignment of the findings with business issues mean that these reports disappear in the drawer. Most of the time, these reports are also difficult to find because they are in different places and become out of date over time. Another problem with reports is that there is no data-driven structure for insights or recommendations.
Workflows are often not transparent or standardized
Let's imagine a department commissioning internal market research to carry out a study. Those responsible for this department may have a completely different idea of ​​how and where the data obtained and reports are created than other departments. As a result, there are no uniform procedures and other department heads do not know about the existence of this study, for example because they do not receive any notification or they do not have access to the folder structure.
Existing data and tools are extremely fragmented
One of the biggest challenges that make an Insights & Research repository indispensable is that both existing data and reports and the tools used to generate that data are highly fragmented and not interconnected. Added to this is the complexity of the various solutions, software, current tech stacks and communication and management tools. It's a mix of multiple levels of conversation and interactions across different levels. There are some study request tools, project management tools, study management software, research reports, and more.
Everything at a glance: the Insights & Research Repository QuestionPro InsightsHub includes all information about all market research and experience management projects that are carried out in your company. Information silos and distributed and fragmented storage of data and reports are now a thing of the past!
---
Benefits and advantages of using an Insights & Research Repository
Efficient and clearly defined work processes
The use of a central Insights & Research Repository helps define processes for project recording, project management, status updates, templates, storage, distribution of reports, etc., which are traditionally cumbersome and inefficient for many responsible persons. With the establishment of workflows, such as how the data flows into the repository from the request phase to the identification and monitoring of the findings, a clearly defined structure saves considerable time and resources.
Quick access to new data and insights
After completing research studies, there is a meaningful and searchable repository of data, key insights, and materials from all projects. For researchers, insights teams, project and department managers, it becomes easier to look up current or past data in a uniform platform that enables quick access to insights.
Easy access to existing knowledge
Building on research that has already been done, rather than starting from scratch, speeds up the knowledge process significantly. It is effortlessly possible to extract knowledge from past studies from the repository and to build up new knowledge on the basis of these findings. As the collective knowledge is brought together, there is a constant internal, ongoing discovery of detailed information that would previously have remained undiscovered.
Transparency and no loss of information
An additional benefit of an Insights & Research Repository is that there is additional transparency into the research design and processes, from those who request the research to the teams who do it and publish the reports. It is also easy to find studies that have already been carried out and the team members involved, so that specific questions can be asked. This also increases the learning curve of the employees involved, who can learn from and inspire one another.
Fast conduct of studies
Access to information such as study types, questionnaires, tools used, survey participants and more helps to conduct quick turnaround studies, where many administrative aspects are already known to the researchers and those responsible. This enables earlier findings to be used and studies to be carried out more quickly, which provide findings that can be implemented faster and, in the best case, build on one another.
Access to data & unified warehousing
The data from different teams and business areas flow into a central, uniform warehouse with uniform business taxonomy, which makes the Insights & Research Repository a central point of contact for all findings. Data management and accessibility are improved so that you don't have to search in multiple places and approach different people in charge to find meaning in the data. In this case, it also becomes easier to manage multivariate research data.
Real-time analysis
By using the Insights & Research Repository, there is immediate and real-time access to data and analyses. Not only that! With the help of intelligent tagging and artificial intelligence (AI) it is possible to bring information about relevant and interesting projects to the surface. This function makes the use of the Insights & Research Repository even more lucrative for researchers and those responsible for using real-time analyses in extended and reusable market research.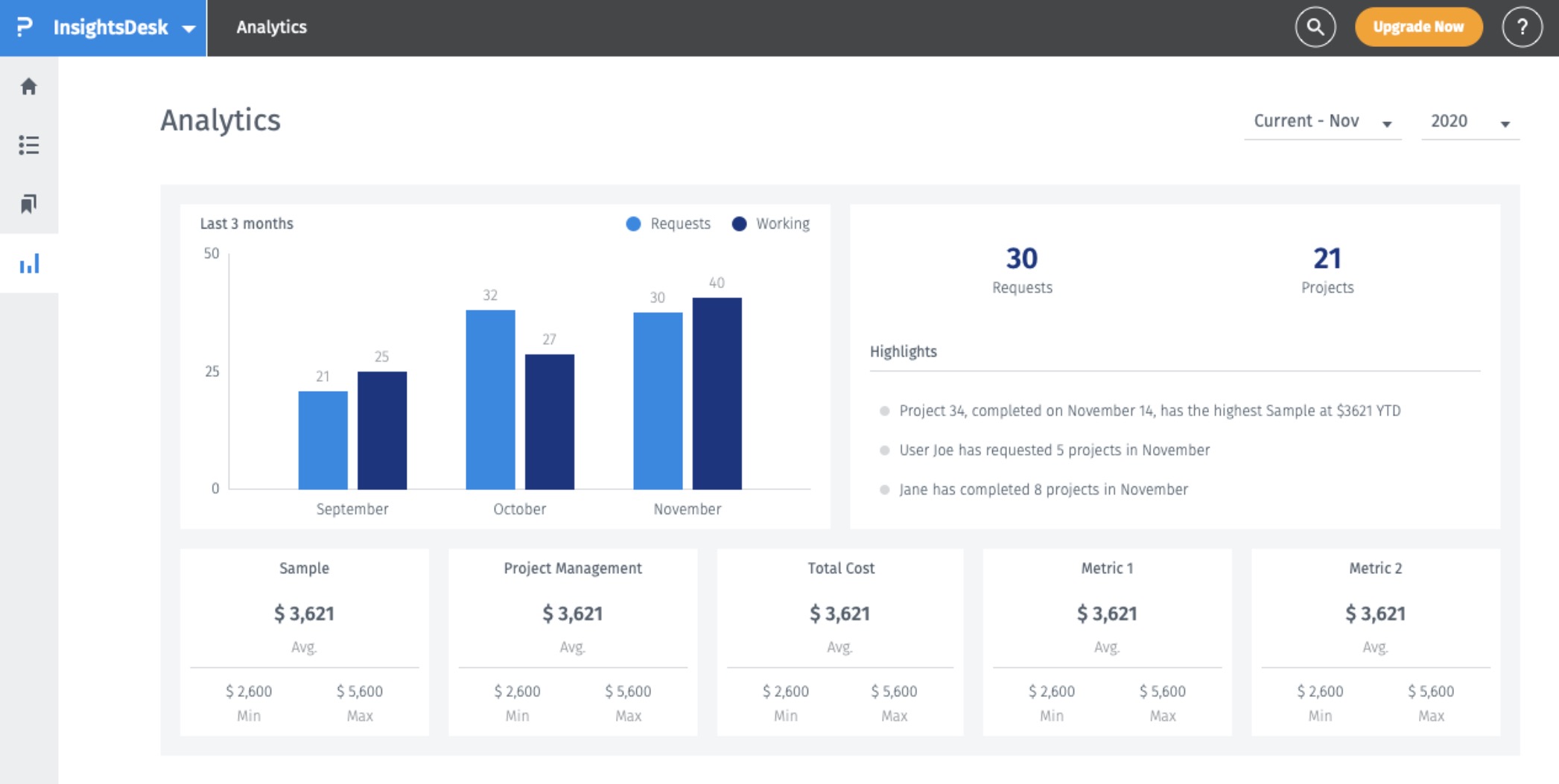 Analyzes and reports from all market research and experience management projects are easy to find and call up.
---
Features of an Insights & Research Repository
After talking to numerous researchers, company representatives and brands, we identified the five most important aspects of an Insights repository.
Discoverability
An essential feature of an Insights & Research Repository is that it must be very easily accessible for both researchers and other company managers. Team members should be able to quickly find information that is easier to understand and consume without having to perform multiple queries on different platforms. Bringing all of this information together on a single platform is critical. Researchers should be able to pull information from past studies and use it to create ongoing studies. Study owners or sponsors should also be able to get insights based on what matters to them, including demographic information, project costs, longitudinal studies, and more.
Responsiveness
All those responsible in a company should be able to use the Insights & Research Repository to obtain information. The tool should be easily accessible to members at all levels. It should also be able to generate analyses with ease and avoid complicated and clunky workflows. Managers want and need to have access to insightful, yet easy-to-visualize and lightweight data, rather than having to deal with complex reports and charts.
traceability
A successful Insights & research repository should not only consist of beautiful diagrams and figures without any back-link to the raw data. The ability to link insights to data is critical. And there should be a way to quickly and easily connect back to the information and owners if ever needed. There must be a reference to the original or raw data. The Insights & Research Repository should be able to access all data, even if it was years ago, in order to validate it or to check whether the conclusions made at that time are still valid today. Easily traceable data also ensures that multivariate data still makes sense in the event of repeat studies or longitudinal tracking. And finally, researchers with comprehensible data should be able to draw new conclusions and findings just as quickly.
accessibility
In order for an Insights & Research Repository to achieve a high degree of acceptance, it must be accessible to all relevant interest groups. Even newcomers to the research team should have access from day one so that they can make informed decisions and draw conclusions about past studies without wasting time. Your Insights & research repository should be the only source in this context, and team members shouldn't have to look through various folders, reports, documents, and spreadsheets to gain insights.
Safety
Since an Insights & Research repository contains data from various sources, it is likely that it contains information that can be confidential and sensitive. For an Insights & Research repository to be used securely in global organizations, the tool must meet the guidelines of federal and other local authorities for data warehousing and security, such as: B. GDPR Compliant and more. There must also be guidelines for the retention, encryption, anonymity and deletion of data. It should also have a rights and roles concept, i.e. who can and may access which data.

Studies and reports are easy to find thanks to intelligent tagging. But the Insights & research repository also offers you a full-text search QuestionPro
---
Components of an Insights & Research Repository
Now that you know the characteristics of an Insights repository and what they mean in the ever-changing research environment, let's take a look at the key components of such a repository.
Mission and vision of teams: An essential component of the Insights Repository is to communicate to the entire team and organization what you want to achieve and how you want to achieve it. The presentation of a vision for the entire company and the question of what the teams are responsible for shows accountability and transparency.
Research Inquiry Workflows: The insights desk should contain examples of workflows and request documents so that each request can be processed appropriately and in the format you have defined. Reusable workflows also show team members how to submit research requests, expectations, schedules, and more.
Detailed schedules: The transparency of schedules makes it possible to convey to those involved what is due and when.
Research plans, Methods and Tools: By publishing research plans, methods and tools in advance, there is no confusion between the research staff and the organization about what to expect and when to expect, etc.
Operational taxonomy and meta tags: Another important part of an Insights repository should be a clear definition of a good business taxonomy and meta tags so that everyone is on the same page when accessing Insights. This largely prevents the effect of tribal knowledge and localized information.
Research reports: An important part of the Insights Hub is the collection of research reports. While it is good to have them in a similar format, structure, and output, centralized reports make insights easier to access and eliminate information silos.
Information on studies: Another important component of the Insights Repository is the collection of meta-information about the research projects, such as the approach, type of implementation, study design, etc.
Raw data: The ability to include and tag raw data such as notes, recordings, and survey data in the Insights Hub increases the credibility of research teams and users. This information is also useful if it needs to be accessed, analysed and verified in the future.
Quick views: The ability to access a quick view of analyses and reports increases the acceptance and use of the tool, as studies carried out in the past can be easily accessed. This feature allows you to quickly compare past studies and use them as a stepping stone for future studies.
QuestionPro InsightsHub: The innovative Insights & Research Repository
QuestionPro offers companies a turnkey Insights & Research Repository with its InsightsHub. The QuestionPro InsightsHub is a technologically advanced research and insights repository platform used by leading market researchers and companies around the world. The InsightsHub is with all qualitative and quantitative research tools from QuestionPro and also has an advanced analytics engine that brings all research data together on a single platform. The InsightsHub also enables you to seamlessly integrate panel providers and collaboration tools such as Slack, Microsoft Teams, etc. in order to create a central and holistic insights and research platform. Not only that, you can also conduct your customer surveys, touchpoint analyses, employee surveys and scientific research with the InsightsHub, merge all the data obtained without having to use different tools and systems. You can also use the InsightsHub from QuestionPro Control and manage Insights projects and integrate external service providers, as the InsightsHub from QuestionPro has a sophisticated rights and role model.
1:1 live online presentation:


Manage, organize and make easily accessible data, reports and analyses from market research studies and touchpoint analyses
As part of a 1:1 live online demo, we will show you how to use the QuestionPro InsightsHub plan and control market research and experience management projects and make reports, analyses and insights quickly findable and easily accessible.
Make an individual appointment now.
---
Insights & Research Repository by QuestionPro Try now for 10 days free of charge.
Do you have any questions about the content of this blog? Simply contact us via contact form. We look forward to speaking with you! Also test QuestionPro 10 days free of charge and without risk in peace and depth! We would be happy to advise you during the test phase and answer all your questions.
QuestionPro Try InsightsHub for 10 days for free
---
KEYWORDS OF THIS BLOG POST
Insights | Research | Repository | Market Research | Experience Management