Surveys & Market Research
Create Likert Scale with QuestionPro: Application examples and sample evaluation.
Use different question types from QuestionPro to display the Likert scale within your online survey
Likert scale: Definition
A Likert scale is named after the American psychologist Rensis Likert and is used to record the personal attitude and scaling of value judgements of test persons on certain topics or objects. The Likert scale has been known since 1932. In a Likert test, a respondent is presented with one or more answer scales with graded, polarising statements (items) to a clearly defined question, which can be answered with agreement or disagreement.
Examples of use of a Likert scale or Likert test
The Likert scale or Likert test is one of the most common forms of questioning within surveys. The following is an example of a simple Likert scale.
How satisfied are you with our telephone support?
[ ] very satisfied
[ ] rather satisfied
[ ] do not know
[ ] rather dissatisfied
[ ] very dissatisfied
Examples of the Likert scale or a Likert test in various forms of presentation for online surveys
How often do you visit a fitness studio?
very often | – | – | – | – | – | – | very rarely
I like to move around in groups when I travel
I agree [1] [2] [3] [4] [5] [6] [7] I do not agree
---
Even or odd item values in a Likert scale or a Likert test
A Likert scale usually contains an odd number of attribute expressions, whereby the middle answer is always neutral. However, an even number of response options when using the Liert scale is also common, for example to circumvent the so-called "mean value trap", whereby an affirmative or negative statement is to be forced.
Incidentally: When using a Likert scale for surveys on mobile devices, emoticons or other graphics are often used to represent characteristic values because they are easier to display.

---
The term Likert scale is also inaccurately used very often today as a synonym for all types of measurement and rating scales.
TiPP: Avoid design errors when using a Likert scale
For Example:

Here, the attribute description of the Likert scale "does not apply" extends over 4 items [4] [5] [6] [7], while agreement only concerns 2 items, namely [1] [2]. This can lead to irritations when filling out the questionnaire and thus to inappropriate response behaviour, for example when respondents are undecided and tend to disagree and tick [4], although this is actually the value for "neutral, undecided".
Question types for the presentation of the Likert scale or for the presentation of a Likert test
QuestionPro offers many different ways to display a Likert scale for your online survey. In the following graphic you will find some examples of question types that you can use to map the Likert scale.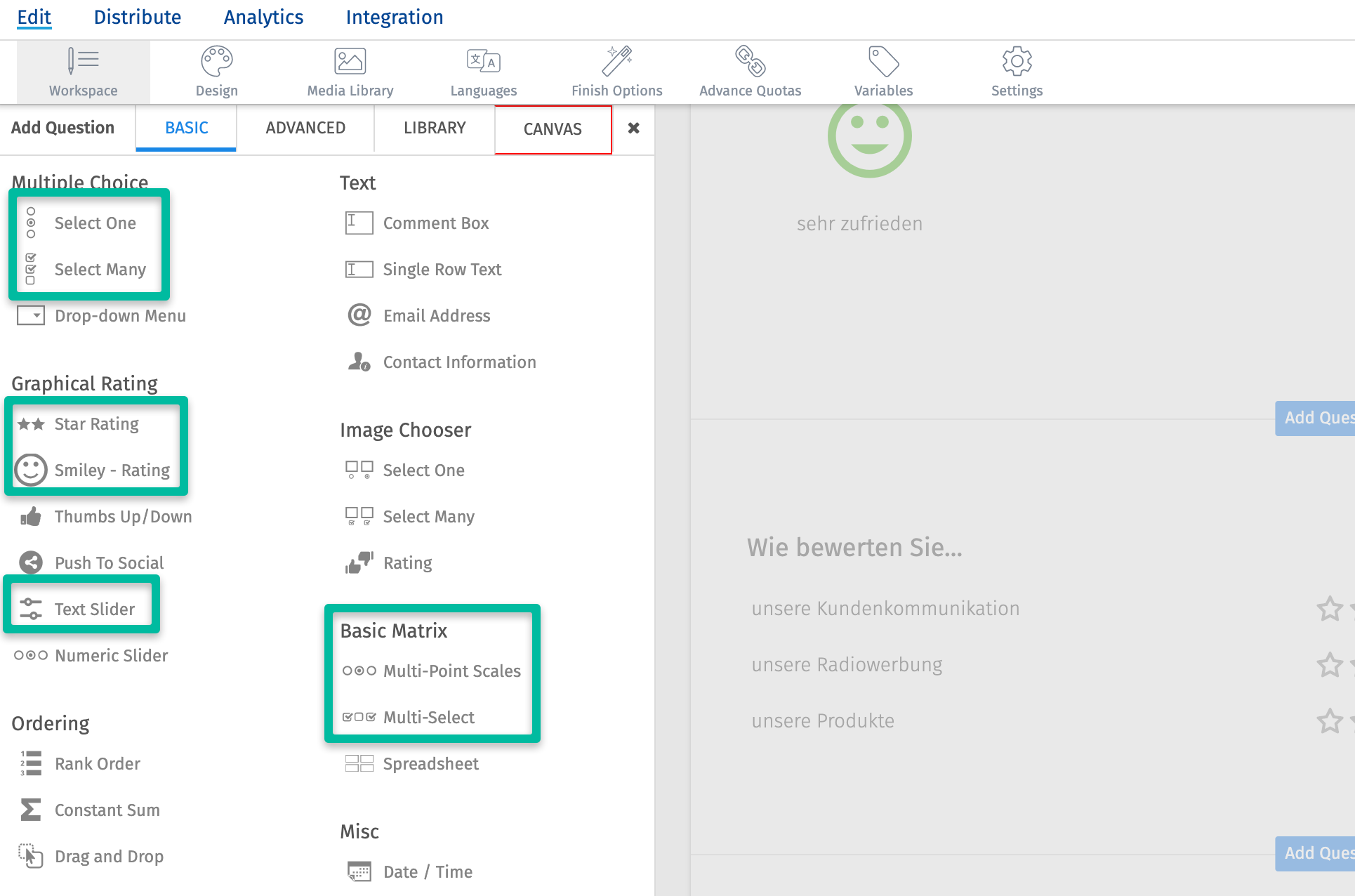 ---
Example of an online survey with different question types to show the Likert scale including example evaluation
In the following sample survey you can see different question types for the Likert scale. If you run through the sample survey completely, you will get to the sample evaluation.
1:1 Live Online Demo:
Create questionnaires with the Likert scale question type with the market research and survey software QuestionPro
We would be happy to show you how to create and evaluate Likert scales or Likert tests quickly and easily with the survey software QuestionPro.
Test the software for creating Likert scales now 14 days free of charge
Do you have any questions on the topic of Likert scales? Simply contact us via the contact form. We look forward to the dialogue with you. Test the web-based software for surveys, market research and experience management 14 days for free!