Technical article on the topic of market research
Market research: definition, data collection, data analysis, methods, tips & examples
With QuestionPro, you get a technologically mature, high-performance, scalable and powerful all-round worry-free market research platform for conducting agile market research projects.
Market research: Definition
The cognitive interest of market research
Market research is a sub-discipline of marketing research and can be defined as the collection, analysis and evaluation of data collected by means of surveys, test procedures or from existing data sources according to current scientific standards. Based on the evaluation of this data, companies make important decisions with regard to their own market behaviour, for example with regard to the development of new or the further development of existing products and services, with regard to corporate positioning and communication as well as for the evaluation and forward-looking assessment of competitors, market peculiarities, market hurdles, purchasing power and sales opportunities.
Obtaining data for market research
There are innumerable methods of obtaining data in the context of market research. The respective use of the methods is closely related to the knowledge that one would like to gain from the data collection. There are very complex test procedures, for example in the area of ​​product development for product, usability or packaging tests, for which test subjects usually have to be present. But there are also very simple methods of obtaining data within market research, to which survey research can also be counted, at least from today's technological point of view. In the course of this article, we will go into more detail about the methods of obtaining data in the context of market research. In addition, we will deal with the topic of agile market research below in this specialist article, i.e. the fast and flexible implementation of market research projects for the acquisition and analysis of data.
---
Why is market research so important?
As markets are increasingly determined by tight competition, it is particularly important for companies to know and understand the preferences of their consumers and to identify and analyse the relevant target markets. Market research can also achieve high levels of customer satisfaction, reduce customer churn, and develop the business. Market research provides valuable information about markets, customers and your own products. Market research helps determine what customers want and what to expect. And this knowledge is the basis for designing products or services that actually correspond to the wishes of the customers and can therefore survive in the corresponding target markets. By understanding customer needs and knowing the target markets, companies can also forecast their production and sales and plan accordingly. In addition, market research provides valuable data on all market participants, including the competition. And those who know their competitors can also react accordingly to their product and market strategies.
Explanation of terms: What types and forms of market research are there?
There are a number of different types and forms of market research, some of which we would like to introduce to you below.
Primary market research
Primary market research means that market researchers collect data directly and for the first time on a specific question. The essence of primary research is that this type of market research is "targeted", the data collection and analysis is done around a specific topic or problem, and the entire focus is on getting answers.
One of the most important advantages of primary market research is that the collected data comes "from first hand" and is precisely based on the question. In addition, the primary market research can be precisely adapted to the individual requirements and needs of organizations or companies that do not depend on the availability of existing data. In addition, primary market research provides an opportunity to control the way in which data is collected and used.
Secondary market research
Secondary market research, also called "desk research" or "desk research", is a research method in which existing data is used for the purposes of your own market research. These data are compiled from third-party sources, for example from existing research material, from diploma theses or websites. There are also companies that specialize in collecting data for secondary market research and making it available for a fee. Desk research can be less expensive than primary research because it uses existing data. However, the research effort, the effort involved in collating and merging the data should not be underestimated, because ultimately these must be meaningfully related to one another.
Quantitative market research
Quantitative market research is defined as the systematic collection and analysis of quantifiable data for the purpose of gaining knowledge on a clearly defined issue. In quantitative research, standardized information (data) is collected, the results of which are presented in the form of numbers, which means that they can be "quantified". Quantitative market research includes larger samples (respondents, survey participants) because more people mean more data. And more data means more accurate results. The quantitative market research is carried out with the help of standardized questionnaires with mostly closed questions, for which the answer options are already given.
Qualitative market research
In contrast to quantitative market research, qualitative market research is a research method based on open questions (conversation) in which data is collected with the help of conversation methods. Survey participants are asked questions without a predefined answer, which means that the answers collected are essentially not quantifiable. However, new semantic text and language analyses based on artificial intelligence can also be used to classify, categorize and connote qualitative answers. We will come back to this later in this text. Qualitative market research is essentially based on methods such as focus groups, in-depth interviews, lifestyle immersion, in-home videos, diaries, observation, recording forum and community contributions or projective techniques.
Online market research
Online market research refers to market research with the help of online media, i.e. the Internet, and not, as is often wrongly assumed, research into the Internet itself, even if this can of course also be the case. In online market research, the Internet thus serves as a "tool" for research. The advantages of online market research lie primarily in the cost efficiency in implementation and in the almost universal availability of mobile devices in western industrialized countries. In the latter example, i.e. when using mobile devices in the context of market studies, one generally speaks of mobile market research. Probably the best known form of online market research is the classic online survey using an online questionnaire. But online market research goes far beyond the classic online survey. Focus group discussions, for example, are now conducted online. The acquisition of qualitative and quantitative data with the help of a research community can also be assigned to online market research.
Mobile market research
Mobile market research basically means the collection of data via mobile devices for the purpose of gaining knowledge in the context of consumer and market research. In addition to the classic data collection method via mobile questionnaires (online questionnaires), there are other options and methods of mobile market research, such as mobile diary studies, ultra-short surveys that can be answered with just a fingertip. And the popular, so-called "in-the-moment survey", a form of survey that is used immediately after the purchase or consumption experience. Here customers respond with a direct impression of what is happening on their smartphone with the help of a survey app.
---
What are the phases and processes of market research?
Definition: What does "market research mix" mean?
The term market research mix is ​​still quite young and was first explicitly mentioned in public in the early to mid-2000s. In his publication "Marketing Research: tools and techniques", the author Nigel Bradley, who is among other things a lecturer in marketing at Westminster University in London, describes the main sequential phases of practical market research and summarizes them as a guide under four P - Keywords together: Purpose, Population, Procedure, Publication. The term "market research mix" has not really arrived in German-language literature. For you, we summarize the meaning of the four P-keywords in the context of market research, because the market research mix basically describes the entire process of market research,
Purpose or: the goal
Those of you who have a business background will surely have noticed immediately that the presentation principle of the four P-key words of the market research mix is ​​closely based on the principle of the four P-key words of the marketing mix. Admittedly: it seems a bit constructed. First of all, everyone asks themselves this question about the goal of a survey and not about the purpose, which is the actual meaning of the English term purpose. But let's not dwell on quibbles. It is therefore important to have a clear objective for your market research, i.e. a clear interest in knowledge. Particularly in small and medium-sized companies, it is not uncommon, for example, in customer satisfaction analyses, that people ask "into the blue". And in the end there is hardly any usable data material for meaningful action deductions. Or the questions are formulated out of the interest of departmental politics in such a way that in the end all customers seem satisfied. There is also that. Therefore: before you start, be clear about what exactly you want to find out about your market research project. The consulting partners in the field of market research full service from QuestionPro are always at your side with advice and action.
Population or: the target group
Of course, it is not only important WHAT you want to learn, but also WHOM you want to learn something from. The term population therefore does not mean the entire world population, of course, but those people who can really help you by answering your questions: the target group of your survey. If you deal with the subject of market research or research in general, you might think: well, that goes without saying. That is true in theory. In practice, however, it often turns out that the target group topic is badly neglected in market research projects. In particular, online surveys that are very easy to set up entice many companies to spread the link to the questionnaire around the world and simply let everyone answer. In a previous blog post, we made a few comments on how it is also technically possible to narrow down your survey target group in order to keep the wastage as low as possible and really only interview those whose judgment really helps you. In addition, the QuestionPro Market research platform with the option of sample and panel management.
Procedure or: methods of implementation
Market research itself has an innumerable number of market research instruments, instruments and market research methods and, in addition, an innumerable number of possible combinations. Primary and secondary data collection, qualitative and quantitative methods. There are also questions about time and period, online or offline, personally or anonymously. No matter which way you go, which process you use: QuestionPro represents your market research technologically 1:1. Our survey platform provides you with tools for both quantitative and qualitative data collection. Offers everything from simple, one-off surveys to managing a complex market research community QuestionPro A wide range of possibilities. Ultimately, your claims should not fail due to a lack of technological infrastructure!
Publication or: analysis and presentation
By publication, the author Nigel Bradley means "publication", i.e. making accessible and presenting the results of a market research study. After the survey has been carried out, i.e. the data collection, the raw data material is first edited and coded, on the basis of which the visualization of the knowledge gained is ultimately based. And that can be quite tedious under certain circumstances and often leads to frustration because the preferred graphical representation is not possible or several different tools are required for data preparation, visualization and reporting. This is not infrequently tedious and costs time and nerves. At QuestionPro fortunately it is different. The system combines all analysis and display options on a single platform. And the nice thing about it: reports and analyses can be compiled with a click of the mouse and exported in any form.
What are the methods of data collection, data acquisition and data mining in market research?
The task of market research is to obtain information by collecting data. This data can be recorded and analysed in very different ways and methods and ultimately serve as a basis for the management of companies in order to be able to make market-oriented decisions. Nowadays, data is mainly obtained via the medium of the Internet. The software for market research, popular worldwide and used in more than 100 countries, QuestionPro, has been in use worldwide for over 15 years, offers companies in the field of market research or companies that conduct market research themselves a variety of options for collecting and analyzing data in the context of online market research, mobile market research and offline data collection, which we would like to present to you here in a selection of examples.
---
"QuestionPro is great software for conducting online surveys. The system enables us to simply ask complex questions. In addition, customer service is available around the clock "
Travis Bouck
Executive Director Marketing

---
The personal survey (face-2-face, in-depth interviews)
Here an interviewer asks a survey participant questions in a personal dialogue. In the past, this survey method still had to use pen and paper to write down the answers. Nowadays, interviewers enter the answers directly into mobile devices, i.e. laptops, smartphones or tablet PCs. Personal surveys as part of market research often take place in pedestrian zones, in shopping malls or at events. QuestionPro provides its customers with a mobile app for this purpose, with which data can be recorded even without an internet connection, i.e. offline.
→ You can find more information about the mobile app here
The telephone survey
Telephone surveys are no longer used as frequently as a survey method in market research as it was a few years ago. One of the greatest advantages of collecting data in this way is the cost savings, as there are no travel expenses for the interviewer. In addition, the effort is less. When interviewing by telephone, you simply click on a dialer button that automatically dials a number and connects the interviewer with his interview partner. During the phone call, the answers are simply entered manually into an input mask set up for the survey within the market research software. QuestionPro also offers a smart solution for this.
→ Further information on the subject of telephone surveys.
Paper and pencil surveys
Due to new technological developments in the field of computer-aided surveys, so-called paper & pencil surveys as a method of data acquisition in the context of market research are rarely carried out today, in contrast to the acquisition of data in the field of medicine, although this method is declining here too . Even if there are options for the automated capture of paper questionnaires using a scanner, companies in the field of market research prefer to take the direct route of entering data directly into the PC or mobile devices. Nevertheless, it is thanks to the open interface concept of the market research software QuestionPro it is also possible to record data read out by means of a scanner.
→ Paper & Pencil data collection
Feedback terminals
With feedback terminals you gain important data for your market research "in passing" at the point of interest. Feedback terminals have the great advantage that they provide direct and unfiltered feedback, for example at the hotel reception, in a restaurant, on the train, in a supermarket or in the arrival terminal of an airport - i.e. wherever quick and immediate feedback is required.
→ Here you can find more information about the Feedback Terminal.
Survey research: online surveys and mobile surveys
Online surveys and mobile surveys are now among the classic methods of collecting data in the context of market research. Online questionnaires can be created quickly and easily and shared via link via email or in social networks. Since online questionnaires adapt to the respective end devices used by the survey participants, they are just as convenient, quick and easy to fill out. The market research software QuestionPro is one of the most widely used survey research applications worldwide, online surveys and mobile surveys.
Panel studies, panel surveys
An online panel is a group of people who agree to take part in market research studies and online surveys. These people register in a specially set up portal and receive invitations to participate in studies or online surveys at regular intervals. Initiators of so-called panel surveys, i.e. the surveys of people within an online panel, select survey participants according to certain criteria, such as: age, gender, place of residence, income, preferred leisure activity and many more. Online panel members provide this data when registering. For participating in studies or surveys as part of online market research and to increase motivation, online panel members usually receive so-called incentives, i.e. rewards. These can be vouchers that are redeemed at online retailers or, for example, access to certain, protected information. Product samples are also popular. In the end, a classic win-win situation: initiators of panel surveys receive valuable data as part of their online market research, members of the online panel receive appropriate consideration in return. The latter often causes criticism: Due to the "reward" of study participants, the scientific nature of online-based studies is called into question. Tactical or arbitrary filling out of questionnaires are the most important points of criticism. However, offers QuestionPro as a provider of online panels, technological mechanisms based on a sophisticated response tracking system that enable the identification of unfair responses. QuestionPro reimburses so-called "bad responses" 100%.
Obtaining data via a market research community (MROC)
A market research community, also known as a research community or customer or feedback community and usually referred to in technical jargon as a market research online community, is a closed group of community members and offers operators the possibility of direct communication with customers and thus also at the same time the acquisition of data for the purposes of online market research. Within the Market Research Online Community, operators can place online surveys, chat with members or hold focus group discussions virtually. Professional communities like that of QuestionPro also offer extended features, such as an idea board or a social listening function. These are a blessing for operators of online market research communities! Because all the data obtained through community features can be found in a central database. This data can be evaluated using a real-time analysis dashboard and community operators gain valuable qualitative and quantitative market knowledge. The Market Research Online Community of QuestionPro is up and running quickly, as it takes little time to set up. Community management takes place via an intuitive and easy-to-use user interface.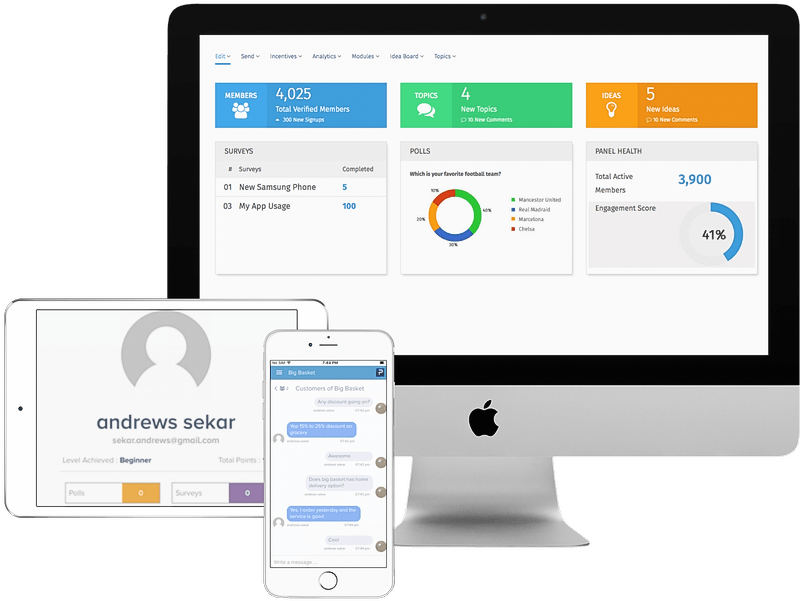 Market research community by QuestionPro
---
More qualitative insights by using a market research community
A market research community is conducted over a long period of time, usually many months or even years. Depending on the topic of the community, the discussions can be held over a correspondingly long period of time, which means that a lot of qualitative data can be collected and evaluated here. With a market research community, you gain far deeper insights compared to other short-term qualitative and quantitative research methods. Since the discussions and communication between the community members take place over a longer period of time, the community members - provided that they are well moderated - can also be guided step-by-step through very complex topics, and these topics can be broken down into smaller sections that can systematically advance the discussion. A market research community makes it possible to collect qualitative and quantitative feedback for the purposes of market research via a large number of integrated functions and features. And with good community management in the background, members are encouraged to actively participate in the community and take part in market research studies and discussions.
Methods and test procedures
In the previous paragraph we showed you a selection of basic methods that market researchers can use to collect and collect data. Below these methods there is a large number of specific test procedures (testings) for data acquisition, a selection of which we would like to present to you here.
Focus groups
The focus group discussion is a method of quantitative market research. A focus group is a moderated group discussion consisting of around 6-10 participants who in turn discuss a discussion on a specific, clearly defined topic. Focus group discussions serve the qualitative data acquisition and are mainly used in the product and advertising conception as well as in trend research. As part of the QuestionPro Market Research Online Community, which we have already presented to you above, such focus group discussions can be mapped completely virtually.
→ Further information on the topic of focus groups can be found here.
Conjoint Analysis
The conjoint analysis, short for CONsidered JOINTly, is a method within market research to determine the influence of individual properties of a product or service on the overall benefit. In the conjoint analysis, also called composite measurement or conjoint measurement, the study participants are presented with different product properties in different combinations for evaluation, whereby not individual product features are evaluated, but rather the entirety of the properties presented, which are ultimately intended to represent the product as a whole.
→ You can find more information on conjoint analysis here.
TURF
The TURF analysis (Total Unduplicated Reach and Frequency Analysis) helps to analyse estimates of media or market potential and to develop optimal communication and placement strategies. TURF was originally developed for the analysis of media campaigns and has been expanded to also carry out product, line and distribution analyses.
→ Here you can find detailed information about the TURF analysis.
Maximum difference scaling
Maximum Difference Scaling (MaxDiff, Best / Worst-Scaling) is a method of measuring preferences that enables market researchers to identify the "best" of many alternatives. Here, the test persons are shown item pairs from a defined number of terms / images / things (items), from which they should select the preferred one.
→ Here you will find a detailed explanation of Maximum Difference Scaling.

---
Example of the evaluation of a Max Diff analysis within the analysis dashboard of the market research platform QuestionPro
---
Semantic differential
With the help of the semantic differential, also called impression differential and developed by the American psychologist Charles Egerton Osgood in the late 1950s, market researchers determine attitudes or feelings about certain topics, things or facts. Here, test persons are presented with opposing pairs of adjectives for a certain term, for example "wind energy", for example expensive-cheap, clean-dirty, efficient-inefficient, on a mostly 5-point scale with a neutral point. The test subjects then have to decide on a variant. With this method, the properties of different products can be compared with one another very well.
→ Here you can find a detailed explanation of the semantic differential.
Card sorting
Card sorting is an interactive question type in which test subjects or survey participants have to sort items (terms or images) hierarchically into different areas. Card sorting can also be easily carried out on mobile devices and is therefore one of the very popular types of questions in mobile market research.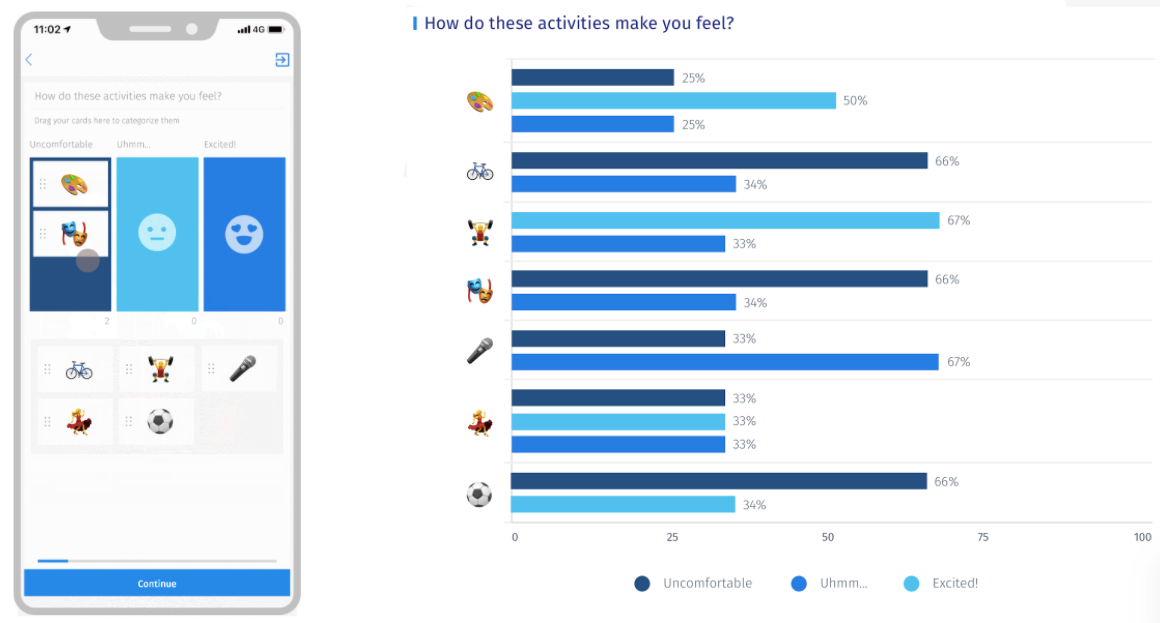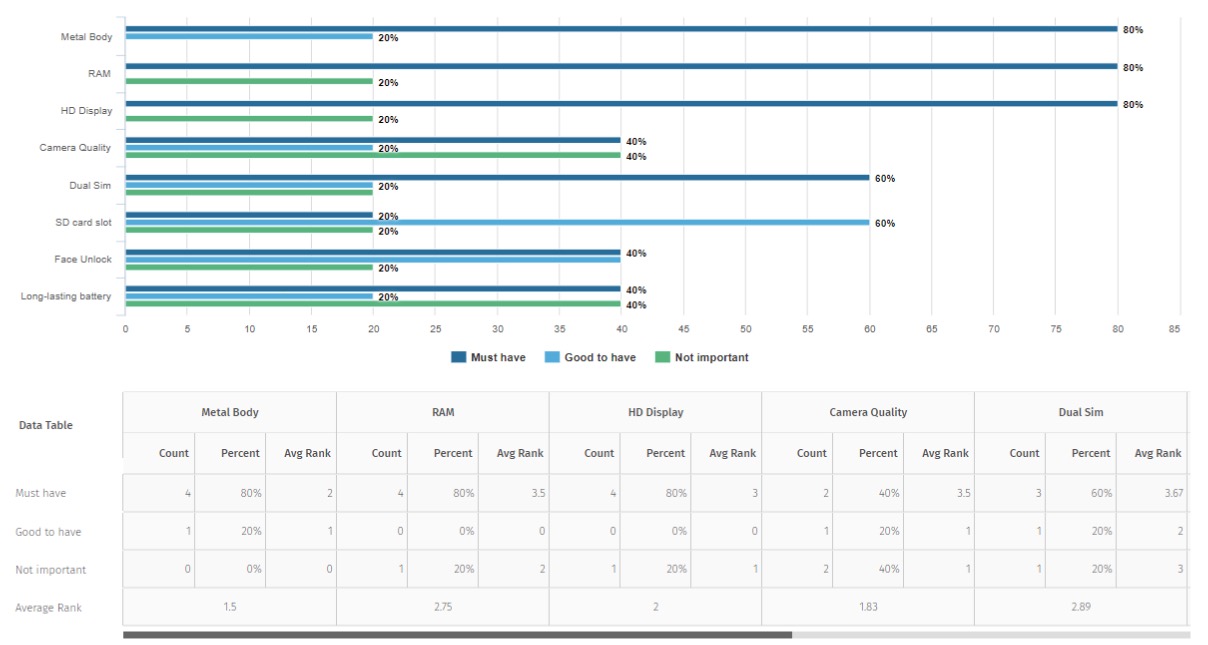 Image 1: Card sorting on a smartphone and evaluation
Fig. 2: Presentation of the results of the card sorting in the form of bars and raw data.
---
Product Testing
Product tests, also consumer tests or comparative tests, is a collective term within market research for methods for measuring the properties or performance of products. Product tests can be carried out by the manufacturer himself, an independent laboratory, market research or test institute (e.g. Stiftung Warentest) or even by authorities. In comparative product tests, several products and their properties or properties are tested and compared under identical test conditions. A product test can be very simple, for example when consumers test the benefits or, for example, in the case of web applications, the usability. However, a product test can also be very complex and, with the help of engineers, machines specially developed for a product test can be subjected to various tests, for example with regard to material durability, wear and tear or safety. Companies carry out product tests for several reasons, for example because they want to find out whether the product is popular with consumers, whether it is ready for the market or because there are legal provisions for this. A product test can also be carried out for reasons of quality assurance.
Observations or "shop-alongs"
Observations or "shop-alongs" are increasingly used as a research method in qualitative market research. This method allows market researchers to remotely observe how consumers react to a product or buying experience.
Lifestyle immersion
Lifestyle Immersion means "immersion in the lifestyle": It is a newer method for carrying out qualitative market research and means the participation of market researchers in the social or family life of people. This helps in getting feedback from people when they are in a familiar environment.
Projective Techniques
In the context of market research, projective techniques are usually carried out in 1:1 conversation situations by trained interviewers who are supposed to uncover hidden thoughts of the respondents through skillful conversation or by presenting objects.
van Westendorp Price Sensitivity Meter
With the help of the van Westendorp method, the optimal price for a product or service is determined in market research. Here, test persons are asked how expensive a product should be at most, so that a purchase is considered. However, it is also asked when a product is perceived as too cheap so that one would not buy it because it would be perceived as "cheap".
→ Here you can find detailed information about the van Westendorp Price Sensitivity Meter.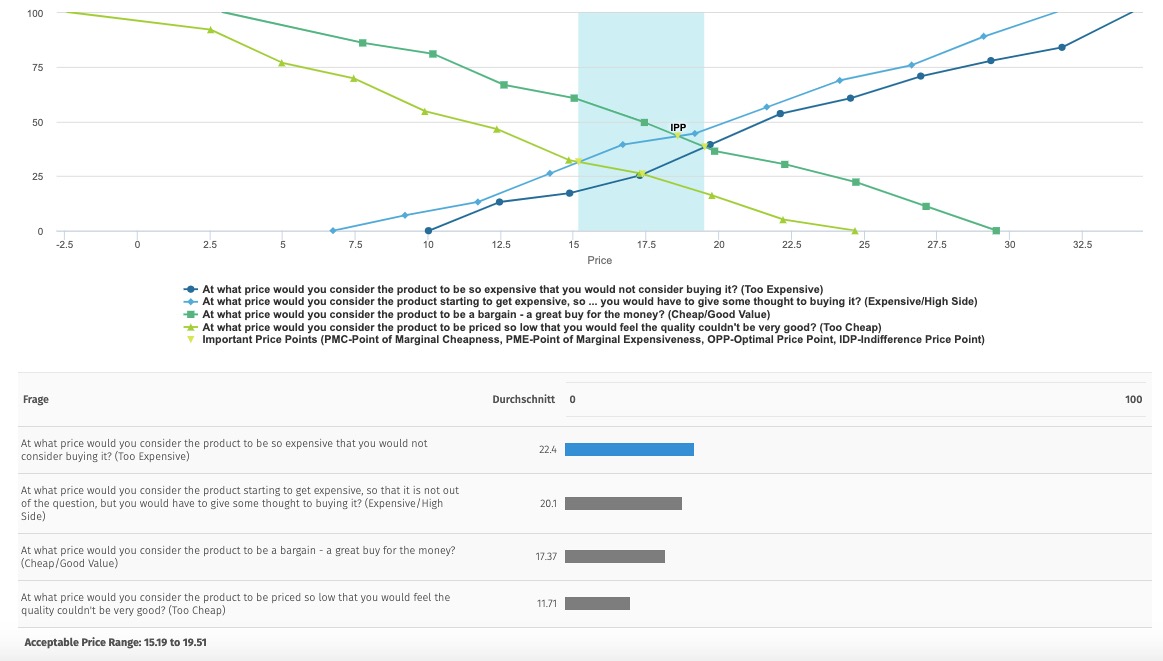 Van Westendorp Price Sensitivity Meter - very popular in market research. Here you can see an evaluation as it is within the evaluation module of the market research platform QuestionPro is pictured.
---
Hot-spot and heat-map image testing
The market research platform QuestionPro provides a feature that allows you to show respondents a picture with some predefined sections or areas in the picture so that they can positively or negatively rate those particular sections or areas in the picture.
→ You can find more information about image testing here.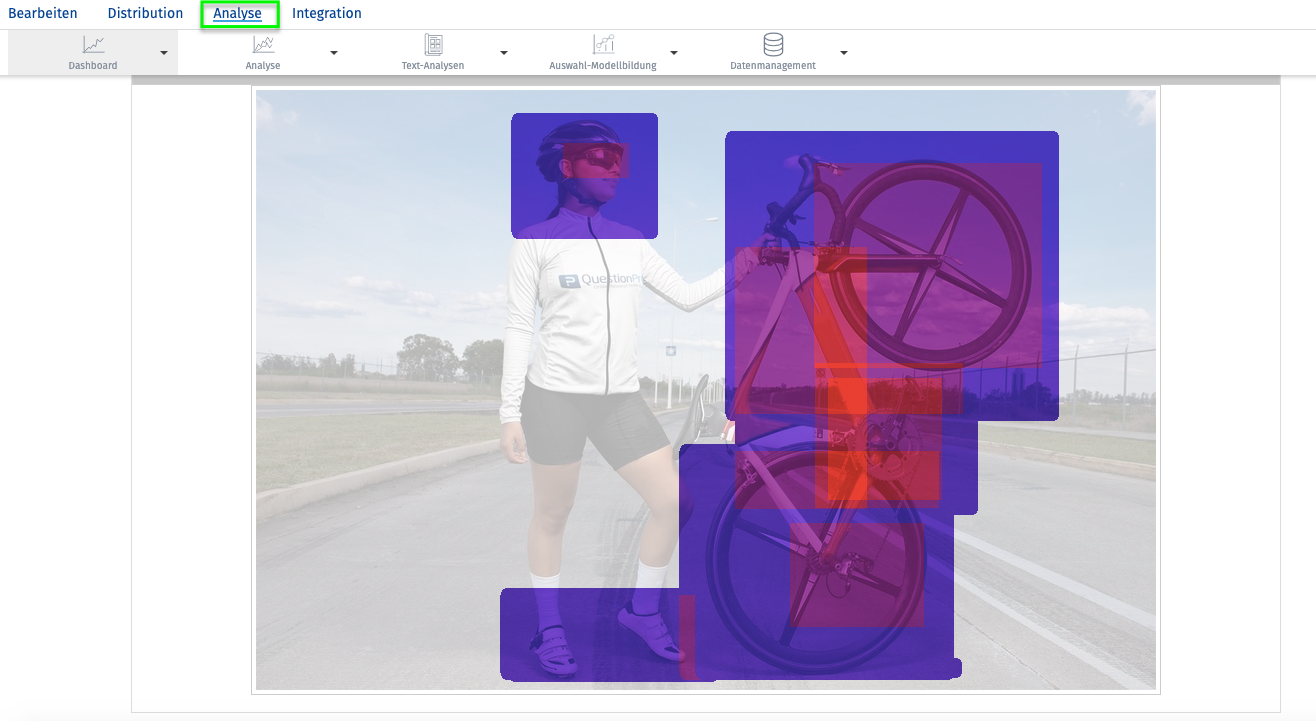 Example of a heat map evaluation (image testing) within the analysis dashboard of the market research platform QuestionPro
---
Text analysis: sentiment analysis & semantic text analysis
Text analysis (also known as text mining or content analysis) is a technique that computers use to intelligently and efficiently extract valuable information from human speech or from written text. This method is used within market research to compile and analyse qualitative and unorganized data in a structured form. Sentiment analysis goes one step further and also refers to the use of natural language processing, text analysis, and computational linguistics for the systematic identification, decoding, extraction, and quantification of affective states and personality traits from open, free-text answers, e.g. from reviews, comments in social networks , Community forums or review portals. With semantic text analysis based on artificial intelligence, it is even possible to create psychograms and predict behavior.
→Here you will find detailed information on the topic of text analysis .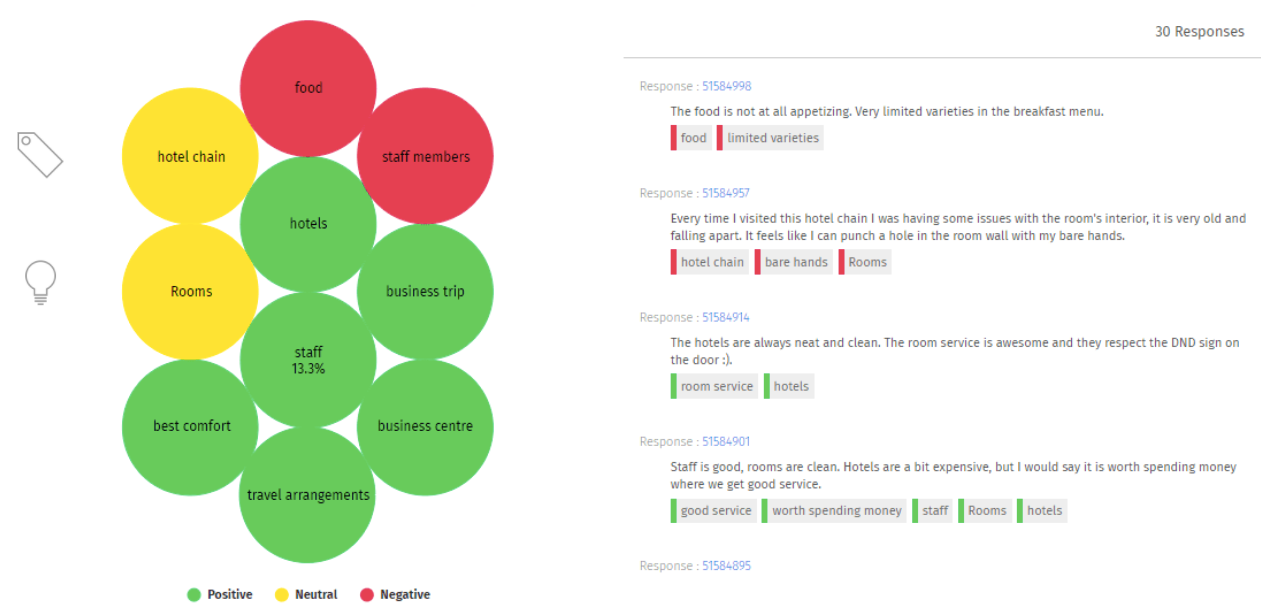 Example of a text analysis (sentiment analysis) within the analysis dashboard of the market research platform QuestionPro
---
SWOT analysis
The SWOT analysis, acronym for Strengths, Weakness, Opportunities and Threats is an effective market research analysis method, which is usually used to evaluate a company's performance in the market and is used to develop more effectively Business strategies.
Further test procedures
You can find an overview of other test procedures that are used within market research on our market research product page.
Data analysis and reporting
At the end of the market research process there is the analysis of the data obtained and the creation of the report, on the basis of which company managers make decisions. The data analysis within market research is the systematic structuring, evaluation and evaluation of collected data according to scientific standards. In the context of this blog article, it is not possible to go into this in depth due to the complexity of statistical methods and procedures of data analysis. We therefore limit ourselves to the evaluation options that are available to you with the Market Research Platform QuestionPro available.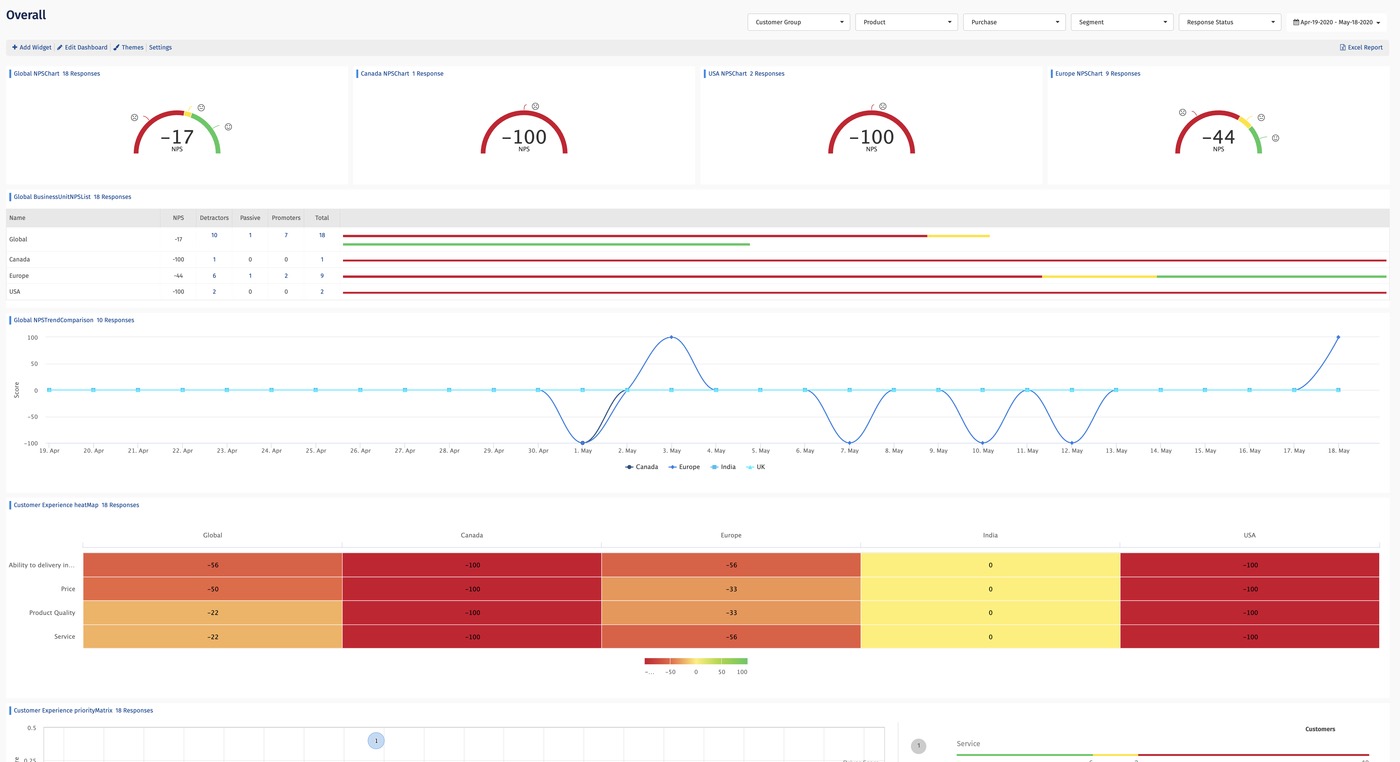 Example of a freely configured dashboard within the market research platform QuestionPro
---
Preparation for data analysis
Before data can even be evaluated, it must be subjected to a quality check. The platform for market research QuestionPro offers an integrated and automated data quality check for this purpose. The system recognizes, for example,
if questionnaires were filled out twice
There is a certain pattern to fill out the questionnaire (Patterned Responses), which indicates a lack of seriousness when filling out the questionnaire
if questionnaires were filled out incompletely
One-word answers to open-ended free-text questions
Too high a speed when completing the questionnaire, which deviates far from the average
Market research analysis dashboard
The market research platform QuestionPro has an integrated analysis dashboard, which shows you the evaluations of the data obtained from market research projects in a clear and graphically appealing way.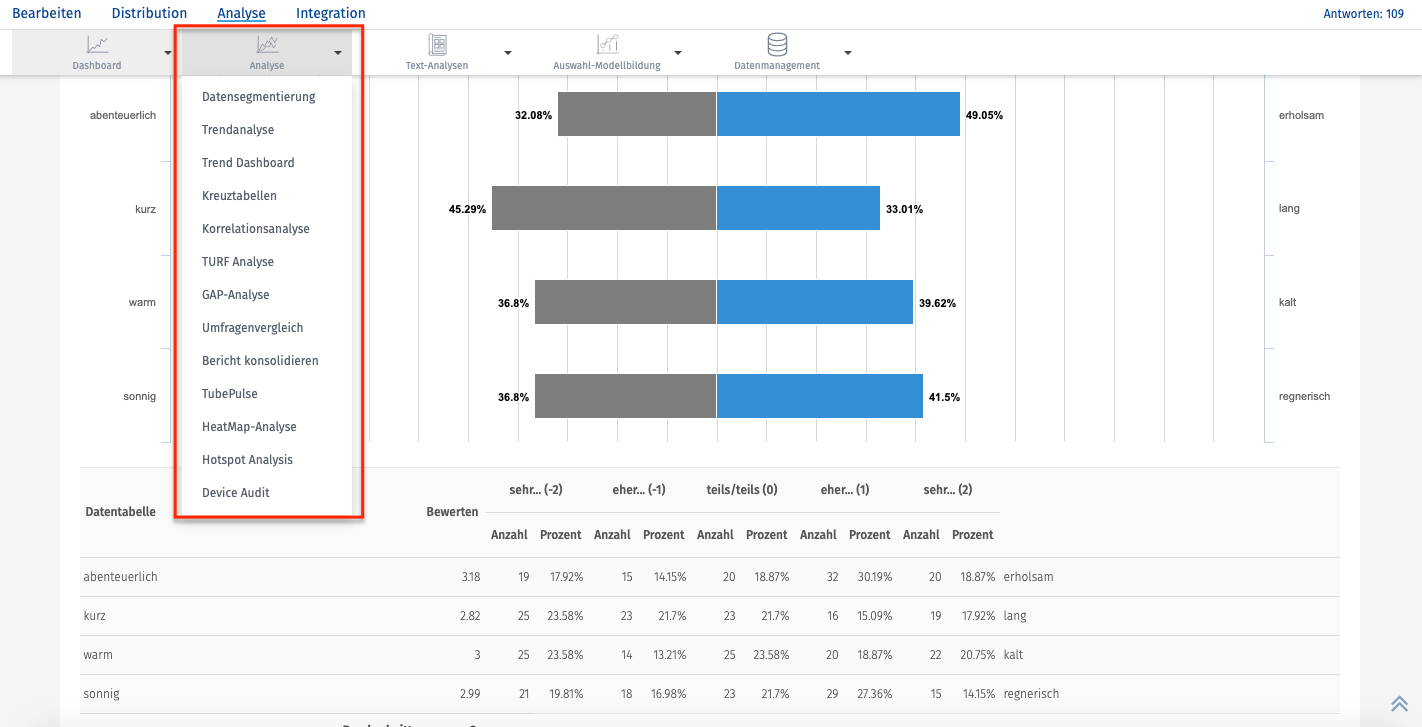 ---
The market research dashboard contains a large number of evaluation and analysis options, which can be called up at the push of a button. Carry out trend analysis, gap analysis, correlation analysis. Use crosstabs, data segmentations, heat maps, clusters and text analyses.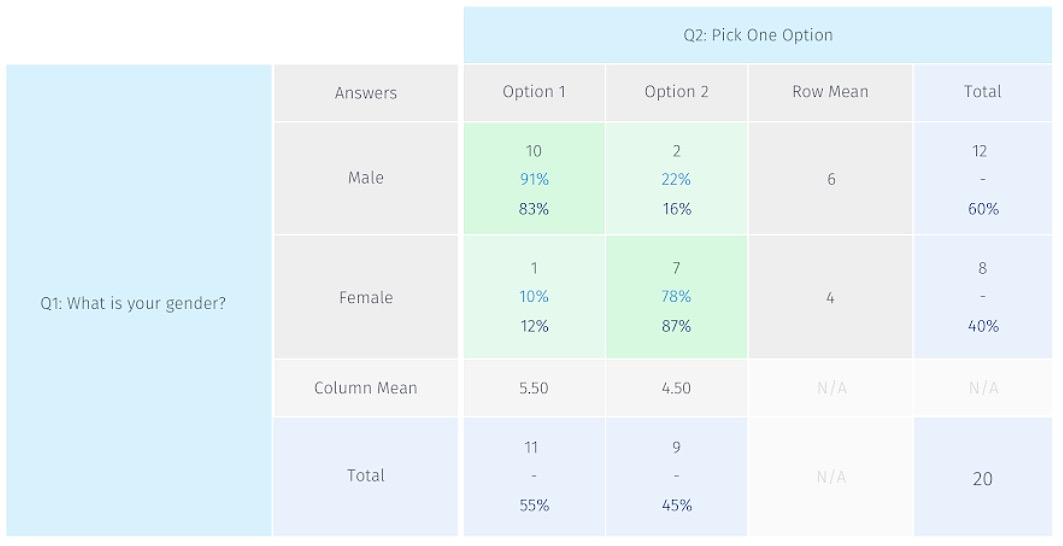 Example of a cross table within the analysis dashboard of the market research platform QuestionPro
---
real-time analysis
Real-time analyses are "state of the art" today, which means: You can see exactly to the minute how the result of your market research project is developing during the data collection, and so you always have an eye on trends and tendencies and do not have to wait until the end of a project wait until you can see the first results.
Custom charts
You have the market research platform QuestionPro in your own hand what you would like to have evaluated, how and in what graphical form. Regardless of whether it is bars, pie charts, lines or radars. You can decide for yourself which type of diagram you want to use for your data analysis.
Image analysis, text analysis and word clouds
Text and image analyses are particularly important for qualitative market research, product tests and concept tests. QuestionPro offers you a wide range of options for analyzing qualitative data within the integrated analysis module, for example in the form of word clouds (tag clouds) or on the basis of AI-based and semantic text analyses, which also include opinions, needs, emotions, motivations and personality traits, Mail correspondence, comments, free text replies and forums can be read out. Image analyses, such as heat map image testing and click tracking, are also important analysis tools for quantitative market research.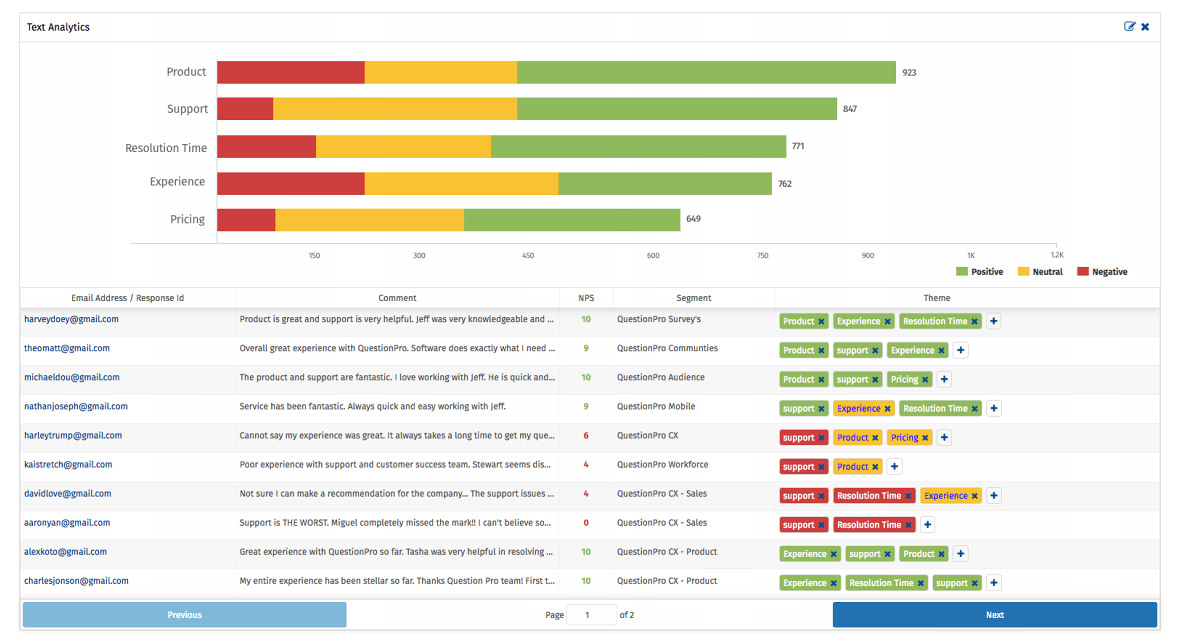 Example of a text analysis
---
Drop-out analysis
Drop-out analyses are very important when it comes to finding out why the feedback in your market research projects is rather low and why this is due to a high drop rate. Why and where do your survey participants leave the online questionnaire. To find out, you can use the market research platform QuestionPro fall back on a drop-out analysis!
GAP analysis
Gap analysis is a method that you can use to measure the difference between expected performance and actual performance. A "gap" is the difference between the current state and its desired state. QuestionPro includes a gap analysis tool with which you can generate gap analyses at the push of a button.
Correlation Analysis
Correlation analysis in research is a statistical method of measuring the strength of the linear relationship between two variables and calculating their relationship. Simply put, correlation analysis calculates the degree of change in one variable due to the change in the other. A high correlation indicates a strong relationship between the two variables, while a low correlation indicates that the variables are weakly related.
Reporting & data export
The market research platform QuestionPro automatically creates reports in many different formats at the push of a button. The report contains the relevant evaluations for all issues. For example, if you choose to export reports in PPT format, you can comment on the relevant data and graphics for your presentation. You can export data in the formats CSV, EXCEL, SPSS.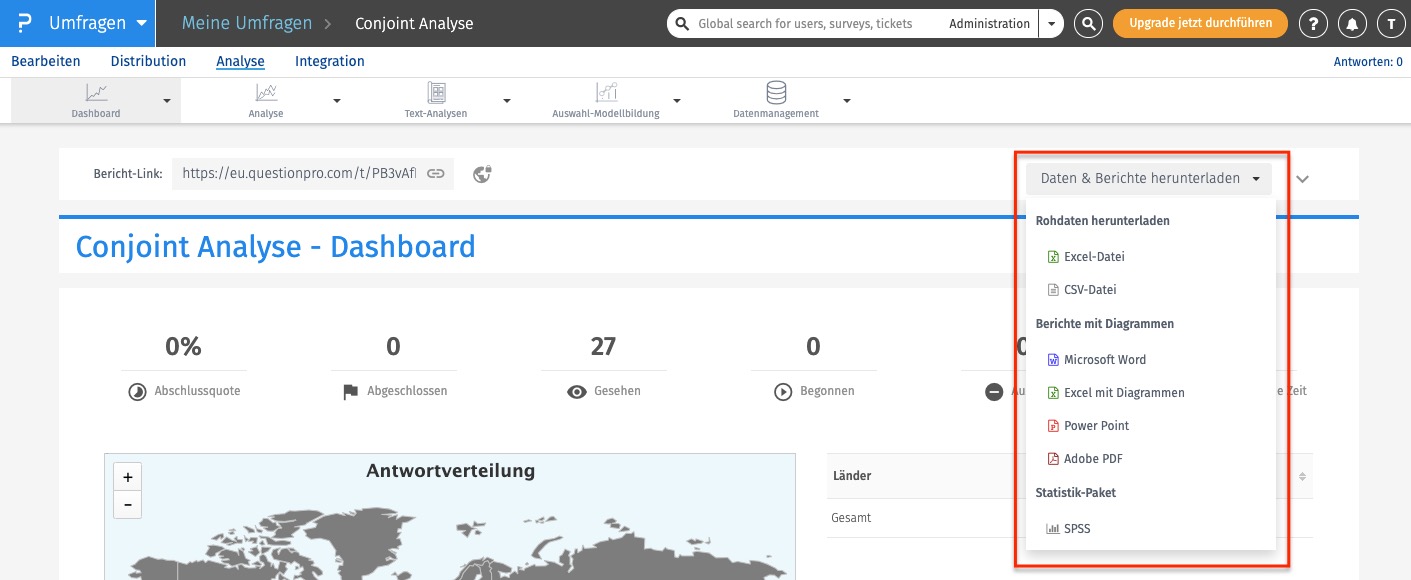 Report generation and data export at the push of a button
---
Agile market research with QuestionPro
What does agile market research mean? An explanatory approach
The term agile is defined as "showing great flexibility", "lively" and "agile". So when we talk about "agile market research", it means that rigid market research processes and workflows are lifted and made more flexible. Since the methodology of market research is based on scientific principles, it goes without saying that these cannot be made "flexible" in themselves. Agile market research therefore rather means a faster, more agile and flexible setting up of market research projects that is adapted to the wishes of the client or their own wishes through the use of modern, innovative technologies. So it's about speed, flexibility and automation of processes within market research, whereby the automation in particular should be designed flexibly and can now also be designed flexibly.
Agile market research means "efficient and effective", not "fast and cheap"
Of course, speed plays a not insignificant role in agile market research. Agile market research finally breaks up old market research processes, and when developing new technologies and methodologies, the idea of ​​making processes faster is always included. And that is often achieved simply because of increasingly innovative technologies and also because of the ability to connect systems and people with each other more easily and quickly and to use resources more effectively.
Example of agile market research
Let's take a simple example: how long did it take before to conduct a panel study? If you come from the field of market research, you certainly have an idea. There are now "dedicated lines" to panels, so that a panel study can be carried out ad hoc, in the shortest possible time and with the same quality. The sample selection is conveniently carried out using panel software. Here, with just a few clicks, the requirements for the panel participants to be selected are defined (age, gender, occupation, educational qualification, marital status, etc.), the questionnaire for the study is fed into the online panel and the results are available on the following day. Artificial intelligence recognizes bad responses, i.e. not usable feedback. And with one click you call up the evaluation within an analysis dashboard, the presentation for the management or the client is created automatically. That is agile market research.
"We have with QuestionPro carried out a market observation for our mosquito plaster MOSKINTO and were amazed at how quickly we came across the QuestionPro Online panel were able to reach the defined number of cases of 1000. The questionnaire design is simple and the data evaluation is very clear. The customer service of QuestionPro is excellent."
Agile market research and technology
Of course, agile market research does not always have to do with technology but also with processes and of course with the people who control agile market research projects and processes. But let's be honest: the technology makes agile market research processes realizable. Regardless of whether it is qualitative or quantitative market research: Without a user-friendly, fast and efficient software or web platform with which you can carry out market research projects almost completely automatically, simply analyse data and automatically create reports and documentation, is agile Market research definitely not possible.
QuestionPro makes market research agile
The market research platform QuestionPro is one of the technologies that enable agile market research. For almost two decades, the software has been developed as a web-based platform (SaaS) precisely in line with the high demands and wishes of market researchers, for whom the subject of agile market research is the focus of thought and action. Automated processes, high user experience, intuitive user interface, artificial intelligence, open interface concept for connecting third-party systems, analyses and reporting "at the push of a button" and integrated panel management ensure that you can set up market research processes quickly and efficiently AND effectively. Be it in-house or as a market research provider for your clients.
Which features and functions of QuestionPro enable agile market research?
As already described, agile market research is not exclusively defined by the topic of technology, but it can certainly be broken down into functions and features. The market research platform QuestionPro offers a variety of functions and features that support agile market research. Here we outline some of these features and functions for you.
Intuitive interface

QuestionPro is very easy to learn because the user interface is intuitive, simple and clear and complies with the latest UX standards. Long training periods are no longer necessary, and new users can be productive in a very short time QuestionPro . work

Predefined question sets

QuestionPro contains question sets that have been explicitly developed for market research and do not require any additional programming. You simply select the question sets with a click of the mouse and add them to your questionnaire with a click of the mouse. Each question set contains its own evaluations, tailored to the question sets, which can be adjusted within the analysis dashboard with just a few clicks of the mouse, such as weighting, statistical methods or graphs. Thanks to the predefined question sets, you can set up market research studies quickly and easily, so that you can respond to inquiries from specialist departments or clients in the shortest possible time!

Copy questions, question blocks and entire surveys

You can with QuestionPro copy individual questions and paste them into another questionnaire as well as copy blocks of questions and entire surveys So you don't just create a new questionnaire without much effort, for example if you want to repeat a market research project or start a new one. All specific settings on the question and evaluation level are also completely adopted, such as the item names or the selected graphs and stored statistical models.

Market research projects import from third-party systems

Of course, you can't just ask questions and surveys from within QuestionPro copy. QuestionPro offers you the opportunity to integrate surveys and market research studies from other systems if you are from another market research platform QuestionPro want to switch, for example from SurveyMonkey or Qualtrics. So you don't have to design your projects from scratch.

Data quality check

We have already explained this feature to you in more detail above in the section on the topic of analysis and evaluation of market research studies. QuestionPro has algorithms that recognize so-called bad responses. This saves you the manual data check, which is particularly important for agile market research, because manual data checks can be very time-consuming, especially with larger samples!

Automatic reporting

With the platform for market research QuestionPro you can create reports for your market research fully automatically and have the system sent them to selected recipients according to a schedule. You can configure beforehand what these reports should look like.

Easiest layout adaptation to your own CI

With QuestionPro you can completely adapt questionnaires as well as evaluations and reports to your own layout wishes and needs using the integrated CSS editor. The questionnaire preview shows you the exact layout result for all screens, i.e. desktop, tablet PC and smartphone. So you have complete control over the look and feel here.

Definition of processes

You can also use workflows and processes QuestionPro initiate and set triggers, for example what should happen when a certain event occurs, such as alerts in the event of poor survey results or in the event of a certain response behavior on the part of the survey participants.

Automatic dispatch of questionnaires

Sending questionnaires, for example via email, can also be done with the market research platform QuestionPro controlled fully automatically via a serial mail function and carried out according to a schedule. If questionnaires remain empty, you can define whether and when a follow-up email should be sent.

Logics and plausibility

The market research platform QuestionPro offers you the option of using sophisticated branching logics, for example for branching questions in surveys or even across surveys (survey chaining), without having to program them. You can easily select branching routines with the help of a branching editor and thus easily define intelligent logics that make filling out a questionnaire much easier. Plausibility checks and data pre-filling also make it easier to fill out the questionnaire, which ultimately ensures more feedback and faster results.

Integrations and extensions for agile market research

QuestionPro has "ready-to-use" integrations with which you can expand the functionality of the market research platform with a click of the mouse without having to program cumbersome interfaces.

---
Agile market research: BMW relies on QuestionPro
"The flexible and responsive project management particularly meets our requirements for the short-term and speed of market research studies. The quality and proactivity of the project support as well as the speed in the implementation of the reporting meet the highest demands.
---
Case Study: Agile Market Research at BMW
For the company BMW is QuestionPro the market research platform for carrying out agile market research studies. We have written a case study for you that shows how the company is using technology and services from QuestionPro conducts agile market research. You can download the market research case study here
Excursus: Agile market research for small businesses and startups
In the previous paragraph, we spoke of agile market research. Agile market research enables companies with limited financial resources to conduct market research. Especially when you look at the do-it-yourself market research aspect. But small companies or startups in particular often neglect market research because it is often costly and time-consuming. But is it really like that? Market research is a very important, even necessary, undertaking so that companies can get to know their markets and customers, opportunities and risks and thus grow. But many companies often postpone or stop doing market research due to budget constraints and feel that there are more pressing areas to invest in than market research, which is a big mistake.
Market research is often neglected
The number of business start-ups in Germany has fallen sharply. According to statista, there were more than 2001 million start-ups per year between 2003 and 1.4. In 2015 there were just over 760.000. Almost half of all entrepreneurs fail after just six years. The top reasons: financial difficulties and a lack of marketing. And this also includes a lack of knowledge about the competition, a lack of customer contact and a lack of product strategy. It is all the more important for start-up companies to conduct market research! But who does not know this: Especially at the beginning of a start-up, the focus is on directly adding value. What happens around you and whether the target group feels addressed by the new offers and the communication measures is often not taken into account.
Three reasons why market research is of enormous importance for start-ups
Knowledge of the market, the competition and the target group
Although it is essential for startups to know their own target group and the target market, too little research is carried out into background information on this point. And a lack of knowledge about the competition makes it difficult to successfully position your own products on the park. This also applies to pricing! And anyway for product properties and features. Because I can only operate successfully in the market if I really know what my target group expects from me and how they behave, what the competition offers and under what conditions, what needs my prospective customers and customers have and how I can address them specifically and on draw attention to my products and services.
Feedback from customers and interested parties to improve the range of products and information
Who - if not my customers - can tell me whether what I'm doing is really right. Customer surveys are therefore extremely important within market research, right from the start! Feedback on the functions, the properties, the materials used and the price are important information regarding the further development of my products. You should give every customer the opportunity to leave feedback wherever customers encounter your products, services and brands, for example in the context of touchpoint analyses. Ideally, you can even use positive feedback as a real marketing tool. But feedback isn't just important after your purchase. Even before making a purchase decision, you can obtain important feedback from your prospective customers, for example whether your information offer is sufficient and appealing, for example in the form of online intercept surveys.
Increase your sales through better market knowledge
and use modern survey technologies for agile market research as self service
The point at which all of your entrepreneurial activities ultimately flow: sales! Market research helps you to increase your sales in real terms! Because if you communicate precisely and develop your products precisely, this will inevitably have a positive effect on your profit. And in order for the profit to be as high as possible, market research should not represent an overly high investment. QuestionPro offers you sophisticated, professional tools for agile market research as self-service at fair prices!
1:1 live online presentation:
Market research platform QuestionPro for innovative and agile market research.
We would be happy to show you how you can use the market research platform as part of an individual and personal 1:1 live online presentation QuestionPro Carry out market research projects in an agile, secure, high-performance, high-performance, cost-effective, quick and easy manner. The market research platform QuestionPro contains all the tools you need for online and offline data collection as well as for data analysis for agile market research.
Arrange a personal appointment now
---
---
Test the software for market research now for 10 days free of charge.
Do you have any questions about this technical article or about carrying out market research? Simply contact us using the contact form. We look forward to speaking with you! We would be happy to offer you a 14-day free trial of the full version of the QuestionPro Market research platform free.
Try QuestionPro's market research and experience management platform for free.