Surveys & market research
Preference measurement: Perform Maximum Difference Scaling online with QuestionPro. That's how easy it is!
Maximum Difference Scaling: Definition and How-to. Use the predefined question types "MaxDiff"In QuestionPro and save yourself time-consuming programming!
What is Maximum Difference Scaling?
Maximum Difference Scaling, also called MaxDiff scaling, is an extremely efficient method for determining preference differences between a certain number of similar properties or things (preference measurement) and can be viewed as an extension of the simple pair comparison developed by the psychologist and physicist Gustav Theodor Fechner. In Maximum Difference Scaling, which is also often referred to as Best-Worst Scaling, the study participants are only shown a specific selection from a total of items to be assessed, whereby the respondents have to select the preferred and the least preferred element . A meaningful preference model is ultimately created from all the responses from the people surveyed. The Maximum Difference Scaling can be done quickly and easily with the help of the predefined question types of the Max-Diff-Analysis in QuestionPro . perform
Maximum difference scaling:
It's that easy with QuestionPro
Step 1: You create a new question in the QuestionPro User interface and click on "Extended Questions" and then select under Choice Models -> Max-Diff-Analysis.

---
Step 2: The question editor opens. Here you enter the question, the description of the respective characteristics and the corresponding items to be evaluated. Images or symbols can also be uploaded to the respective items for visualization.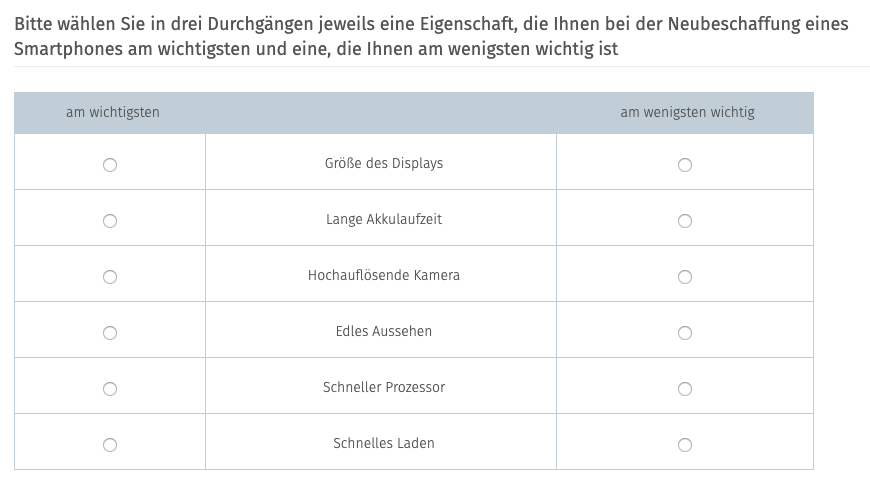 ---
Step 3: Then enter the maximum number of attributes that should be displayed to the test subjects as well as the maximum number of attributes that should be evaluated and the repetition rate.

---
Step 4: In the preview you can now see the look and feel of your Maximum Difference Scaling. You can of course adapt the design to your individual wishes using the CSS editor.
---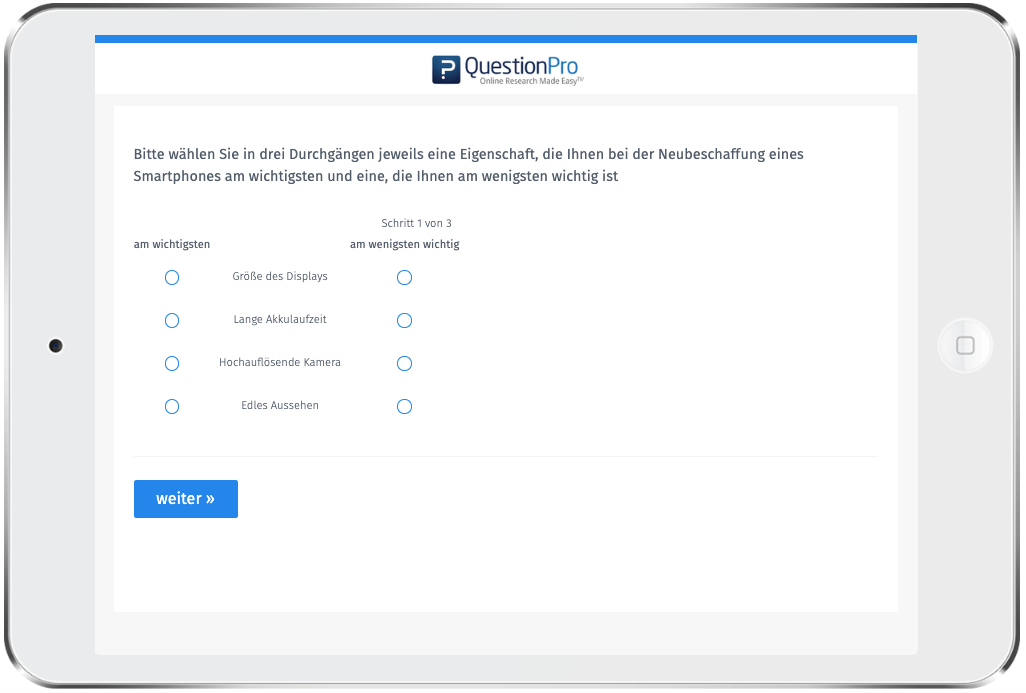 ---
Step 5: Here you can see an example of an extended evaluation that you get when you use the Maximum Difference Scaling method from QuestionPro use. The same applies here: You can define individual evaluations!

---
Sample questionnaire with real-time MaxDiff analysis and evaluation
Here you will find a sample questionnaire on Maximum Difference Scaling / Max-Diff-Scaling including real-time evaluation (MaxDiff analysis)
→ Maximum Difference Scaling - Example
Do you have any questions about MaxDiff scaling?
If you have any questions about Maximum Difference Scaling, what possibilities the Max-Diff-Analysis offers you and how you can achieve this best-worst scaling within QuestionPro then we look forward to talking to you!
---
Try QuestionPro's market research and experience management platform for free.