Customer Experience Management
Net Promoter Score (NPS):
Definition, calculation, software, feedback, evaluation, example
We explain what the Net Promoter Score is, what exactly the NPS score measures and how you can use NPS software from QuestionPro Determine the Net Promoter Score quickly and easily in order to significantly improve customer experience over the long term!
What is the Net Promoter Score (NPS)? Definition and calculation
One of the standards in the field of determining customer satisfaction and loyalty is the Net Promoter Score (abbreviation: NPS). The Net Promoter Score system is a scoring model developed in 2003 by Satmetrix, Bain & Co and Frederick F. Reichheld. By surveying your customers, the Net Promoter Score measures the likelihood that a customer will make a recommendation for your company or for your products and services. The Net Promoter Score is thus simultaneously an indicator of customer satisfaction and customer loyalty.
To determine and calculate the Net Promoter Score, ask your customers just one question via all possible channels:
How likely is it that you will recommend our product (our service, our company, our brand) to others?
To answer this question, your customers have a scale with a number range from 0 to 10 at their disposal. The developers of this scoring model interpret the customers' response behaviour as follows:
10 and 9 points (promoter): Active promoters! Customers who indicate one of these two values are most likely so satisfied with the company or the product that they actively report their experience.
8 or 7 points (passive): Satisfied customers, but who do not talk about their experiences with third parties
less than 7 points (detractors): Clearly, these customers are not satisfied with your company or products and are most likely talking about it to third parties.
Net Promoter Score: NPS example calculation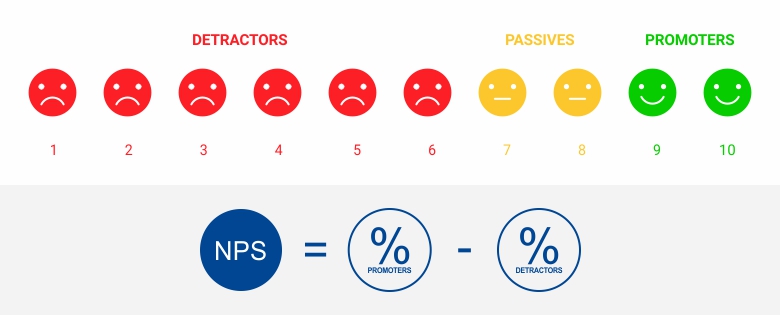 The following table shows the number of feedbacks per rating level, where 01 is the worst and 10 is the best. In this example, there were a total of 256 feedbacks.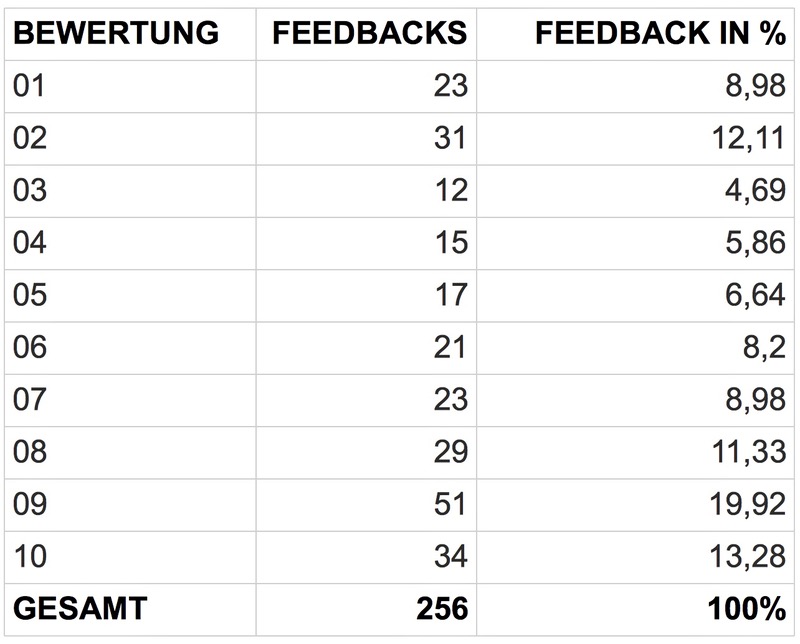 To determine the Net Promoter Score, first add up the percentage points achieved by the promoters, here positions 09 and 10 with the values 13,28+19,92 = 33,2. Now calculate the sum of the detractors, i.e. the results of positions X01 to 06. The value here is 55,48. The positions of the so-called passives, i.e. 07 and 08, are not taken into account. The Net Promoter Score in this example would then be determined as follows:
PROMOTORS ( 33,2 ) minus DETRAKTORS (55,48) equals
a Net Promoter Score of -22,28.
Excursus: Difference between transactional (interaction-based NPS) and relational Net Promoter Score
As already described above, the main interest in using the Net Promoter Score is the degree of loyalty towards a company and its brands and products. From this degree of loyalty, customer satisfaction on the one hand and future business development on the other hand can be estimated, for example how high the proportion of repeat customers will be. In the past, the Net Promoter Score was therefore rather applied to the customers' experience with the entire company and brands, without taking individual touchpoints into account. Here we speak of the "relational Net Promoter Score".
The trend is towards the transactional Net Promoter Score
Meanwhile, companies use the Net Promoter Score predominantly in the context of touchpoint analyses (transactional NPS). Here, the question of whether customers would recommend the company to others is not only asked at the end of a purchase process or in the context of a general customer satisfaction survey, but rather after one or even every interaction on the part of the customer with the company, for example after a complaint, a support call, after a return of goods or after logging into the customer area on the website. The transactional Net Promoter Score at interaction level thus reflects a much more "finely granulated" value than the "relational" Net Promoter Score. For example, companies may have a high NPS score at the relational level, but at the interaction level there may be a negative outlier that the relational NPS score cannot reflect and a company cannot respond with action accordingly. For example, after a contract renewal, the NPS score may be high as expected, but after a support or complaint call, the NPS score may be low if the complaint was not resolved to the customer's satisfaction.
Beware of NPS "surveys"
Both methods of gaining a net promoter score are justified. If you ask your customers about your NPS value based on interaction, this can lead to a kind of "questioning", in which your customers may react annoyed. It is therefore important not to question every interaction with one and the same customer, but rather to determine the NPS value at the interaction level through a random selection of survey participants. You can benefit from sophisticated CX technologies such as the Customer Experience Management platform from QuestionPro, get supported.
Evaluation and presentation
Presentation of the Net Promoter Score
QuestionPro offers you different ways of displaying the result within the framework of the Net Promoter Score model, either as a slider or as an NPS meter. Other display formats within the QuestionPro reporting module are also possible. In addition, QuestionPro's real-time analysis dashboard allows you to evaluate feedback in detail.
---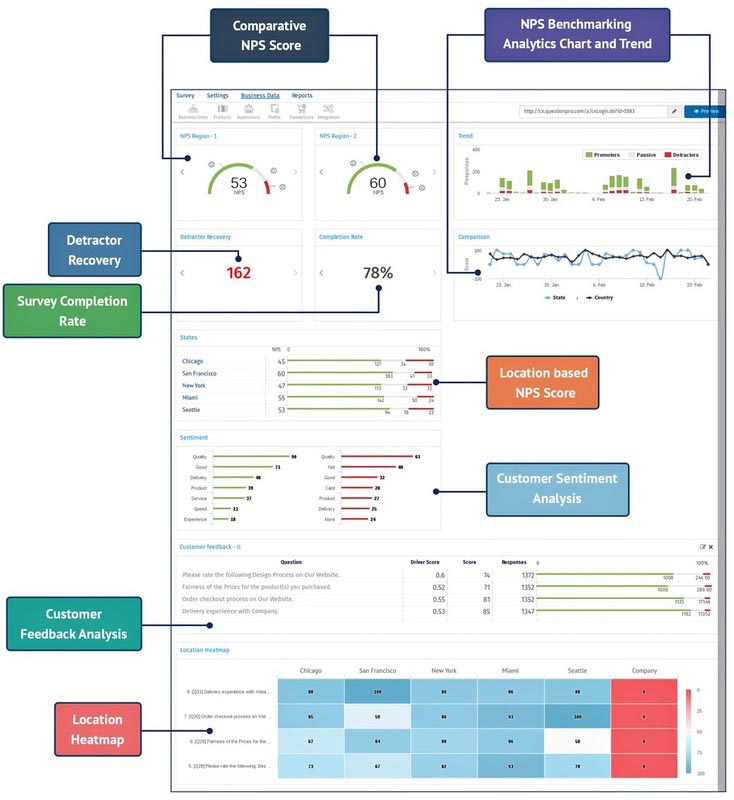 In the NPS dashboard you will find detailed evaluations of your Net Promoter Score
---
Evaluation via the Net Promoter Score dashboard
One of the most important features of the NPS calculation is to check how much the results vary over a period of time. This requires a graphical representation of the statistical data on a timeline, which QuestionPro's NPS Dashboard gives you. The QuestionPro NPS Dashboard is one of the most advanced analytics platforms for NPS measurement anywhere. It provides detailed NPS values and NPS charts in real time.
Flexible scale adjustment of the Net Promoter Score in QuestionPro
The classic rating scale of the Net Promoter Score has so far been within a range of 0 to 1.

---
At the request of many users, we have expanded this question type to include the possibility of customising the scale. It is now possible to choose from different scales.

---
The evaluation can now also be adapted. The original evaluation model of the Net Promoter Score is calculated from the following scheme: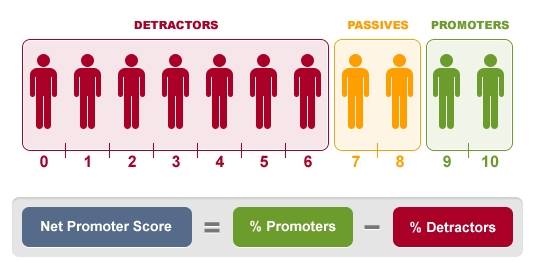 From now on you have the possibility to adapt this scheme individually.
→ You can read exactly how this works here
Where, how and when is the Net Promoter Score used?
Customer feedback under the Net Promoter Score model should be collected and evaluated as often as possible, whenever and wherever possible, preferably permanently, perpetually! Some examples of this:
A customer has a problem with your product and contacts your support. After the support call, the customer receives an email with a link to a satisfaction survey, which also includes a question about recommendation.
A customer orders a product from you via the Internet. Some time after the goods have been dispatched, the customer receives an email with a link to a satisfaction survey to find out whether everything went well with the order and whether the customer is satisfied with the product.
A customer logs into the customer area of your website and is automatically redirected to a landing page that includes the question about recommendation. However, today there is no need to redirect at all, as code snippets make it easy to integrate surveys anywhere on the website. This is less intrusive.
What use is that to you Result of the Net Promoter Score?
It's simple: you know where you stand at all times! Through the permanent collection of data on the NPS, short and long-term trends can also be derived. And that with all the simplicity of the application! You always have the possibility to turn critics into real advocates by adjusting your customer retention strategy or your marketing activities when you realise that the Net Promoter Score is dropping or by patting yourself on the back when it remains stable in the upper regions!
Collect NPS feedback across all channels
and determine the Net Promoter Score
Provided you use a Customer Experience Management system that can combine customer feedback from all channels on just one platform, you have the possibility to collect and evaluate feedback on the Net Promoter Score easily and without much effort. Now you can find out where the question "Would you recommend us?" can be placed.
Collect NPS feedback via email
Easily embed the Net Promoter Score question in an email, such as a newsletter, confirmation email, invoice or any other key interaction with your customers. With QuestionPro, you can embed the survey directly into the email text.And according to our own findings, this increases the response rate by a whole 11%, because with this option the question is answered with a single click.
---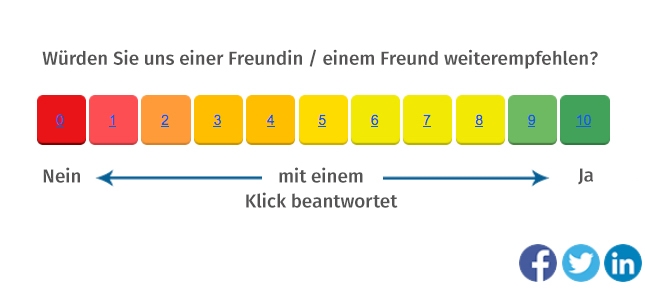 ---
Collect NPS feedback through the website
Your website offers a variety of ways to collect data to determine your Net Promoter Score. Here, too, you can take an interaction-based approach by either redirecting your customers to a landing page with a survey or displaying a pop-up survey after they have completed an order or booked a room, flight or trip.
Determine the Net Promoter Score via online intercept survey
However, it is also possible not to proceed in an interaction-related manner, but to display a pop-up survey based on the surfing behaviour of the website visitor. For example, you can use the time spent on the website, the visitor's origin, the time of the visit or the page currently open as parameters for displaying a survey. There are a number of variants of the online intercept survey.

Use feedback tabs to determine the NPS
Forcing people to fill in pup-up surveys to determine the Net Promoter Score can certainly be very annoying. We all know this from our own experience. However, if you don't want to put your customers through this, you have the option of placing a tab at the edge of the website which, when clicked or tapped, places a layer with an NPS survey over the open website. This is a very elegant solution and gives visitors the choice of whether they want to give you feedback or not!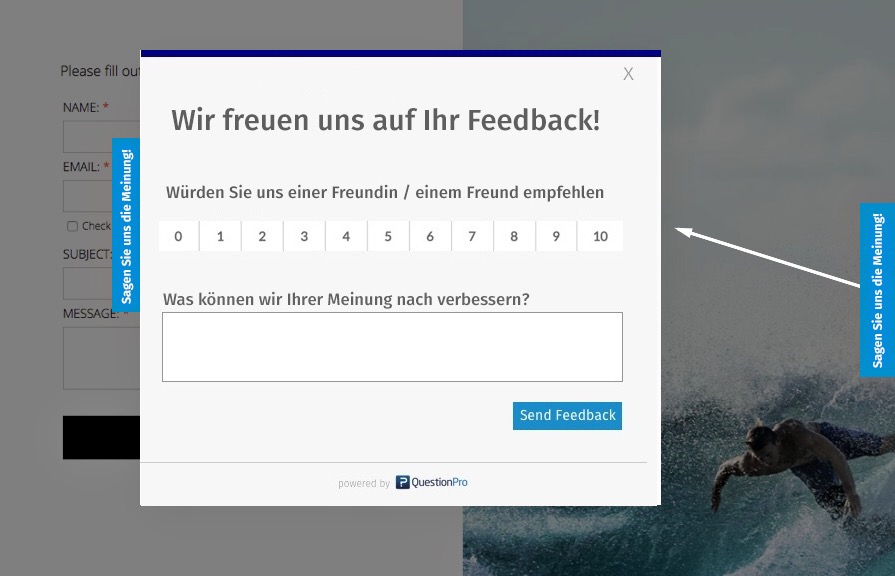 Collect feedback via mobile surveys, SMS, feedback terminals, interviews
SMS - the almost forgotten feedback variant
There are many other ways to ask your customers for NPS feedback! By SMS, for example. In times of WhatsApp or other messengers, the good old SMS has almost fallen into oblivion. But especially for ultra-short surveys, such as the Net Promoter Score, SMS is a wonderful medium!
Dear customer (or personalised), we are pleased that you are using our services. We would like to know from you how satisfied you are with us. Would you recommend us to others? Send us a number from 1 to 10, with 10 being the best rating. The answer is free of charge for you.
It could be put into practice in one way or another.
NPS feedback terminals
Gaining customer feedback via feedback terminals on the wall or as a stand-up display is also popular. Guests in a hotel, for example, can vote at the touch of a finger whether they would recommend the hotel or not. The same applies to concept stores or in-cafés, supermarkets, fast-food restaurants, airlines, etc. Determining the Net Promoter Score is of great importance for all industries!
Ask your customers personally about the NPS
Even if it is almost unimaginable: people still talk to each other personally. In a shop, in a restaurant or in a hotel, you are welcome to ask the question about recommendation in person and write it down yourself using a tablet. And this doesn't even require network access, because with QuestionPro, data for determining the Net Promoter Score can also be recorded offline and then synchronised.
Use the web-based NPS software from QuestionPro to determine your Net Promoter Score
With the QuestionPro CX Suite for Customer Experience Management and touchpoint analytics, you have a powerful tool for intrinsic measurement and graphical representation of the Net Promoter Score! You can either embed the recommendation question in your customer satisfaction survey or place it as a code snippet anywhere on your website or social networks! We are very happy to support you with this!
Determining the Net Promoter Score: It's that easy with QuestionPro
With the QuestionPro platform for Customer Experience Management, you can create, send and analyse NPS surveys in no time. Here we show you how easy it is to use the Net Promoter Score question type.
The Net Promoter Score question type
Starting with the QuestionPro Advanced licence variant, you can create and evaluate the Net Promoter Score with just a few mouse clicks. To do this, simply select the menu item "+Create survey" on the right in your user interface.

---
After you have created and named the survey, click on "Add question"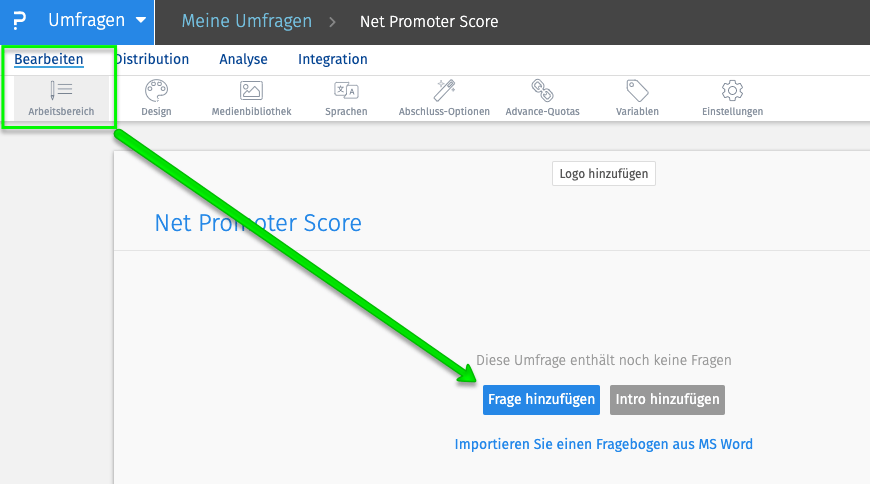 ---
Then select the "Advanced" tab on the top left of your screen and then select Net Promoter Score.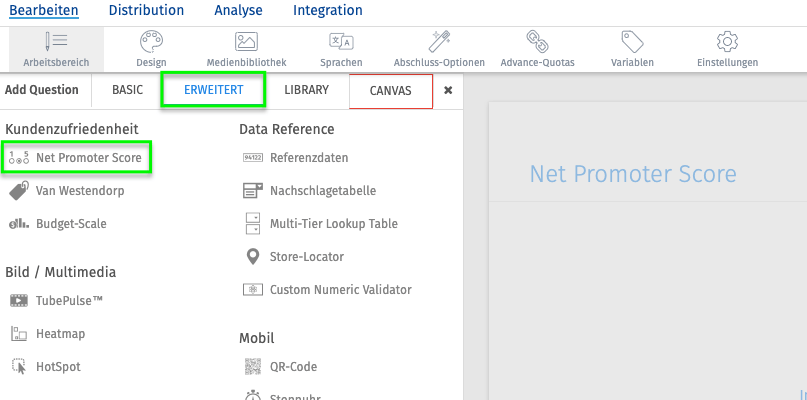 ---
In the last step, enter your question and the respective characteristics. That's it!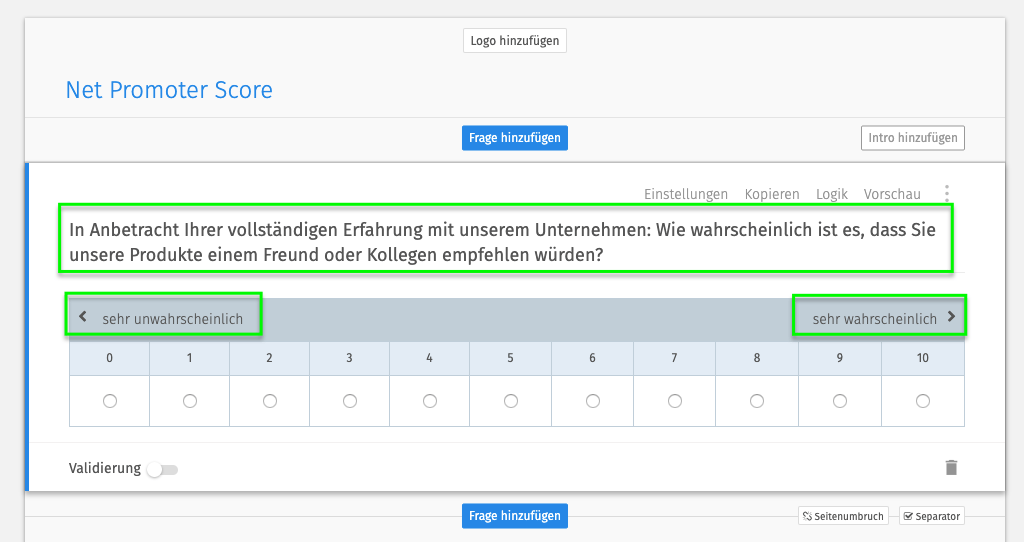 ---
Net Promoter Score: Advantages and Benefits of Using
Easy usage
The Net Promoter Score is very easy to determine as it consists of only one question. To create an NPS survey with QuestionPro, simply drag and drop the predefined NPS question type into the workspace via the questionnaire editor. The survey participants only have to click on a scale point to submit their answers. So it doesn't take much time for both NPS survey initiators and survey participants, and yet you get meaningful feedback on your customers' loyalty.
Improve customer experiences
The answers to the Net Promoter Score question within touchpoint analyses provide information about the touchpoints at which you need to improve the customer experience and thus also increase customer satisfaction. Always remember: Customers who answer the NPS question with a 9 or 10 are real brand ambassadors for your company and are more likely to recommend your products and services without you having to reward them.
Stop customer churn by identifying dissatisfied customers
It is more economical to keep an existing customer than to gain a new one. The NPS helps you identify dissatisfied customers and find out WHY they are dissatisfied when you combine the Net Promoter Score question with other questions, such as open-ended questions. Satisfied customers will continue to buy from you, giving you a steady stream of sales. Acquiring new customers costs much more than keeping your existing customers happy and satisfied. With your NPS, you can assess which customers are a potential churn risk and take immediate action to retain them and make them happy again. Take care of all complaints and grievances and make it worthwhile for your customers to stay with you. An angry or unhappy customer will tell many more people about their experience than a happy customer would. Customers who churn not only affect your sales, but also the reputation and 'health of your brand' (brand health). Talk to your customers, understand what has upset them and try to fix it.
Simple NPS benchmarking
As the Net Promoter Score is a very simple and standardised method for determining customer loyalty, you can very easily compare the results with those of other companies and industries.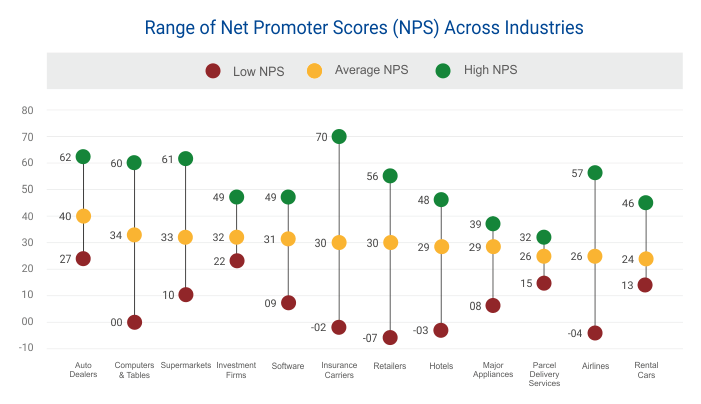 Predict repeat purchases
A good NPS score means that your current customers are likely to buy your products in the future. Using the Net Promoter Score therefore allows you to forecast future sales and plan your marketing and sales actions accordingly.
Optimize NPS: Measures to improve the Net Promoter Score

The Net Promoter Score is a very important indicator that gives you information about the loyalty and satisfaction of your customers. Improving the NPS means taking actions that increase customer satisfaction. Improving your NPS is crucial to turning your detractors and detractors into true promoters. We have outlined some key steps and tips for you to improve your NPS scores. Let's look at them in detail.
Respond immediately to poor NPS reviews
Responding quickly to negative customer feedback is a very crucial factor in improving the Net Promoter Score! Therefore, add so-called action alerts to your NPS surveys that you create with QuestionPro, which cause responsible persons to receive an alert by email in case of a negative evaluation. They can then immediately contact dissatisfied customers to solve the problem. Closing the NPS feedback loop is essential and demonstrates your commitment to providing a positive customer experience and ensuring that your customers are truly satisfied.
Problem solved? Send the NPS question again
Do not leave the original Net Promoter Score evaluation on the part of disappointed customers, but send a new NPS survey, to which the now satisfied customers can give a new, now positive evaluation, which then improves your NPS score.
Empower and empower your employees to respond to customer inquiries
Make sure your staff are well educated and trained to resolve customer queries outside their own area of expertise or specialism. Your customers will appreciate not being sent from department to department looking for answers. Ensure that all staff who have contact with your customers also have access to the relevant data and customer histories so that they can make quick decisions and take action to restore customer satisfaction. This will improve your NPS score in the long term.
Exceed customer expectations
It's okay for you to focus on your Net Promoter Score result, but focus your attention and efforts on exceeding your customers' expectations. Use your NPS score to measure the gap between customer expectations, customer service, and customer experience. Exceeding customer expectations significantly increases customer satisfaction, which in turn increases your NPS score and thus also your loyalty.
Use a customer community
NPS customer feedback, good or bad, is essential for companies to improve processes, operations, products, services, services and offerings. Setting up a community or a long-term feedback panel helps you collect feedback, which you can in turn use to improve customer experience. But a customer insight community can do much more for your company!
→ Information on the community platform of QuestionPro.
Build NPS champions
Positive customer experiences and achieving a high level of customer satisfaction are not only the responsibility of the teams that deal directly with customers. It is the job of all departments and employees. It is imperative that all employees think and act in a customer-oriented manner and that everyone also has access to internal NPS reports and results. Build internal NPS champions in your departments by making public internally which departments or departments (internal NPS benchmarking) have the best Net Promoter Score.
Excursus: Do you already know the Employee Net Promoter Score (eNPS)?
The Net Promoter Score is a valuable Key Performance Indicator (KPI) not only in the field of marketing to determine customer loyalty and customer satisfaction. The HR sector has also long since made use of the principle. In the meantime, the Employee Net Promoter Score has become an integral part of employee surveys. You can find more information on this in the following blog article
→ Improve employee loyalty (ENPS)
Net Promoter Score example with real-time evaluation
Here you will find a sample survey to determine the Net Promoter Score as well as a real-time evaluation:
→ Example Net Promoter Score
QuestionPro offers an extended NPS question type in its Customer Experience Management software, with which you can also create root cause and sentiment analyses using free texts, comments and tagging.
1:1 live online presentation:
Determine the Net Promoter Score easily and cost-effectively with QuestionPro
As part of a 1:1 live online presentation, we will show you how you can use the experience management platform QuestionPro Create NPS surveys quickly and easily and evaluate them automatically.
Arrange an appointment now!
---
---
Try NPS software now for 10 days free of charge
You have questions about the Net Promoter Score or the NPS tool from QuestionPro? Simply contact us using the contact form. We look forward to speaking with you! Or test the experience management platform QuestionPro with integrated NPS software now 10 days free of charge!
Test the Net Promoter Score feature of the market research and experience management platform from QuestionPro.