Conduct Online Surveys with QuestionPro's Survey Software
Create free online surveys for your homepage, website or blog. Simple, fast, professional.
Create a free and professional online survey
Are you looking for a free online survey tool with which you can create online surveys for your own website, homepage or blog? With QuestionPro Essential, the free variant of our web-based and professional online survey tool, you can create your own online surveys professionally, quickly, simply intuitively and free of charge. Create countless online surveys and receive up to 1000 feedbacks per online survey with the free Essential variant of QuestionPro! All you need is our free survey tool! And here you can register for it for free.
Create an online survey free of charge for your own website with an easy-to-use questionnaire editor
When creating the online questionnaire for your online survey, you are supported by a professional questionnaire editor with which you can easily create and design your online survey step by step. A variety of question types are available here, which you can select from a question library simply by clicking with the mouse. An overview of all the question types available in the Essential version of QuestionPro, with which you can create a survey free of charge, can be found in our Help Centre.
Examples of standard question types if you want to create an online survey for free:
Single Choice
Multiple Choice
Matrix questions
Drop-down menu
Free text and comments
Star ratings
Slider bar
Scales
and many more…
With professional design templates
create appealing online surveys
With the free version of our web-based survey software, you can access a variety of design templates and customise them according to your wishes. This makes creating surveys a breeze! The design is automatically adapted for mobile devices. You can also use a variety of standard question types, such as single/multiple choice, dropdowns, rank order, ratings, smileys or asterisks and many more!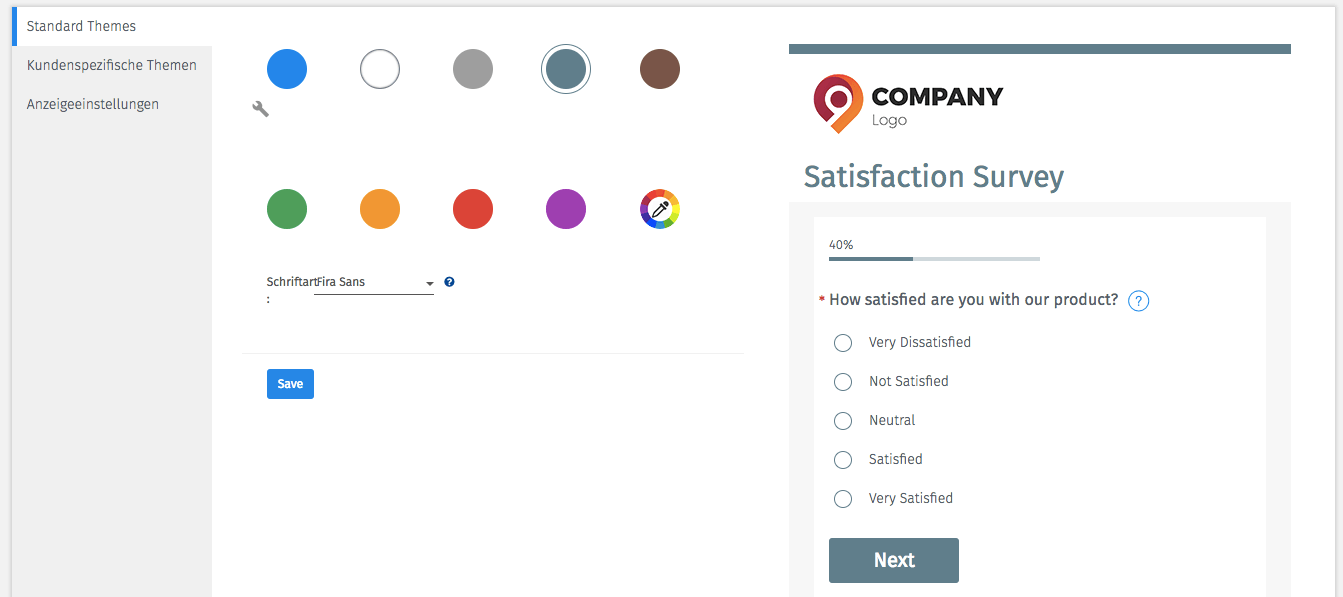 ---
Easy integration of your online survey on your homepage, blog or website!
Best of all, you can publish your free online survey created with QuestionPro on your website, homepage or on your own blog without any programming knowledge! Here we show you how to use the automatically generated code for your website to embed your survey on your internet presence. With QuestionPro you can create an online survey for free, quickly, professionally and above all easily!
---
You don't have a homepage, website or even your own blog?
If you don't have your own website or blog, you don't have to miss out on creating and conducting a free survey with QuestionPro! You can easily send your online survey via link or share it on social media. QuestionPro automatically creates a so-called survey live link for each online survey, which can be used to access your online survey. You can then send this link by email or simply post it on Facebook, Twitter or Instagram!
Free analysis and evaluation tool included!
With QuestionPro you can not only create online surveys free of charge, but also evaluate them! The individually configurable and clearly designed analysis and evaluation functions leave nothing to be desired, even in the free version of QuestionPro! Present the results of your online survey in a professional, appealing look & feel and use the automatically generated graphics. You won't feel like you're working with a free variant of a professional survey platform. Simply try it out for yourself and create your first survey with QuestionPro now.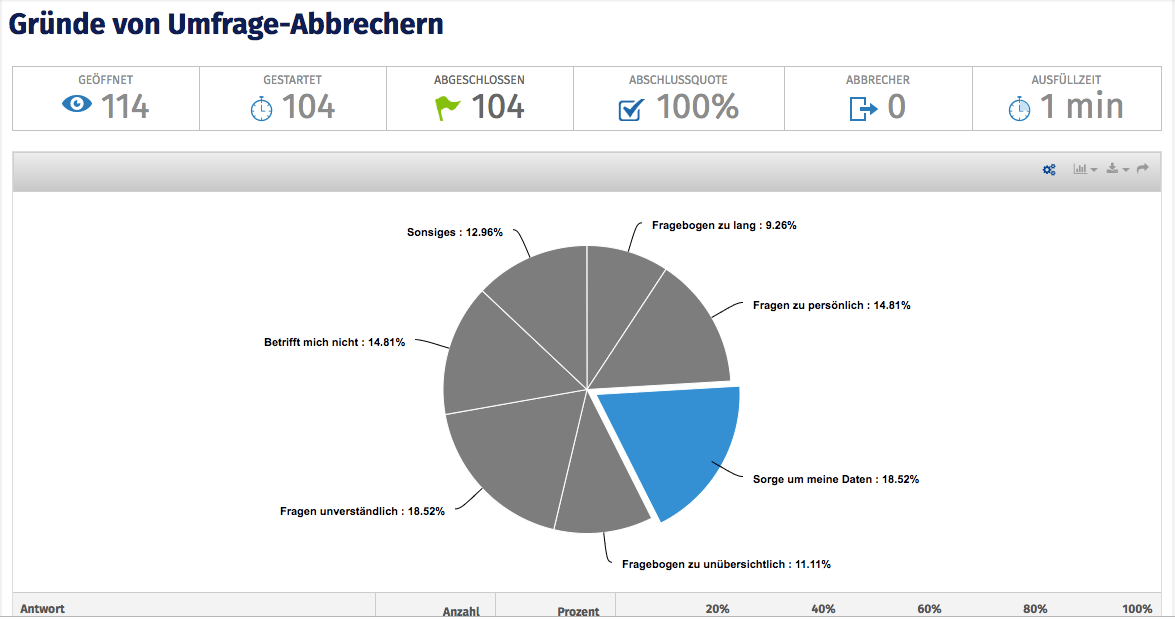 Professional support:
Help and support at any time
And if you get stuck when creating a survey, our free email support is at your disposal. Or you can simply use the live chat. Or the extensive help library and video tutorials.
Create online surveys for free: Which survey applications are possible with 1000 feedbacks per survey?
There are a variety of applications that you can carry out with the free variant of the professional online survey and market research platform QuestionPro. As already mentioned above, a very popular application of the free variant of QuestionPro is the employee survey for start-ups and small businesses. Large companies and corporations use our Employee Experience Platform for this. Start-ups use QuestionPro, for example, to conduct customer surveys or to evaluate ideas. Participant surveys are a very common form of questioning for seminar organisers. But private surveys on one's own blog or on Facebook are also carried out with QuestionPro, and this is mainly because creating the survey with the questionnaire editor is so easy!
Quick upgrade without waiting
If, in the course of conducting your online survey, you find that you would like to upgrade to the next higher licence model and create surveys that are more complex and have more question types, or if you need unlimited feedback, then this can be done very easily. Your already acquired data and evaluations will of course be retained in the event of an upgrade. You can simply upgrade your licence variant within the current survey and continue the online survey without waiting times and immediately create extended surveys!
Survey software in the context of teaching, research & education
If you are a student at a university, then you have come to the right place: Academic Sponsorship Programme. Because students enjoy our web-based survey software completely unlimited and free of charge if the university is part of QuestionPro's Academic Sponsorship Programme! So: Create an infinite number of surveys with an infinite number of questions and an infinite amount of feedback! Here, you yourself and all other university members, such as academic staff and university administration, enjoy all the benefits of a campus licence. Dissertations, teaching evaluations, studies, interviews, master's theses, alumni surveys: You can do all this – and much more – completely free of charge if your university is part of the Academic Sponsorship Programme!
And these are your advantages when you create a survey for free with QuestionPro
Create an infinite number of surveys online quickly, easily and free of charge with an intuitive questionnaire.
You can choose from more than 20 predefined survey question types and thus "click" together your questionnaire quickly and easily.
Choose from a variety of professionally designed survey themes and add your own personal colour theme using a colour picker or hex code.
Send your survey by mail or embed it on your website, blog or homepage or share surveys via social media channels!
Analyse up to 1000 feedbacks per survey via the integrated real-time analysis dashboard – of course also free of charge!
Get the most out of your online surveys and create professional surveys with advanced licensing models
Simple and fast integration of an online panel
Quickly and easily integrate an online panel into our web-based survey software QuestionPro. This way you get the market data you need quickly and cost-effectively. Either integrate QuestionPro's own online panel, which is one of the largest worldwide with more than 20 million members. Or use an existing online panel with which you are already working successfully. It is also possible to set up your own new online panel with QuestionPro. Valuable tools are available to you for this, such as member recommendation, the possibility of target group selection, the provision of incentives or the implementation of focus group discussions.
Extended question types and increase of the feedback limit to infinity!
With the QuestionPro Essential variant described above, you already have numerous professional question types at your disposal with which you can collect online surveys with up to 1000 feedbacks per questionnaire. This feedback limit increases to an infinite number of feedbacks from the first paid licence, the so-called "Advanced Edition". In addition, our advanced licences also provide you with extended question types and functions that have been developed for professional use. These include conjoint analysis, the use of branching logic for complex online surveys or, for example, the possibility of exporting survey data.
Enhanced look and feel and seamless website integration
Even with the use of the free version of QuestionPro, you have a great deal of leeway when it comes to the visual design of your online survey. With an extended licence variant, you are also able to publish your online surveys and data collection projects in a look that is fully adapted to your CI and to integrate them seamlessly on your website using code. A customised survey domain can also be set up. With the so-called white-label licence within the QuestionPro Team Edition, you also have full control over all CSS files and the look-and-feel is fully customisable to your specific needs! Here you will find a complete overview of the different variants of QuestionPro in relation to the implementation of your own branding!
Data import from external online survey systems
If you are dissatisfied with your current provider or would like to change for other reasons, for example because you need a broader range of functions or the service is insufficient, it is possible to import existing online surveys into QuestionPro and continue to use them without having to start a survey project from scratch. This saves time, nerves and costs! In this case, simply contact our Professional Service.
Full API support, the possibility of extensive scripting and integrations
QuestionPro offers you the possibility to connect to third-party systems via an API interface. For example, our survey platform can be seamlessly integrated into your existing business process management and workflow infrastructure. Special scripts and user-defined question logics can also be easily created with QuestionPro.
Furthermore, numerous integrations are available as quick and easy functional extensions for creating and evaluating surveys and analysing data. Connect QuestionPro to Omniture, Salesforce, Google Sheets, Google Analytics, Microsoft Dynamics, Tableau or many other third-party applications with just a few clicks of the mouse and without having to spend a lot of time on integration.
---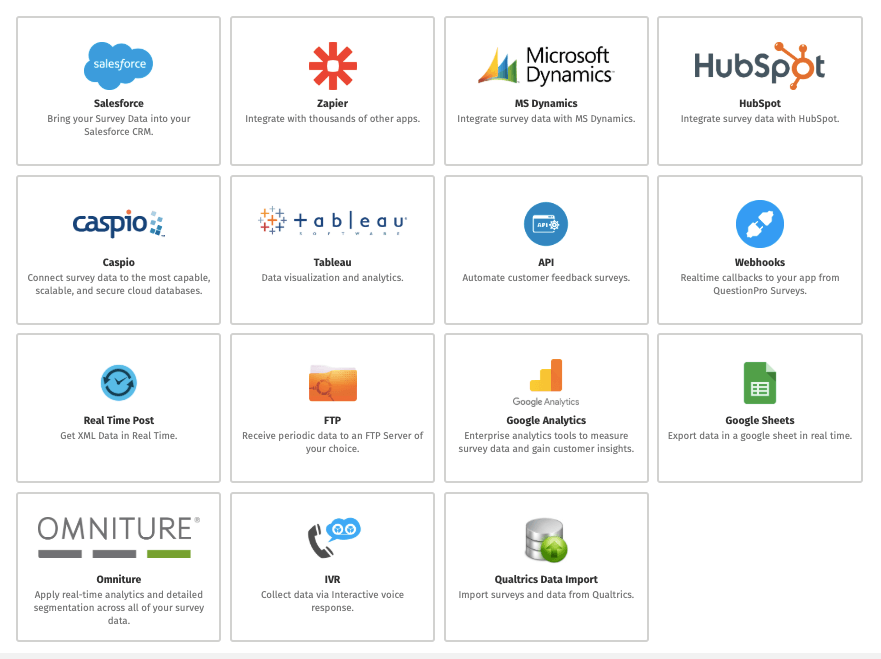 ---
Extensive support and service
Our philosophy is not to leave anyone out in the cold with any challenges or problems when working with QuestionPro or creating online surveys. That's why even users of the basic version enjoy free support by email. Whether when creating a survey or analysing the data obtained. From the extended licence models onwards, however, there is an extended support entitlement, for example via chat, telephone or a personal contact person, which means that all professional licence plans enjoy priority support via telephone and chat.
Contact and 14 Days Free Trial
Do you have any questions on this topic? Simply contact us via the contact form. We look forward to the dialogue with you. Test the web-based software for surveys, market research and experience management 14 days for free!