Market Research
Panel Research and Online Panel:
Definition, Example, Respondents, Software & Benefits
QuestionPro, one of the world's largest online panel providers with more than 22 Mio respondents, explains the topic of panel research simply and understandably
Online panels are becoming increasingly popular!
Panel research is the best way to get an overview of what customers and potential customers want. Research panels are growing in popularity as more and more companies are using online panels for quick and cost-effective market research. They either use panels before launching a product/service to measure its success or they use panels to understand their position in the market and strengthen it accordingly. Based on the data gathered, they can optimise or improve their product according to the feedback received.
Online Panel – Definition
The term online panel, also: online access panel, comes from the fields of market research and social science and refers to a group of people who have registered on an internet portal to participate in studies and surveys. When registering, people provide information about their socio-demographic data. This includes, for example, information on age, gender, place of residence, income, occupation and marital status. But also additional information such as the ownership of a vehicle, preferred travel destinations, enjoyment habits, consumer behaviour etc. can be requested depending on the provider of a panel platform. This information is stored in a database and can be filtered for use according to certain characteristics and criteria.
---
"We used QuestionPro to conduct a market survey for our mosquito patch MOSKINTO and were amazed at how quickly we were able to reach the defined case number of 1000 via the QuestionPro online panel. The questionnaire design is simple and the data evaluation very clear. QuestionPro's customer service is excellent."
---
A simplified example:
From online panel to sample
If a start-up company has an innovative product idea in the automotive industry, wants to develop it further and needs information on the use of mid-size cars by private individuals, the filter function can be used to select all registered members within the online panel who have such a vehicle. These vehicle users can now be specifically contacted for data collection and surveyed via online questionnaire. However, not all members registered in the Online Panel with a medium-sized vehicle need to be surveyed. It is sufficient to survey a representative set of members. This selected data is now called a sample.
Advantages and disadvantages of online panels
An online panel has many advantages over a classic panel. One of the main advantages is the extreme cost reduction, because no paper has to be produced, postage costs and expense allowances are eliminated. Almost all market research methods can now be carried out online. Furthermore, an online panel is quickly available and only a very short lead time is needed to start a study. Especially for young companies, start-ups and young entrepreneurs, an online panel is a very good way to gather market and behavioural data cost-effectively. However, one should not ignore the disadvantages: for example, people with a very low affinity to the internet or those who are rather anxious and reticent about disclosing their own socio-demographic data are not represented. Also, if the panel is poorly maintained, there may be incorrect socio-demographic data because it is deliberately misrepresented or not updated by the respondents.
How are respondents recruited for online panels?
Respondents for online panels are recruited through various recruitment channels. The internet is the best source and tool for recruiting panellists. Social media and inviting panellists via email through CRM play a significant role in online panel recruitment. Quality control measures and appropriate recruitment methods should be used when recruiting people for an online panel. Individuals can often self-recruit for open panels by providing a range of socio-demographic information when registering. This, of course, needs to be adequately verified. Companies invite their existing and also potential customers to participate in panels via email. As a rule, a pre-selection takes place here. Regardless of the recruitment channel, each respondent should go through a rigorous selection process in which they must provide a range of personal, professional and demographic information in order to be accurately categorised within the panel afterwards.
What are the incentives for respondents to participate in an online panel as survey participants?
The question is quite simple to answer: A good online panel platform offers its respondents so-called incentives. This means that the members of an online panel are rewarded for taking part in a study or survey. So they don't do it for free or for fun! In our QuestionPro online panel, for example, respondents collect points when they participate in studies or surveys, which can be exchanged for goods of their choice at selected online retailers.
---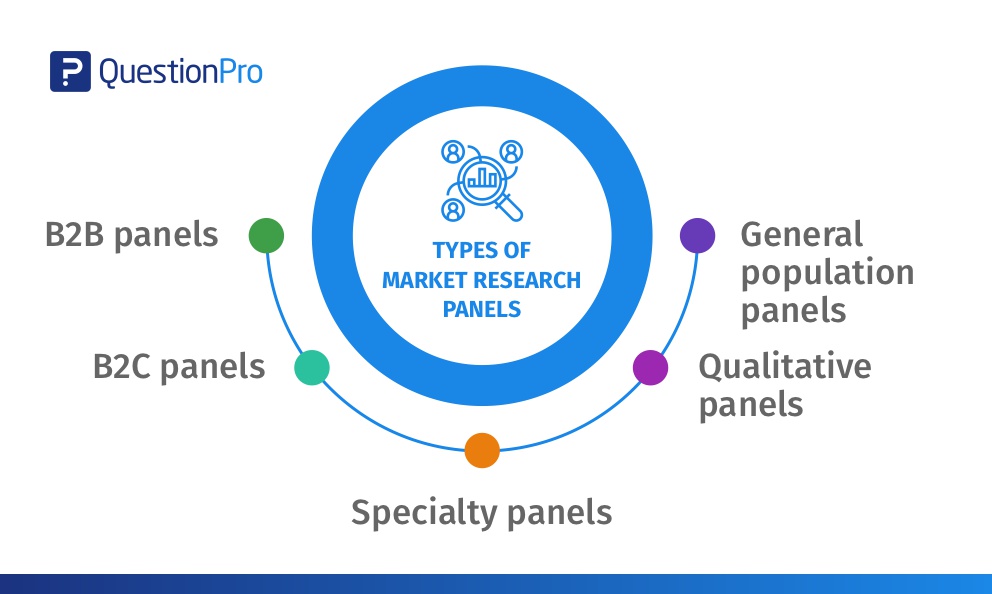 QuestionPro offers you a variety of types of online panels for your panel research
What is panel research?
The way market research is conducted today has changed a lot and is actually in a constant state of flux. Survey technologies are developing rapidly, and it is now easily possible to conduct panel surveys using smartphones, making it easier and faster to collect data than ever before. But one thing has never changed: The data is only as good as the panel by means of which it is collected.
Panel research is a method of repeated interviewing and thus the continuous collection of data from a pre-recruited group of people. Certain demographic data is stored about these people, such as income, place of residence, preferred interests, age, gender and much more. Based on this demographic data, one can filter out a specific group of people who then participate in surveys. Technology, especially the internet, has greatly changed the methodology of panel research by allowing us to access a larger number of respondents. Panel research offers many advantages to companies, such as faster turnaround times for surveys, higher participation rates and huge cost savings.
Why is panel research important for market research?
Building a high quality research online panel is very important, as it will ultimately allow you to generate targeted data for important business decisions. Therefore, the selection of panel members is also important. If you want to launch a new product or service for the automotive industry, then you should also interview people who drive cars. In the past, it was quite costly to recruit such a group of people. Today, you can easily select respondents via a selection mask for panel research.
How are respondents recruited to QuestionPro?
At QuestionPro, we use many different channels for our online access panel to recruit respondents for online panel studies who actively participate in our panel research. The most effective way to recruit new respondents is through referrals from existing panel members, who receive an incentive, i.e. a reward, for doing so. But we also regularly gather new people via social media platforms who are very interested in taking part in online surveys. As soon as we have recruited a new member, he or she has to fill out a survey with comprehensive profile information, which can later be used to select target groups for online surveys.
Does it make sense to set up a panel with your own respondents?
The answer to this question depends on how much time, money and personnel you want to invest. Maintaining a panel is very extensive and the higher the quality standards, the more effort it takes to run and maintain an online panel. In cases where your customers are considered niche, it makes sense to invest the time in building your own online panel of respondents. QuestionPro offers its online community software for this purpose. The quality of respondents is usually higher with self-recruited panels, and in the long run the costs are cheaper than with external providers if you actually use the panel regularly.
The QuestionPro Online Panel for your panel research and market research
QuestionPro Online Panel is a pioneer in providing survey panels for market research. Our online panel of more than 22 million respondents is highly engaged in taking online surveys because they are motivated through incentives and gamification. These panellists are strategically recruited after being profiled on more than 300 data points. We look forward to advising you!
1:1 Live Online Demo: Software and respondents for your panel research
We would be happy to show you in a live demo how you can quickly and easily obtain respondents for your panel research and how easy it is to initiate a panel study with QuestionPro software. Please feel free to arrange a personal appointment with one of our specialists in the field of panel research.
Test software for panel research now 14 days free of charge
Do you have any questions on this topic? Simply contact us via the contact form. We look forward to the dialogue with you. Test the web-based software for surveys, market research and experience management 14 days for free!