Market Research
Conduct panel studies with panel software and the online panel from QuestionPro
Find respondents for your panel study quickly and easily with the QuestionPro Online Panel
QuestionPro Audience, one of the world's largest online panels, offers you a cost-effective and very easy way to find qualified respondents from all over the world for your panel study. No matter whether it is a simple survey, a complex study, product tests, consumer surveys or surveys in the context of scientific research. And it doesn't matter at all whether you conduct your surveys with the QuestionPro survey software itself or with another survey solution. Behind the QuestionPro online panel is an innovative, modern technology that gives you access to survey participants regardless of the survey software you use. This means you can conduct panel studies with any software in conjunction with the QuestionPro online panel.
Easy access for your panel study: define your requirements yourself or use the know-how of our expert team
Connection to third party systems
If you need access to the QuestionPro online panel with an already completed panel study that you did not create yourself with QuestionPro, simply contact our customer service. Based on your individual requirements, we will quickly and easily create the appropriate sample for you and submit an offer for the implementation of your panel study in the shortest possible time.
Direct access to the online panel with QuestionPro
It's even easier if you create your panel study directly with QuestionPro, because then you can select your survey participants yourself with just a few mouse clicks via an intuitive user interface. And you have total cost control. Because while you are making your selection, the costs for your panel project are displayed transparently. But let's take it one step at a time.
Step 1: It does not matter whether you have already created a panel study or are going to create one. You can configure your panel study yourself at any time. To do this, navigate in the QuestionPro user interface to the entry "Online panel" in the menu. Then name your online panel project.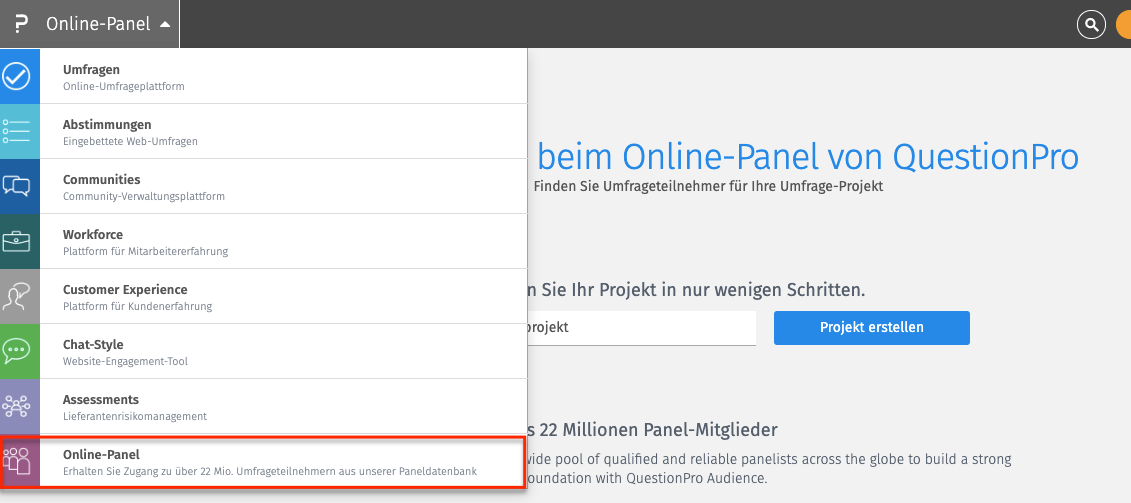 ---

---
Step 2: Now you will see the user interface of the online panel module within QuestionPro. Here you will find a number of selection options for defining your survey participants (sample). First of all, you specify here the scheduling, the length of your survey, the number of questions included. Here you also define how large the sample should be, i.e. how many survey participants you need for your panel study.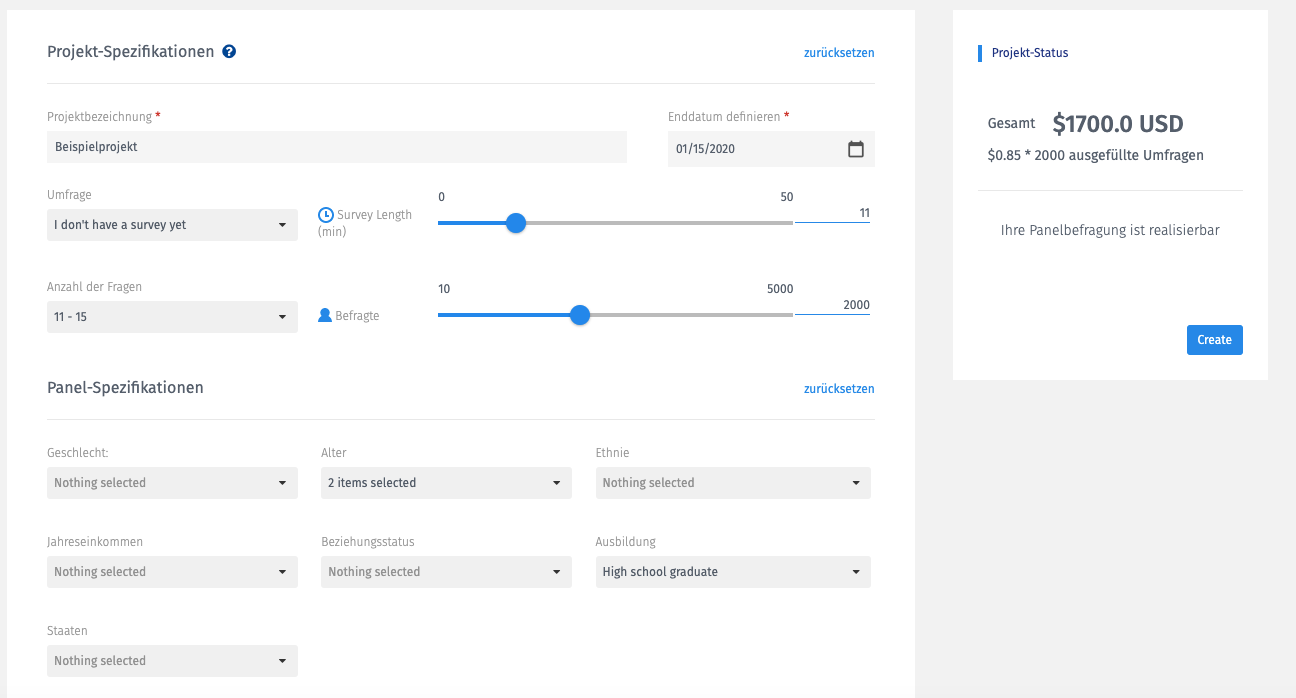 You then select the criteria you want your respondents to meet, such as age, gender, income, education, etc. You can also define your own specifications in addition to the predefined criteria. In addition to the predefined selection criteria, you can also define your own specifications. Our team of experts will be happy to support you here.
Survey results and participant statistics of your panel study in real time
You have an overview of all activities of your panel study at all times. A real-time dashboard shows you the results up to the second. You also have an insight into the participant statistics: dropout rate, completion rate, average completion time per survey participant and much more. The analysis dashboard also offers you many evaluation options such as GAP analyses, cross tabulations, trend and text analyses. You can export your evaluations as reports in many different formats.
What distinguishes the QuestionPro online panel? Recruitment, data quality, reliability
The QuestionPro online panel is subject to permanent quality controls by our market research and panel experts and is thus one of the most qualified online panels available. In addition, the registration of the panel members takes place exclusively via the double opt-in procedure, with the specification of a variety of socio-demographic data and with the aid of a sophisticated selection process, which guarantees the quality of the panel, which represents a genuine image of the population. And: we refund 100% of bad responses to your panel study! Our algorithms are able to recognise certain completion patterns of survey participants that lack seriousness. This includes the identification of conspicuous click patterns or a too short completion time that deviates significantly from the average or the results of the pre-testing. Our services also include carrying out consistency checks and soft launches.
Live presentation:
Panel software from QuestionPro:
Use professional online panels for your panel study!
With more than 20 million consistently qualified members who can be selected according to countless characteristics and criteria, the QuestionPro panel software and the connected online panel for your market research is one of the most sophisticated online panel communities worldwide and is optimally optimised as panel software for the use of our QuestionPro survey and analysis platform. However, you can also connect the Online Panel to any other survey tool. With the help of the panel software, the members of the online panel can be selected according to more than 300 socio-demographic characteristics for the selection of a precisely fitting sample for your panel study. Permanent controls and checks ensure the consistent quality of QuestionPro's online panel. With the possibility of incentivising (rewarding) members for successful participation in studies and surveys, the panel software enables a high level of commitment.
Who is the online presentation on panel software and panel study aimed at?
With the online live presentation, QuestionPro primarily addresses market research institutes and companies that conduct market research themselves or plan to do so in the future. Students and academic staff from colleges and universities who would like to use the panel software for academic work are also invited.
1. general overview
2. information about the online panel and the panel software
3. setting up a panel study with QuestionPro
4. connection of external systems to the panel software
5. quota management and screener
6. features for quality management
7. tips and tricks for your panel study
Make an individual appointment
Register now for the individual one2one online presentation using the form below and find out how you can use QuestionPro's online panel and panel software to get fast and high-quality feedback in your panel studies.
Contact and 14 Days Free Trial
Do you have any questions on this topic? Simply contact us via the contact form. We look forward to the dialogue with you. Test the web-based software for surveys, market research and experience management 14 days for free!