Market Research
Agile market research: more flexible, faster, easier, more cost-efficient with innovative technologies
New technologies have changed the way companies conduct market research today. In this article you can read how agile market research can help your company to be successful in the long term and how you can be even more agile with innovative technology!
Agile market research: new technologies, new opportunities!
Due to the rapid technological development of software-supported market research solutions, it is possible to generate valuable insights with a high impact within a very short time through regular data collection. New products and services can thus be tested much more cost-effectively and also faster, introduced into the market and further developed based on the "real" needs of customers. The same applies to innovations, concepts or campaigns.
More quickly. Slimmer. More flexible. More efficient.
The task of agile market research is to establish faster, leaner, more flexible and digitized processes for data collection and data analysis in the company in order to be able to react quickly to changes in the market and to be able to adapt to the wishes and needs of customers. Customer feedback can be collected at short notice and analysed in real time, thus providing immediate insights in a series of short cycles that can be incorporated directly into new ideas, features, products and solutions and also create transparency for everyone involved.
EXPLORE
Identify target markets
Identify customer needs
Assess competition
Select technology
CREATE
Define interaction with users
Determine the "look and feel" of the product
Test and launch
EVALUATE
Performance benchmark
Analysis of customer feedback
Measure ROI
Initiate improvement measures
Added value of agile market research
The added value that agile market research brings with it, namely testing products, concepts and campaigns intensively in advance, is much more cost-efficient, easier and faster than in the past. Thanks to new technologies, the risk that products, advertising measures and campaigns will not be accepted by the relevant target market and that this will result in considerable costs or even damage to reputation is considerably reduced. The importance of testing products and advertising has grown enormously in importance, as flops have often cost millions, not to mention damage to image.
Marketing and product flops can be very expensive
Think of the many marketing flops that even large and experienced corporations have suffered.
For example Mitsubishi, which named one of their models "Pajero". The off-road vehicle should then be launched on the Spanish market. The term pajero, however, is a very bad swear word in Spain.
Or the company Henkel, which advertised a detergent in the Arab world with the slogan "DIRTY → PERSIL → CLEAN". The company just ignored the fact that the reading direction in the Arab countries is different, namely from left to right.
In Asia people didn't like "Ronald Mc Donald" at all, because a clown with white make-up is associated with death in this region.
There are countless other examples.
Agile market research with technologies for data collection and data analysis from QuestionPro
Solutions for agile market research
Product test, concept test, conjoint analysis, TURF analysis, van Westendorp Price Sensitivity Meter, Net Promoter Score, online focus groups, semantic differential, maximum difference scaling, A / B tests, IAT, mobile diary, heat maps, image & video rating, surveys & Surveys, intercept surveys, offline data collection, online panels, market research communities, social listening, market research test procedures, comprehensive analyses and much more. The web-based software for agile market research QuestionPro Unites powerful tools for agile market research on just one single platform, with which you can implement all conceivable types and forms of surveys and test procedures for market research.
Fast, flexible and agile market research projects
Put with you QuestionPro agile market research projects quickly and easily. The market research platform QuestionPro adapts flexibly to the challenges and needs in the implementation of studies and test procedures as well as in the automation of your market research processes. The integrated tools are very easy to learn and can therefore be used quickly even by inexperienced users. With our full service we also offer you the opportunity to outsource market research projects. This also supports the process of agile market research in the event of bottlenecks.
Smart question types and predictive analysis
With the innovative platform for carrying out agile market research by QuestionPro you can create market research studies and test procedures with intelligent question types and progressive functions and features quickly, easily, in multiple languages ​​and without additional programming. The integrated tools for agile market research, based on artificial intelligence and a predictive analysis engine, enable the acquisition and collection of market data with a selection of over 50 ready-made standard and extended question sets across all media.
Evaluations and analyses at the push of a button
The market research platform QuestionPro offers you a complete package of reporting and analysis tools that give you quick insights into your market research data: advanced analyses such as segmentation, contingency tables, conjoint and TURF analyses, AI-based semantic text analysis, cross-reference comparisons, grouping analysis, correlation analyses, geocoding, market simulations , Drop-out rates and analysis, gap analysis, trend analysis and much more. With QuestionPro you can convert your market research reports into easy-to-interpret, graphically appealing and clearly arranged visual infographics at the push of a button, and export them to common presentation formats. For further analysis of data, the results of QuestionPro Can be exported in a variety of formats including Excel, SPSS, TXT, Dropbox, or Google Drive.
Intelligent functions for complex, agile market research studies
The platform for agile market research from QuestionPro offers you a variety of features and functions for high-level market research. Use branching logic, scoring logic, variable transfer, question and answer randomization, question block rotation, variable transfer, question extractions, question pre-filling, temporary storage of questionnaires, survey and test chaining, quota management, panel -Integration and many other functions without any programming! There is also the option of user-defined scripting.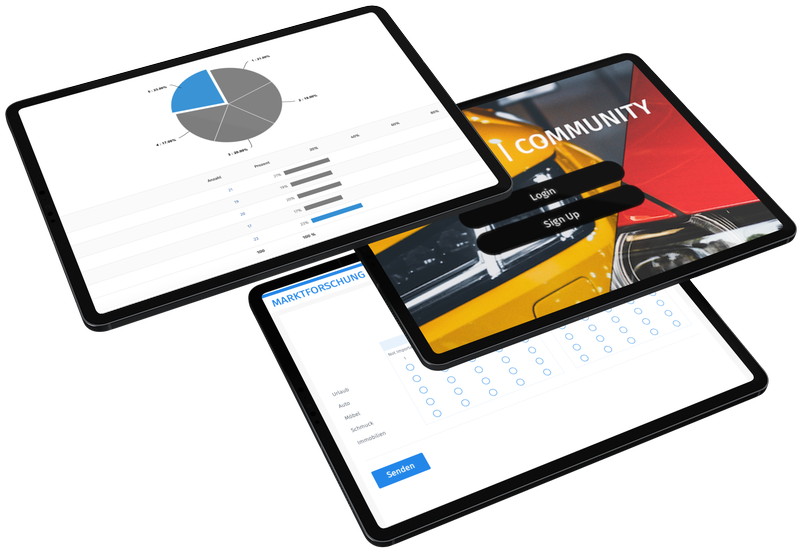 Multi-user environment and simple management of roles and rights for market research teams
The market research platform from QuestionPro offers you a multi-user environment that enables companies to work collaboratively in the context of agile market research. A sophisticated rights and role model manages access at all levels. Design a survey or test procedure with several people and determine who is allowed to see the evaluations or parts of the evaluations. Use cookie-based single sign-on functions that make the tedious administration of multiple passwords superfluous. Authenticate your QuestionPro-User account with SSO towards third-party systems, in order to guarantee the highest level of security
Agile market research with certainty
The top priority in market research is the security of market research data. QuestionPro is SSAE 16 (SOC 2) compliant, EU and Swiss SafeHarbor certified and fully GDPR compliant. SSL for surveys and data is standard, with the option to add SSO. Activate and deactivate public surveys and studies with a click of the mouse, create password-protected studies and test procedures, authenticate survey participants and test subjects via social media, prevent market research studies from being filled out multiple times with anti-ballot box filling and use many other high- End security solutions from the market research platform QuestionPro. Agile market research also means security when carrying out market research projects.
24 * 7 worldwide "agile" support
Here at QuestionPro we take our customer service very seriously. We offer you worldwide live customer support around the clock, 365 days a year. You can reach us at any time via online chat, email or phone. In addition, we offer you permanent contacts who know your entire customer history and can therefore react quickly to challenges in agile market research in live operation.
Easy integration of third-party systems
In order to be able to guarantee agile market research QuestionPro seamless integration and synchronization of market research data with your existing IT infrastructure, such as CRM tools, Salesforce, Microsoft Dynamics, Tableau, Caspio, Google Sheets, Hubspot and many others. With a variety of powerful software integrations supported by webhooks and APIs, you have a perfectly consistent and coherent back-end integration for your data.
Online market research panel
More than 20 million panel members
As a full service provider for agile market research, we of course also offer you an online panel (B2B & B2C), which includes more than 20.000.000 panel members who can be selected according to more than 300 criteria. We also offer you a wide range of special panels.
Fast set-up time and real-time analysis
In addition to a fast setup time, our professional panel software also guarantees complete control of data quality and data return and, of course, offers you data analyses for agile market research projects in real time. So you always have access to the results.
"The flexible and responsive project management particularly meets our requirements for the short-term and speed of studies. The quality and proactivity of the project support as well as the speed in the implementation of the reporting meet the highest demands.
Simple sample selection
The sample selection for your market research studies is easy and is based on more than 300 profile data that the panel members provide when entering the online panel. The selection is quick and easy with a click of the mouse using our panel software. It also has QuestionPro through a variety of special panels for agile market research.
High quality through permanent monitoring
The QuestionPro The online panel within the market research platform is subject to permanent quality controls. It also has QuestionPro via a technologically advanced data quality check engine that reliably detects bad responses. New panel participants have to answer a comprehensive catalog of questions with data on their living and work situation in order to be admitted to participate in panel studies.
Community for agile market research
Platform for qualitative and quantitative market research
As a holistic platform for agile market research, in addition to survey, survey, analysis and panel applications, we also offer a comprehensive market research community for the acquisition and analysis of quantitative and qualitative market research data.
Advanced technologies and functions
Online focus groups, ideas board, discussion forum, topic board, event planner, activity feeds, engagement tools such as incentives and gamification are just some of the functions of the market research community QuestionPro. The market research community also includes a clear analysis dashboard that gives you comprehensive insights into the virtual community, in real time, of course.
Community app
For quick access to the market research community on the part of your community members QuestionPro You an app. Community members receive push notifications here about new posts and launched surveys, can quickly and easily create and update their profiles and participate in discussions, write in forums and take part in online discussions.
Service for agile market research
In addition to sophisticated technology, you also receive a high-class market research service! This service covers all phases of market research, including quality control and documentation. With technologies from QuestionPro you can carry out agile market research yourself. You can use our service either as an "additional service" or as a full service. Learn QuestionPro as a full service provider for agile market research! Our market research service can be divided into 4 areas.
Analysis of the current
Tool selection, study design & implementation
Monitoring & data acquisition
Data analysis & documentation
As part of the 1:1 live presentation, you will also find out how we can offer you our service and project management for your market research projects.
1:1 live online presentation:
Make an appointment with us on the subject of agile market research software and service!
We present you as part of our 1:1 live online presentation with the web-based software (SaaS) for agile market research QuestionPro a unique, time-, cost- and nerve-saving application and tools for data collection and data analysis that are precisely tailored to the requirements of companies that place high demands on agile market research. The market research platform QuestionPro is one of the most used data collection and evaluation systems worldwide! In addition, we explain our services around the topic of agile market research to you.
You will receive a comprehensive overview of the functions and applications of the web-based software for agile market research QuestionPro as well as our market research service. Here are the topics in detail:
Survey and analysis platform for agile market research
Brief introduction to the market research platform QuestionPro and overview of the solution modules
Introduction to the QuestionPro Survey and test editor module
Collect data across all media
Special functions, question types and applications for market research
Evaluation options, data analysis and data export
Agile market research: tools and automation of market research processes
Market Research Community
Presentation of the QuestionPro Market Research Community
Presentation of the modules within the market research community
Community administration and community management
Engagement tools
Members dashboard and incentives
Online panel for agile market research
General overview
Information on the online panel and the panel software
Quick setup of a panel survey
Connection of third-party systems to the online panel
Odds management and screeners
Data quality
Agile market research service
Current state and definition of goals
Tool selection, design & implementation
Monitoring & data acquisition
Data analysis & documentation
More services
Arrange an appointment now!
---
User report: BMW uses market research platform from QuestionPro for agile market research
You would like to get an idea of ​​how one of the world's leading companies uses agile market research with technology and services from QuestionPro operates? Read the reference report "Agile Market Research, which we shared with Dr. Josef Köster, Team Leader Market Research at BMW, wrote for you.
→ Case Study (PDF, approx 2MB)
Test software for agile market research now for 10 days free of charge
If you have any questions about agile market research in advance, we look forward to talking to you. We are happy to answer any questions you may have via our contact page. Register now for a 14-day free test of the market research platform QuestionPro and test all features, functions and evaluation options at your leisure and in detail.
Try QuestionPro's market research and experience management platform for free.