Customer experience management
Voice Of The Customer (VoC):
Collect and analyse customer feedback intelligently, easily and cost-effectively.
Give your customers a voice. Successfully implement your Voice of The Customer strategies intelligently & cost-efficiently with QuestionPro's award-winning CX platform.
What does Voice of the Customer (VoC) mean?
The term Voice Of The Customer (VoC) covers systematic survey and analysis processes whose results give your company insights into the world of thoughts and behaviour of your customers. Ideally, these results summarise all the needs, wants, expectations and requirements of your customers, which in turn flow back into the development of your products, services and Customer Experience Management. The goal: a continuous improvement process. QuestionPro's survey and analysis tools support you in the cost-efficient and resource-saving collection of survey data and thus in answering your questions about your customers' requirements, wants and needs.
Voice Of The Customer: Gathering valuable data and customer testimonials for strategic decision making
Survey and analysis methods within the Voice Of The Customer strategy can be classic surveys, interviews, discussion rounds, product tests, feedback from test customers or even entire test and pilot markets. The focus is on obtaining reliable data and customer statements. QuestionPro supports you in this with its various survey and analysis tools, such as the QuestionPro Customer and Feedback Community, with which you can generate both qualitative and quantitative insights. QuestionPro also supports you in the collection and analysis of feedback from classic online surveys, video interviews or conjoint analyses. With QuestionPro, you capture the voice of your customers via a central, web-based platform and across all media and methods, qualitatively, quantitatively and with the help of artificial intelligence.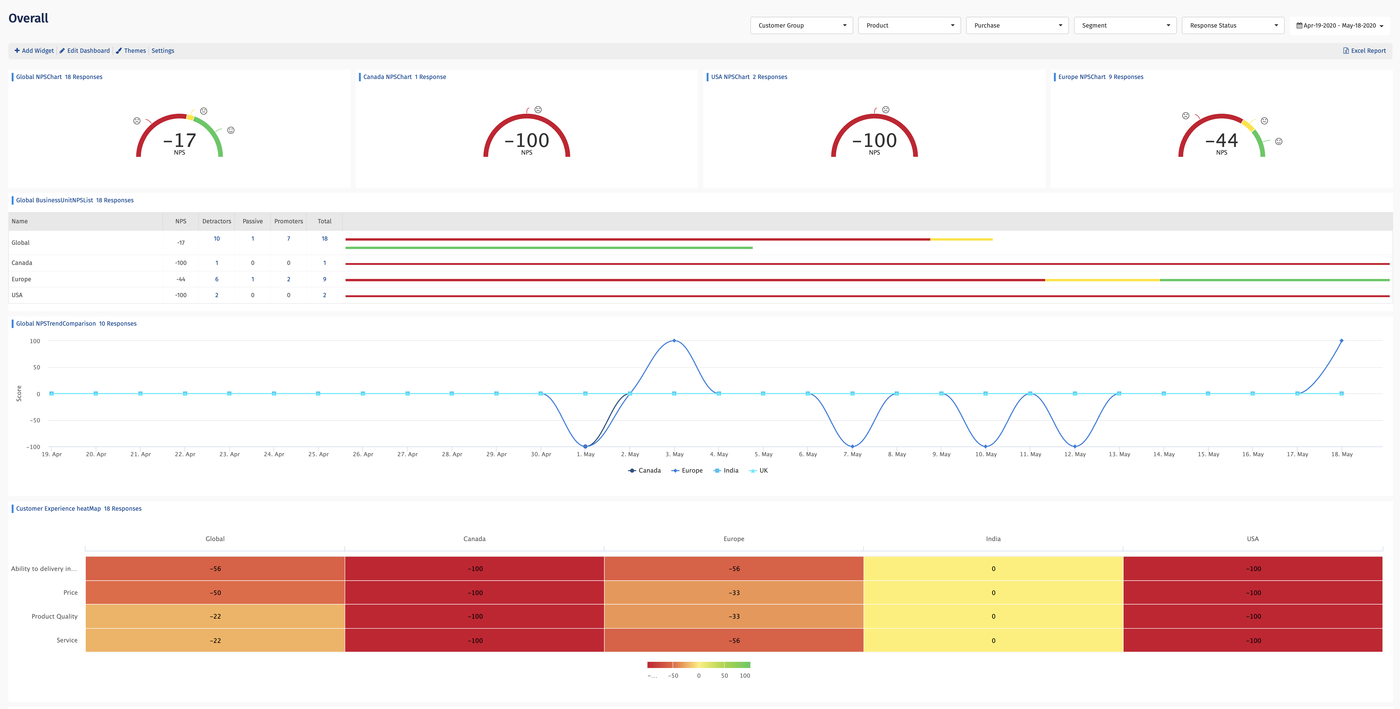 Example of an evaluation within the Customer Experience Management Dashboard from QuestionPro.
---
What does a Voice of the Customer programme mean?
Voice of the Customer programme refers to the way you gather and analyse customer voices and how consistently you actually implement measures to improve customer experiences and products. The VoC programme therefore refers to actual implementation. A good Voice of Customer programme helps you better understand your customers' choices, concerns and preferences. However, it is not enough to collect customer feedback through customer surveys. What makes the difference is how data from customer surveys is analysed and, more importantly, how companies use and implement the insights generated by a Voice of the Customer programme.
Why is a Voice of the Customer program so important?
A Voice of the Customer programme is always the first step in introducing new products. Management may have a feeling that a product will be very well received in the market. The Voice of the Customer programme replaces a "good market feeling" with valid data about the market, the product features, the needs and wants of your customers and the meaningfulness of your brand!
The fact is that if you really know your customers and their needs and wants, the likelihood of failure decreases significantly. In a competitive environment where products and services are almost interchangeable, it is extremely important that you listen carefully to your customers. Regular customer feedback helps you make informed decisions that actually meet your customers' needs.
Another important reason why a VoC programme is important is the realisation that by obtaining data through market research, any risk can be identified. In any quantitative or qualitative research, statistical data is obtained based on customer opinions. From the data collected, it is easy to see whether a product or new placement in the market is associated with a risk.
These are the top benefits of a good Voice of the Customer programme
Significant improvement of your service
A good Voice of the Customer programme will help you improve your service: Customer feedback is a very important tool to improve not only the product but also the services offered by the brand. A really good, fast and solution-oriented customer service will make your customers stay with you. Moreover, your customers will recommend your brands and products to friends and family.
You will gain a better understanding of your brands, products and your company itself
Regular customer feedback provides you with data with which you can form an objective picture of yourself. Because who, if not your customers, can tell your company who you are? Because ultimately, it is your customers' perception that is decisive and not how you think you are positioned.
Develop new innovations faster
A Voice of the Customer programme helps you keep up with the latest developments and innovations or even stay one step ahead when it comes to understanding what your customers really want and what they are willing to pay for innovations. Only customer feedback can help you improve your product and identify future trends.
Increase revenue, win new customers, prevent customer churn
Ultimately, a good VoC programme also affects your sales. If you understand and meet your customers' needs and expectations, they will continue to buy from you. You will also be able to see if there is a risk of customer churn and respond immediately by taking action to retain your customers. And if your customers are so satisfied with your products and services, they will also make this known on rating portals and social media platforms.
From the Voice Of The Customer program to Customer Experience Management
Voice of The Customer essentially originated in the 80s. In the meantime, the survey and analysis methods have developed further - also due to the increased technical possibilities - and offer the possibility of a far more comprehensive feedback collection and evaluation. Today, it is possible to generate customer feedback inexpensively and inexhaustibly and to evaluate it in real time, practically without large personnel expenses. Many companies today measure customer and customer experience along the entire "customer journey" as part of customer touchpoint management, i.e. at almost all contact points between customers and companies. Due to the large amounts of data that come back from countless surveys, polls, interviews or conversations, a Customer Experience Management solution like QuestionPro is essential.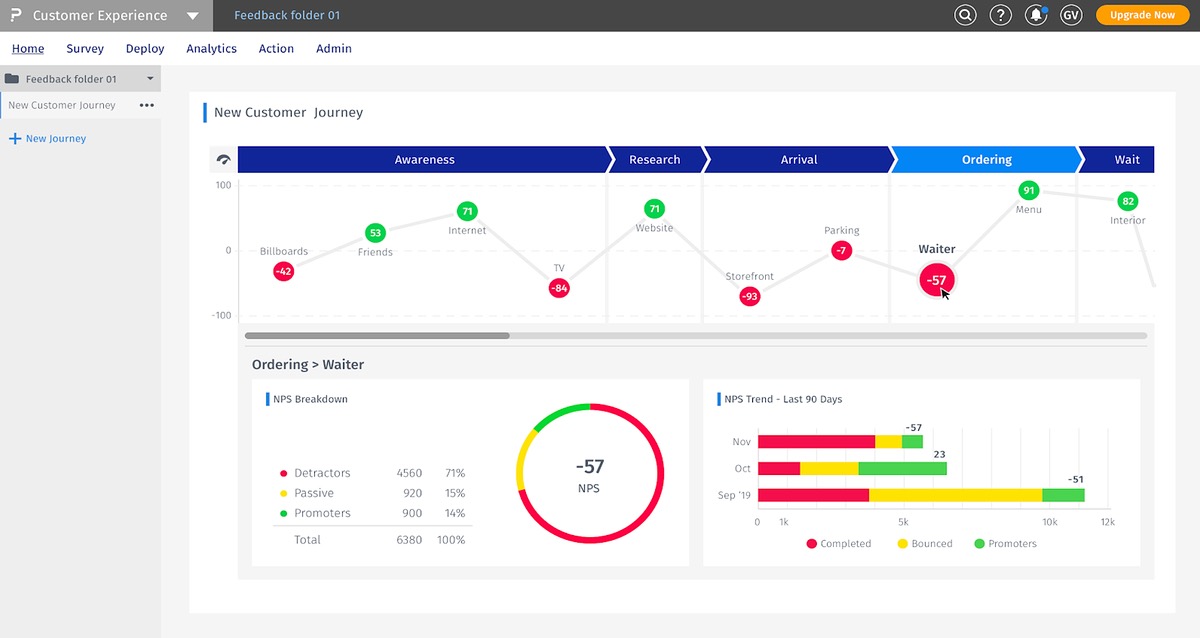 Customer experience dashboard with mapping of the customer journey
---
Carry out customer surveys cost-effectively as part of your Voice Of The Customer program QuestionPro
Conducting regular customer surveys as part of the VoC programme is critical to gaining deep insights into your customers' mindsets to ultimately improve customer experience and satisfaction. QuestionPro's Customer Experience Management platform helps you capture customer feedback, concerns and opinions to continuously improve your products and services. QuestionPro CX is the leader in conducting Voice of the Customer surveys. VOC metrics such as Customer Effort Score (CES), Net Promoter Score (NPS), Customer Satisfaction (CSAT) and Loyalty Index are fully covered. QuestionPro helps you to quickly and easily generate and analyse customer feedback and make decisions based on the data obtained that significantly improve your products and service and sustainably strengthen your brands.
Customer Insights Community: Give your customers a voice - anytime and anywhere in the world
Enable your customers to be in constant contact with each other and with your company. You'll also gain valuable insights into your customers' emotions and thoughts, and use innovative community tools to generate both qualitative and quantitative feedback. Immerse yourself in the world of your customers and gain deep insights with real impact and make important business decisions based on "real-world data". A Customer Insights Community is an indispensable building block for the implementation of a holistic Voice of the Customer strategy.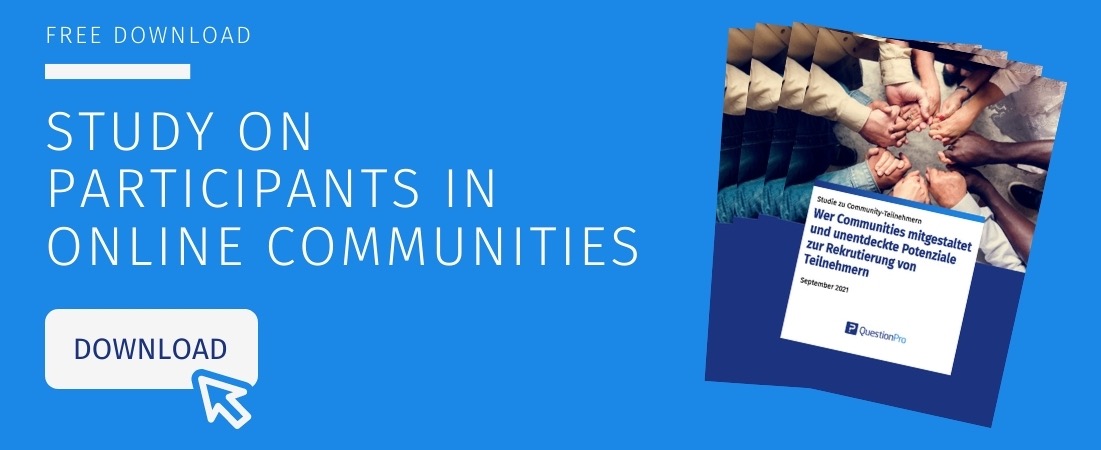 ---
Expand your VoC program and give your employees a voice too
Are your customers at the centre of all your company's thoughts and actions? Do your employees also know this? And do they act accordingly? Do all employees have the appropriate competence to actually meet all the challenges of the market and, above all, the demands, wishes and needs of your customers? By taking into account the voice of employees, you can understand the challenges they face that can lead to bottlenecks in delivering the best customer experience. With QuestionPro's Experience Management Platform, you can easily and cost-effectively both implement your Voice of the Customer programme and conduct employee surveys on a regular basis, for example on engagement, loyalty, organisational health, etc.
→ Employee Experience Management
Gartner study sees QuestionPro CX as a top voice of the customer solution
Gartner is committed to being a reliable, reputable and objective provider of market research and analysis. In a study on Voice of the Customer solutions published in 2021, Gartner considers QuestionPro to be the top provider of VoC solutions for medium-sized businesses. You can find more information here: → Gartner VoC study
1:1 live online presentation:
Successfully implement Voice of the Customer strategies with QuestionPro's CX software
We would be happy to show you all the advantages of as part of a personal live demo QuestionPro as a real voice of the customer solution. Arrange a personal appointment with our VoC experts now.
---
Test software for Voice of the Customer and Customer Experience Management now for free
Do you have questions about Voice of The Customer, Customer Experience Management and customer surveys? Contact Us! We are happy to provide you with advice and assistance! Try it now QuestionPro with its tools to collect feedback for your Voice of the Customer program.
---
Try QuestionPro's market research and experience management platform for free.