QuestionPro internal
Best employer 2021: QuestionPro is voted one of the best medium-sized companies by Built In
Midsize Business Award: Built In Austin selects the 100 Best Workplaces for 2021
The best employers also make the best customer experiences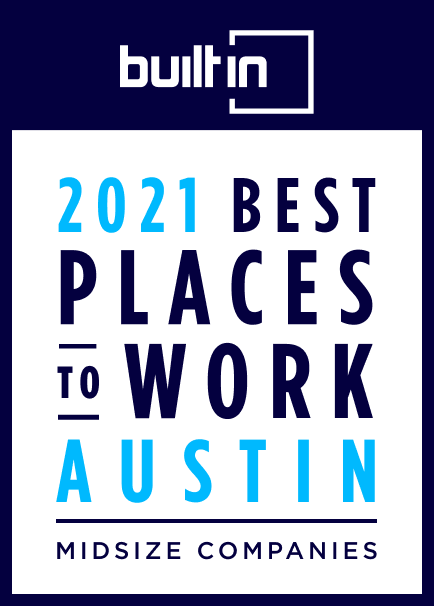 Belonging to the best employers also means being able to unite the best talents for yourself. Being one of the best employers is therefore not only of great importance for the company itself, but also for the customers of those companies that are among the best employers. Because satisfied, committed and motivated employees perform well above average.
We cannot thank our employees enough for all of their contributions to our organization and the success of the company. Without a great team that we have continuously built up over the years, we would not have achieved this achievement and would not have been voted one of the top employers. Our employees and the management team form the backbone of QuestionPro and enable us to provide the best products and services to our customers.
"I'm very happy to be a part of it QuestionPro To be able to be a group. The company supports my personal and professional development. Lean processes, short decision-making paths, permanent training and a customer-centered and service-oriented corporate culture are of great importance to me as an employee in order to be able to provide the best performance for our customers and thus contribute to the success of the company. QuestionPro is indeed a top employer for me. "
Thomas Maiwald-Immer, Sales Manager EU
Selection and list of the best employers in 2021 according to the criteria of Built In
Built In created the list of the top 100 best employers for medium-sized companies based on the number of employees (companies with 101-500 employees), benefits, and compensation data submitted by employees. Rank is determined by combining a company's score in each of these categories. Built In selects the companies that promote a great work environment, are innovative, and have great leadership.
On the list of Built In's best places to work are alongside QuestionPro Find companies like COCNITE, SYSCO LABS, ALERTMEDIA and EVERNOTE. Here is the list of Built In best employers in 2021. Congratulations to all of the other companies that made it onto the list of best places to work.
Über QuestionPro
QuestionPro is a leading SaaS company for market research and experience management. Our products and services help our customers collect and analyse data from their target audience in order to make smarter decisions and improve customer and employee experiences. We are innovators, techies and visionaries dedicated to creating easy-to-use tools that take research to the next level. Driven by ideas, passion and expertise, our team strives every day to develop the best products in the industry - products that offer our customers the best experience.
1:1 live online meeting:


Working for one of the top employers in 2021: Apply to us with a live zoom meeting
You want QuestionPro get to know and get an idea of ​​why we are among the top employers in 2021? We would be happy to invite you to a live online interview. We will be happy to answer all your questions about our vacancies and tell you what you can expect from us and what our expectations of new employees are. Make an individual appointment!
---
---
Vacancies at QuestionPro
You can find an overview of all vacancies on our page → Jobs & Career
You have questions, suggestions or criticism? Simply contact us using the contact form. We look forward to the dialogue with you!
---
Try software for market research and experience management now for 10 days free of charge!
Try QuestionPro's market research and experience management platform for free.