Employee Experience Management
With pulse surveys you record and analyse the moods and sensitivities of your employees in real time
Use the QuestionPro APP for pulse surveys and gain valuable data and knowledge in real time as well as a continuous picture of the mood within your company!
Pulse surveys are increasingly replacing classic employee surveys
One HR topic has become extremely important in the recent past, namely the so-called pulse survey. In contrast to the classic employee survey, which was more of an extensive general survey and was carried out at most twice a year, the pulse survey has a clear focus on a defined, delimited topic and is carried out much more frequently.
As a rule, the pulse survey includes questions about one's own abilities, willingness to perform, commitment, loyalty or, for example, the attitude of employees with regard to corporate goals. These rather short pulse surveys, which can even contain only a single question, then take place regularly, for example every eight to twelve weeks or more, in order to constantly trace the development and to be able to influence any challenges in real time.
What are the advantages of the pulse survey?
Fast answers
Since only a few questions are asked in pulse surveys, you will receive fast, precise feedback in large quantities. A high response rate ensures more extensive and better data. Since employees can answer the heart rate surveys directly in their email inbox or app, you will receive the results immediately. You no longer have to wait weeks for answers. You can make faster and better business decisions.
More agility
Pulse surveys give you the opportunity to quickly clarify a concern or burning question. Thanks to modern technologies, pulse surveys are now quickly created and distributed so that they can also be carried out on an ad hoc basis.
Actionable, quick feedback
Since pulse surveys focus on a very specific aspect, such as employee engagement or satisfaction, you will receive clear and precise feedback from your employees, to which you can react immediately.
Track trends more easily
Pulse surveys are helpful to gain valuable information very easily and at shorter intervals about how the mood of your employees on a specific question changes over time.
In-depth knowledge
With the help of pulse surveys, you can examine and understand the fundamental and smallest aspects of your organization that affect your employees' experiences and workplace culture. You look much deeper and more detailed into your organization.
Real-time insights
In contrast to the classic employee survey, the pulse survey has the specific advantage that answers to specific questions relate to the present, to the current situation.
Improve engagement
Since you regularly receive up-to-date information from the employees themselves, you can act and improve your HR processes. When employees notice this, their engagement improves, which translates into higher productivity, morale, satisfaction, and retention.
---
"The feedback app from QuestionPro is tailored exactly to our needs and can be flexibly, quickly and easily adapted to changed conditions at any time. In terms of user-friendliness, nothing is left to be desired, which is why the app has become a real favorite of our employees and managers. With no other tool we could have implemented our data acquisition and data analysis requirements in such a way. "
---
Recognize moods and currents at an early stage with pulse surveys
Dissatisfaction in the workplace has a negative effect on the corporate culture and one's own performance, for example if, due to frustration, "work according to regulations" and the term friendliness is suddenly freely defined by your employees.
In practice it is actually the case that a bad mood often does not even reach the responsible levels. There can be many reasons for this. For example, when the sales figures (still) remain stable and complaints from the employees concerned about the negative mood are dismissed as "whining". Or when the employees immediately in front of them simply lack empathy and moods and trends are barely or not at all noticed. It can rumble so invisibly in the background that even the operating result can be at risk. It is therefore important to quickly identify trends and tendencies with regard to the well-being of your employees in order to be able to intervene just as quickly!
Variation of the pulse survey: The question of the week
One of these types of pulse surveys is the "weekend question" as carried out by one of our customers. At the end of the week, the employees regularly receive an email with a micro-survey, which contains three questions and which can be answered directly from the email program using a button. Employees do not have to click on a link or even open the email. This can be done conveniently from the preview window, does not require any effort and thus increases the probability of a response from a direct impulse.
Have you enjoyed your work this week


YES NO

What do you guess? What percentage have you achieved your goals?




25% / 50% / 75% / 100%

Would you recommend a friend or acquaintance to work in our company?




YES NO
Immediately visible after the employees have entered the data: trends and tendencies of the weekly pulse survey. Everything in real time!
With pulse surveys you record immediate employee feedback
Pulse surveys enable you to get an up-to-date view of the state of mind, motivation, worries and commitment of your employees. In contrast to the annual employee survey, pulse surveys offer constant regularity in the implementation of the acquisition of immediate feedback and thus also the identification of trends in smaller cycles. This in turn helps the HR and department managers to react quickly to the moods of the workforce and to initiate appropriate measures and to check these measures for success.
There are no limits to creativity in the pulse survey
The answers to the pulse survey can be related to all of the company's data using a graphical analysis dashboard, such as weekly sales, forecast figures or sick leave. So it was possible for our customer, by initiating pulse surveys, to directly relate the previous state of mind to the Prepare sick notes for the following week. Department and location or branch data can also be compared with one another. Another customer, for example, combines the results of a weekly micro-survey with the current weather data, i.e. what influence the weather has on the well-being of the workforce. There are no limits to the imagination and methodology when carrying out pulse surveys. The sending of free text comments by the employees and the corresponding analysis is also possible within the scope of the email micro-survey, so that you not only have to fall back on quantitative results, but can also analyse qualitative data.
With QuestionPro Employee Experience Management Platform, companies always have an overview of the current state of mind of the entire workforce in real time by means of pulse surveys and can take action accordingly quickly.
Use different feedback channels!
QuestionPro offers you the possibility to distribute pulse surveys over different channels. For example, if your company uses the #slack instant messaging service, you can easily integrate pulse surveys into your employees' everyday communication. Pulse surveys can also be carried out by e-mail or via the one described below QuestionPro Distribute Pulse App. Employees receive pulse surveys directly on their mobile phones. You can only create a lived feedback culture if you really reach all employees with your pulse surveys.
Use different feedback groups
There are pulse surveys that apply to all employees, but there are also specific surveys, for example depending on the management level, on the department, in relation to teams or locations. The HR feedback platform from QuestionPro enables you to create certain feedback groups and to send specific questions to these groups fully automatically.
Feedback analysis
The feedback received can be used with the HR feedback platform from QuestionPro analyse via a central dashboard. Trends and comparisons can also be viewed here. The graphical representation of the results is clearly arranged and can be individually configured as required. Since the employee feedback is recorded in real time, you always have an up-to-date view of your data and are therefore able to make decisions and take measures at any time. This is the only way that a lived feedback culture really makes sense.
The QuestionPro App for pulse surveys
The QuestionPro Employee Experience Management Platform, the feedback management system for surveys in the HR context, has grown: the new app for pulse surveys has been launched. Pulse surveys are the method of choice when it comes to gaining quick insights as a basis for decision-making for management, and they simplify and accelerate the feedback process between employees and management. With the help of regular pulse surveys, companies receive a continuous picture of the mood within the company in real time. And that is now even faster and easier!
Simple and secure one-click single sign-in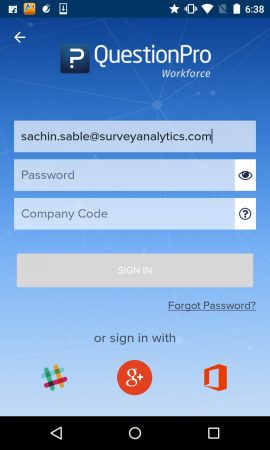 Users register quickly and easily within the QuestionPro App for pulse surveys. The app is integrated in platforms such as Google, Slack and Microsoft, so that multiple registrations are not necessary. Employees can log in accordingly using the applications and platforms mentioned. The company e-mail address is used for authentication; a separate company code is also required for security.
Easily create surveys and provide quick feedback
With the new app, you can create pulse surveys in no time at all, which automatically adapt to the display of the device used. Users automatically receive push notifications and can access the relevant survey quickly and easily with just one fingertip and can answer it just as quickly and easily, which significantly increases the feedback rate. For further simplification, you can design your online surveys with symbols. In addition, evaluable free text comments can be entered, so that not only quantitative but also qualitative survey dimensions can be collected.
Graphic evaluations and detailed reports
The QuestionPro The app for pulse surveys offers users a variety of graphical evaluation options within the report module, which - provided you have the appropriate authorization - can be accessed within the APP. The evaluations are presented in real time and can be called up from anywhere in the world. This means that decision-makers always have an up-to-date view of the mood in the company!
Of course, you can use the QuestionPro App for pulse surveys also control and initiate other applications and surveys within the Workforce Intelligence Suite, such as 360 degree feedback, classic employee surveys, the idea board, sentiment analyses, etc.
Survey automation: new ways of collecting data
On the one hand, it is the above-mentioned technological progress, i.e. the possibility of automation and the associated simplification of large, extensive surveys, which is why companies now conduct regular employee surveys. On the other hand, there is also a new insight into the necessity. In addition, consultancy firms have sprouted like mushrooms over the past two decades, discovering and promoting the topics of employee surveys, employee engagement, employer branding, etc. Today the employee survey is an essential, indispensable instrument of corporate management. But it has changed! The image of the employee has also changed, from a cost factor to a success factor. And only those who know their employees and know what strengths, weaknesses and talents are in them and what sensitivities prevail can also exert a targeted influence. Pulse surveys help you to get to know your employees and the culture of your company faster and more efficiently than ever before.
Creation of a feedback culture through a technological infrastructure in HR
Pulse surveys are quick and easy to create and carry out if you have the appropriate infrastructure. The HR feedback platform from QuestionPro includes tools for the implementation of classic employee surveys, 360 degree feedback surveys, sentiment analyses, culture analyses and also for the creation and distribution of pulse surveys. With the HR feedback platform from QuestionPro create the technical prerequisites for establishing a lived feedback culture!
Carry out pulse surveys fully automatically
A feedback platform like that of QuestionPro ensures that data from a wide variety of surveys in the HR context flow together centrally and can thus be analysed in order to ultimately be able to make business decisions from the data obtained. In order to keep the effort involved in conducting surveys as low as possible, QuestionPro its customers a high degree of automation. For example, pulse surveys can be planned in advance and sent fully automatically at a specific point in time - taking into account the date and time. This is especially important and helpful if the company actually conducts pulse surveys regularly and strategically in the sense of a lived feedback culture and according to the continuous listening principle.
User report on the subject of pulse surveys
Read in the following user report how the Cornelsen group used pulse surveys QuestionPro performs. → Pulse surveys at the Cornelsen publishing group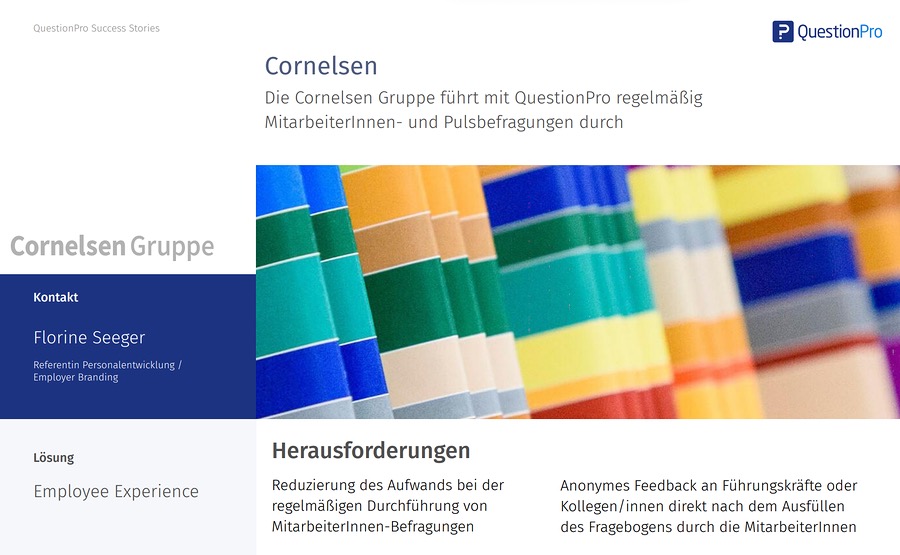 ---
1:1 live online presentation: create, conduct and evaluate pulse surveys
As part of this individual 1:1 live online presentation on the subject of pulse surveys, you will learn everything about the many different possible uses of the survey and analysis software QuestionPro and how quickly and easily you can set up so-called pulse surveys and evaluate them in real time. You will also learn the QuestionPro Know PulseApp, with which you can carry out pulse surveys using the APP. But we also present other scenarios from the world of employee surveys and discuss them with you. You will also get an insight into the QuestionPro Evaluation dashboard and the comprehensive reporting functions that are available to you as part of the QuestionPro → Workforce Analytics Suite, a holistic feedback, survey and analysis platform for HR, are available.
Arrange an appointment now
---
Test the software for pulse surveys now for 10 days free of charge
You have any questions to this topic? Simply contact us using the contact form. We look forward to speaking with you! Even better: Try the now for 10 days QuestionPro Platform for conducting employee surveys.
Try QuestionPro's market research and experience management platform for free.