Reputation Management
Significantly improve your online reputation with the new features of CX Reviews
Negative reviews on the internet cost you real sales and lower your online reputation. Monitor more than 90 review portals and social media platforms with CX Reviews from QuestionPro and react immediately to criticism!
With QuestionPro's CX Reviews, you can master the challenges of reputation management
Rating portals and social media platforms have become an integral part of the customer journey. This is where potential customers find out about products, brands and companies. Public reviews have a great influence on the purchase decision. Therefore, it is of enormous importance for companies to monitor review portals and social media platforms, to detect negative reviews and to react immediately to these reviews in order to avert major damage to their reputation. Moreover, rating portals and social media platforms provide you with valuable information for improving your products and services.
Since there are now countless review portals, it is very tedious to regularly check them for negative reviews. CX Reviews, QuestionPro's reputation management software, solves this problem. CX Reviews offers you direct access to more than 90 review portals from a single application, so that you can clearly see all reviews from all review portals. This way, you can see all new reviews about your company, products and brands in a single user interface, without having to log into each individual review portal. CX Reviews gives you access to major review portals such as G2, Google Play, Google My Business, Trustpilot, Facebook, Expedia, Glass Door, Trip Advisor, Yelp. Booking.com and many more!
These are the TOP features of CX Reviews
Overview of all ratings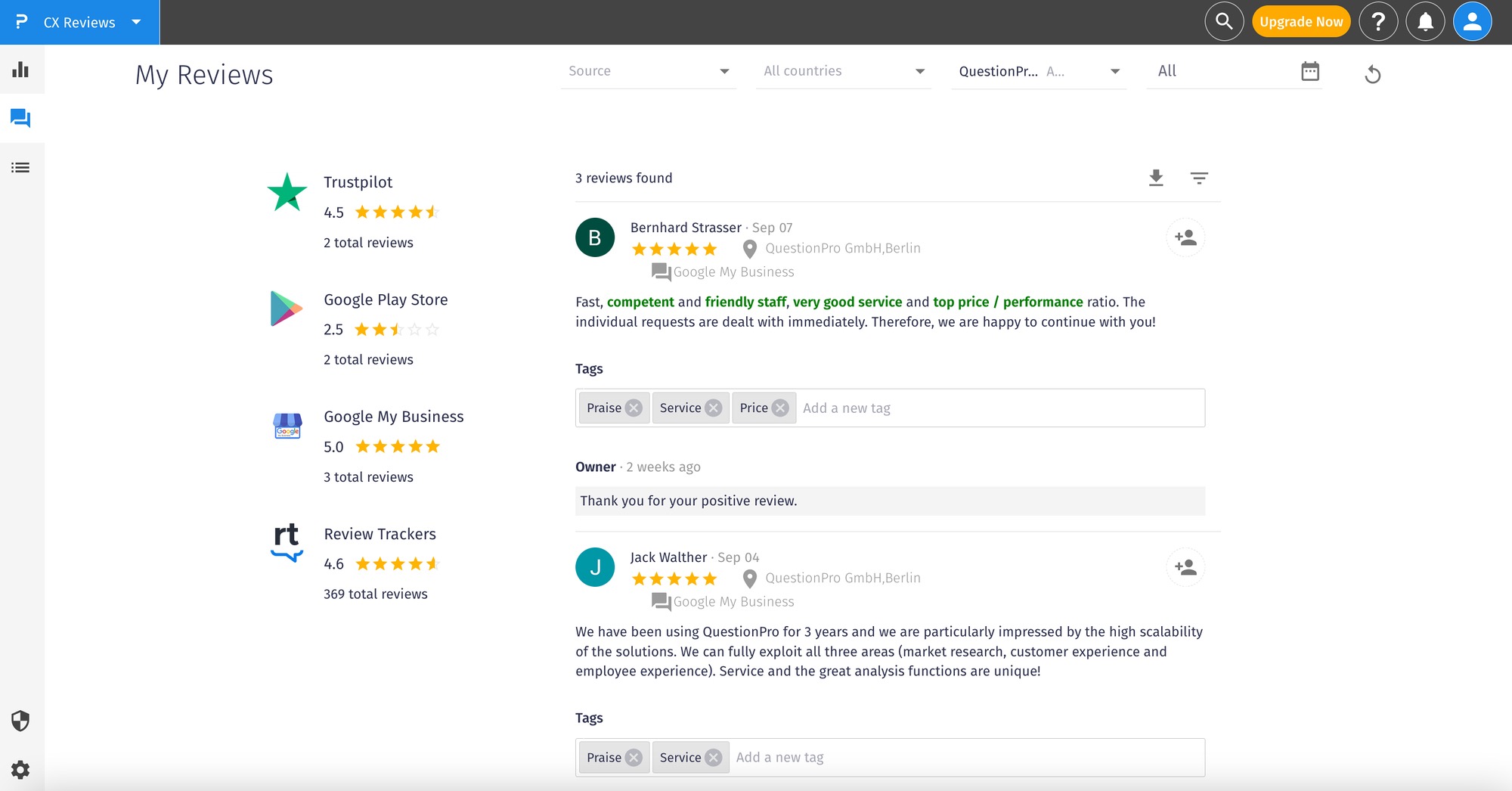 CX Reviews clearly shows you all the reviews from all selected review portals. You can filter these ratings, for example by date of receipt, rating, rating portal, location or country.
Notifications
You will automatically receive a notification as soon as new reviews have been received so that you can react immediately.
Sentiment analysis
Within the rating, you can see at a glance whether it is a negative or positive rating, as a sentiment analysis based on artificial intelligence recognises the intention of the author and colours the corresponding statements green (positive) or red (negative).
Tagging of ratings
You can assign individual tags to each review, for example whether the review is a praise or a complaint and what the review relates to, for example the product, the price, the service or the quality.
Translation of ratings
CX Reviews allows you to automatically translate incoming reviews. this is particularly important for users with locations and locations in different countries.
Clear analysis dashboard

CX Reviews offers you a variety of important and valuable evaluations clearly presented within the integrated reputation dashboard. Here, the overall rating from the sum of all reviews received is displayed as a trend line. Furthermore, you can see how much time passes on average until you respond to incoming reviews.
Sentiment Ratio, Trend & Topic
The sentiment ratio shows you the distribution of all negative, neutral and positive ratings received. This value is determined via the integrated AI-based sentiment analysis. The Sentiment Trend shows you the distribution of negative, neutral and positive ratings received within a certain period of time and on a daily basis. The dashboard also shows you the specific topics on which you have received ratings, such as price, product quality, service, etc.
Sentiment analysis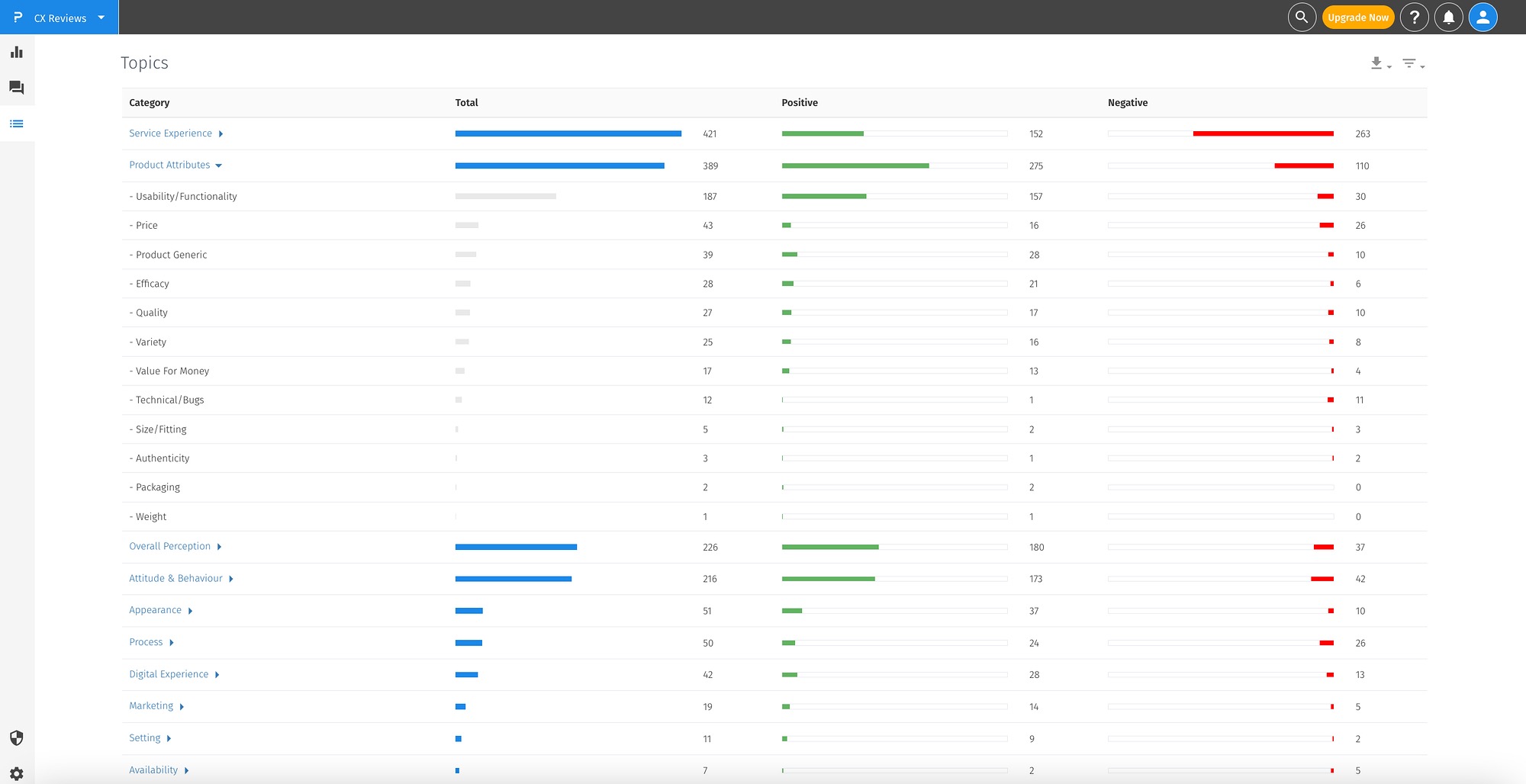 The in-depth sentiment analyses show you the distribution of negative and positive ratings broken down to the detailed level. For example, the analysis shows you how customers rate your product as a whole and also how individual aspects of the product are rated, such as price, weight, packaging, quality etc.
1:1 live online demo & test access


CX Reviews: We show you the innovative platform for reputation management
We would be happy to present CX reviews to you in a personal live demo and enable you to test access. Convince yourself of the comprehensive scope of the reputation management solution and test CX Reviews now for 10 days free of charge.
Make an individual appointment now.
---
Try software for market research and experience management now for 10 days free of charge!
Do you have any questions about the content of this blog? Simply contact us via contact form. We look forward to a dialogue with you! You too can test QuestionPro for 10 days free of charge and without risk in depth!
Try QuestionPro's market research and experience management platform for free.
---
KEYWORDS OF THIS BLOG POST
CX Reviews | Reputation | Software | App