Customer Experience Management
Customer Churn: definition, churn rate, analysis, prediction, tips to avoid
Customer Churn: Definition
Customer churn is the phenomenon whereby customers of a company no longer buy its products or services or no longer interact with the company. The customer churn rate is the mathematical calculation of the percentage of customers who will not, or are unlikely to, make a further purchase from a company. The churn rate is an important indicator for any company, as it could cost almost 7 times more to attract new customers than to retain existing ones. A high customer churn rate is a clear alarm signal for every company and customer retention strategies should be adopted immediately to avoid a further increase in customer churn and thus enormous losses in sales.
Possible reasons for customer churn
It is essential for every company to find out the reasons for customer churn in order to counteract this. There are many different reasons why customers migrate. A rough distinction can be made between competition-related, company-related and customer-related reasons. These reasons are often interdependent.
Competitive reasons for customer churn
Competitive reasons for customer churn can include better product quality, lower pricing, a better image or better customer service on the side of your competitors. It is therefore important to always keep an eye on your competitors and to conduct regular market research in this area!
Company-related reasons mean that the cause of customer churn is to be found within the own company, for example an increasingly bad image, lack of service or additional services, unfriendliness, slowness, poor accessibility, inadequate complaint management or unfulfilled expectations from advertising promises.
But the reasons for customer migration can also be on the side of the consumers themselves, such as increasing "saturation", lack of purchasing power, lack of interest or shift of interests, changed living conditions etc.
What does Churn Management mean?
Churn management refers to all activities of a company that are aimed at preventing customer churn. Churn management managers investigate the causes of customer churn on the basis of a broad range of data and develop strategies and action plans to prevent customer churn. Customer value still plays a central role in churn management today. Measures to prevent customer churn are developed primarily for customer segments with the highest customer value, i.e. those customers who bring a company the highest turnover. However, churn management managers today are increasingly developing strategies to prevent customer churn in customer segments that generate below-average sales. This is especially true for the consumer sector in online business, where the implementation of customer retention measures through automation has become quite easy.
Calculation of the customer churn rate
In its simplest form, the customer churn rate represents the number of customers you have lost divided by the total number of all customers.
Customer churn rate = number of lost customers/total number of customers (period) x 100
Using this formula is very simple simple, but it is more complicated if you need to calculate customer churn over several periods of time.
For example, in the first year the number of customers lost is 5 and the total number of customers is 100, then your churn rate in the first year is 5/100*100= 5%.
But even with a constant customer churn rate, the loss of sales is incremental.
Example for the calculation of customer churn
For example, if you acquire 10 customers each year who buy goods and services worth EUR 100 over a period of 3 years at a churn rate of 0%, you will generate (100 x 10) + (100 x 20) + (100 x 30) = 6000 £
However, things become more complicated when customer churn sets in. Let's take an average churn rate of 30% and suddenly you only have a turnover of (100 x 10) + (100 x 17) + (100 x 21.1) = 4810 £.
In other words, customer churn cost the company 1,190 EUR, which costs the company about 20% of total revenue over a period of three years.
Many companies spend a considerable budget to attract new customers, but much less emphasis is placed on ensuring that customers continue to make repeat purchases. Some experts even suggest that there should be a greater focus on increasing customer loyalty and reducing churn as a business grows.
In addition, higher churn also has visibly negative effects on a company for the following reasons:
The cost of acquiring new customers is significantly higher than the cost of customer retention.
The sales rate with an existing customer is on average 60% higher than with customers who are unfamiliar with your brands, services or products or are coming into contact with them for the first time.
Existing customers, if satisfied, are an excellent source of brand advertising through the organic spread of "word of mouth". In other words, they become your brand promoters and recommend your brand to others, increasing your overall customer base without having to spend more on customer acquisition.
A high churn rate also means that you will lose these brand promoters and it can even happen that customers in social networks or rating portals report negative experiences with your company.
It is therefore crucial for any company that wants to make additional profits to have a low churn rate and high customer satisfaction.
The importance of predicting customer churn
As a company, acquiring the ability to predict customer churn is a first step towards preventing customer churn. Those who are able to predict customer churn are also able to prevent it by taking appropriate measures. And preventing customer churn is of the utmost importance for every company.
It is a fact that attracting new customers is a costly business and involves a great deal of effort, whereas it is far more cost-effective to ward off customer churn.
Competition is increasing significantly and products are often identical or even interchangeable. The likelihood of customer churn is therefore increasing.
Therefore, every company should have strategies for long-term customer retention.
There are many different factors that lead to customer churn, and it is important for companies to identify, understand and eliminate each of these factors in order to keep customers loyal to the company.
Identifying these churn factors is relatively easy with the right customer experience management tools. Regular customer surveys and touch-point analysis throughout the customer journey are the most important step.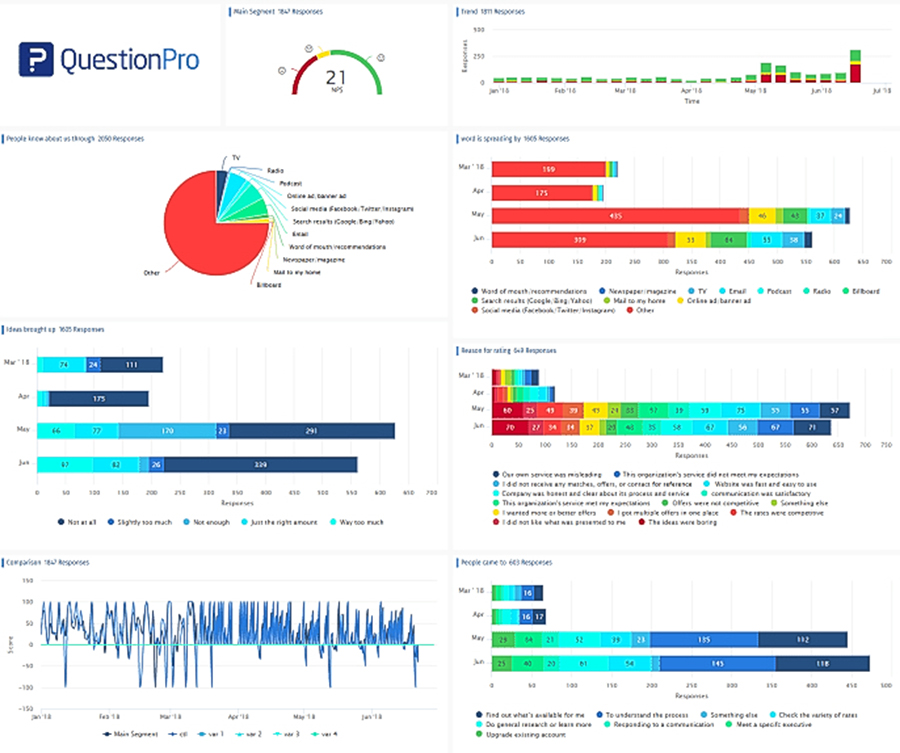 If you want to prevent customer churn, you need a broad data base for forecasting purposes. With QuestionPro's CX Dashboard, you can view data from customer surveys and touchpoint analysis in real time to predict and identify churn trends.
How can customer churn be predicted?
The keyword is here: Predictive Analysis (Churn Prediction). To be able to perform predictive analysis, you need data. And a lot of data. That's why it's essential to regularly survey your customers about their satisfaction, consistently throughout the entire customer journey and at virtually every point of contact. The more data you obtain, the more accurately you can predict customer churn.
Example of a possible prediction of customer churn
When you perform touchpoint analysis, you determine so-called key performance indicators at the contact points, such as the Net Promoter Score, Customer Satisfaction Score or Customer Effort Score. In our → customer survey blog we have clearly explained the principles of measuring KPIs. If these values fall, there is a high probability that customer churn is imminent. However, there are other indicators of a growing probability of customer churn.
Net Promoter Score: probably the most important indicator
The Net Promoter is a widely used measurement method within Customer Experience Management in fact it is almost ubiquitous and has gained a large following around the world – primarily because of its simplicity and, equally important, as a measure for predicting customer loyalty – and therefore profitability. The NPS therefore primarily measures customer loyalty with only one question: "Would you recommend our brands/products/services to close friends and acquaintances? If customer loyalty remains high, you are unlikely to experience significant or moderate customer churn. However, if the score drops, this means that your customers are less loyal to your company and would buy from your competitors. So if the NPS drops, you should find out why. Because there are reasons why loyalty is declining.
Has the product quality decreased?
Is the service not as friendly as it used to be?
Does the competition have better offers or a better pricing policy?
Reduce customer churn rate: How you can prevent customer churn with simple methods. Tips from QuestionPro
There are many ways to prevent customer migration. We have summarised some practical tips for you here. It is important that you always keep an eye on certain key figures, which you can determine by means of customer surveys and touchpoint analyses along the entire customer journey. These key figures will give you information about the likelihood that customers will soon be able to leave.
Always keep a close eye on your Net Promoter Score (NPS): The Net Promoter Score helps you to identify not only your loyal customers (promoters) but also the dissatisfied customers (detractors). You can reduce your churn by tracking your NPS score in the long term.
Challenge a decreasing Net Promoter Score and ask your customers questions about growing dissatisfaction.
Get in touch with your customers in case of bad evaluations within the scope of a survey if this is possible and clarify any differences "in time".
Customer Effort Score (CES): The Customer Effort Score (CES) helps you to understand the effort your customers have to make to achieve a certain goal in their interaction with your company. The lower the Customer Effort Score, the better your customer service. With better customer service, customer churn should be lower.
Ask your customers regularly about their satisfaction: it is extremely important for a company to know whether customers are satisfied with its products or services. With innovative survey technologies you can survey your customers wherever they come into contact with your company (touchpoint analysis).
Keep your loyal customers satisfied: always give your loyal customers good reasons to remain loyal to you. Loyal customers not only buy from you regularly, but also recommend you to others. Offer loyalty or reward points, birthday/anniversary discounts, redeemable reward points, etc.
Offer exceptional customer service: Make it impossible for your customers to go to your competitors. Excellent customer service is the key to customer loyalty. If a company offers exceptional customer service, the chances of customer churn are lower. Be better than your competitors. Don't just sell a product, make sure you add value to it!
If you are present on social media platforms, never leave negative comments or complaints unanswered in the comment columns. React immediately and deal with the matter in detail. Do not use phrases or general text modules and certainly do not refer to the possibility of using a contact form on your website. Your customers want to communicate with you on the spot. Ask your customers whether you can send them a private message within the platform.
Monitor rating portals such as Yelp or Google Business and react on the spot by responding to negative ratings and comments and offering solutions.
---
1:1 Live Online Demo: Predict customer churn with QuestionPro's CX Analysis Dashboard
Make an appointment with us and we'll give you a personalised walkthrough of all our Experience Management & Market Research Solutions
Contact and 14 Days Free Trial
Do you have any questions on this topic? Simply contact us via the contact form. We look forward to the dialogue with you. Test the web-based software for surveys, market research and experience management 14 days for free!