Customer Experience Management
Measure Customer Effort Score (CES): Definition, objectives, sample questionnaire, template, software, live online presentation
Quickly and easily scrutinise the ease of interaction at your company's interfaces with your customers with QuestionPro's CX software and the Customer Effort Score (CES).
Definition: What is the Customer Effort Score (CES)?
The Customer Effort Score (CES) is a method for measuring the degree of interaction friendliness as well as the service orientation of a company at the contact points between products, brands, services and the customers of a company. The Customer Effort Score (CES) is collected by means of customer surveys, mostly in the context of touchpoint surveys, with the objective of promoting customer loyalty and customer satisfaction by reducing customer efforts at the contact points between customers and the company.

How can the Customer Effort Score be measured?
Survey after each customer interaction
The Customer Effort Score can be determined very easily through targeted and concise surveys of your customers. Basically, companies should collect customer feedback after every interaction, at least where possible, in order to look at an always up-to-date scoring value and at the same time to observe trends and tendencies.
Gathering feedback easily
Gathering feedback on the Customer Effort Score can be done by sending a survey via email or SMS due to the small number of questions (usually only one), or during a customer's visit to your website, for example directly after an online order process. In this case, customers are redirected to a landing page directly after completing their order, where they can express their opinion via an online questionnaire. Below are some examples of how to gather customer effort score feedback.
Examples of questions to gather data for Customer Effort Score
Which of the following statements do you find most applicable to the ordering process?
The ordering process was quick and smooth…
▢ completely true
▢ Strongly agree
▢ Somewhat agree
▢ rather not true
▢ Does not apply
▢ does not apply at all
The questions for determining the Customer Effort Score can be very different. The following example shows a question with 10 characteristic values.
▢ 1 ▢ 2 ▢ 3 ▢ 4 ▢ 5 ▢ 6 ▢ 7 ▢ 8 ▢ 9 ▢ 10
---
Gathering feedback to determine the CES is thus done in a standardised way by means of single-choice questions, but can also be done in combination with a free-text assessment. QuestionPro offers a function for this, the "Dynamic Comment Box", which is only shown when customers click on an answer option, in the following example a negative answer option. After the box has been activated by clicking on a negative answer option, customers can write text comments here and describe exactly what they disliked. The free text comments can then be qualitatively evaluated.

---
Another very simple way to determine the CES is, for example, the Like/Dislike response option.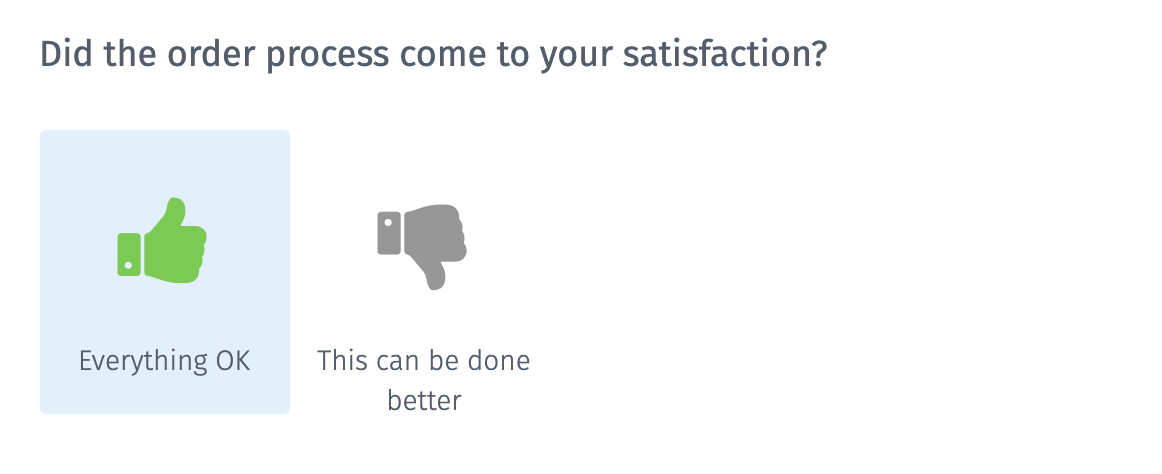 It is just as easy to determine the customer effort score using a smiley rating. In this example, customers have 5 response options.

---
If you want your customers to answer several questions at once to determine the Customer Effort Score, it is advisable to work with so-called "matrix questions". This is clear and easy to answer.

---
As you can see, there are many ways to determine the Customer Effort Score. We have prepared a → sample questionnaire for you for presentation purposes.
Of course, the Customer Effort Score does not only refer to the ordering process. The sample questions above can also be applied to support requests, complaints, customer service performance, information findability, contact availability and many other customer interactions.
Achieve a continuous improvement process through permanent CES surveys
A company that generally has low customer satisfaction can use the Customer Effort Score to evaluate problem areas at the interfaces between customers and the company. Once you have identified which of these touchpoints require the most effort from your customers to achieve a desired outcome (such as resolving a support issue or ordering a product), you can begin to implement improvement measures. However, you should also track these by means of follow-up surveys to make sure that your measures are actually taking effect. In this way, you achieve a continuous improvement process.
Differences between Customer Effort Score and Net Promoter Score
The Customer Effort Score (CES) and the Net Promoter Score (NPS) are important Key Performance Indicators (KPIs) with their own advantages and disadvantages. While the Customer Effort Score is more service-oriented, the Net Promoter Score is more oriented towards customer satisfaction and business development .
The NPS represents the likelihood of a recommendation by customers. "How likely are you to recommend company X to a friend or colleague? The NPS is commonly used to question loyalty towards a brand and the company.
CES measures the factor of ease and speed of handling customer issues, which can be more informative for service departments in particular to improve customer service and support. Although the Customer Effort Score is not an accurate measure of customer satisfaction, you can draw conclusions from the smoothness of interactions between your customers and your company.
The NPS therefore measures more the general feeling a customer has towards your company and thus cannot be used to measure a specific customer service experience. The CES, on the other hand, measures the ease with which customer problems can be solved. It can be extremely effective in understanding obstacles in the customer experience so that you can remove those obstacles and indirectly increase customer loyalty.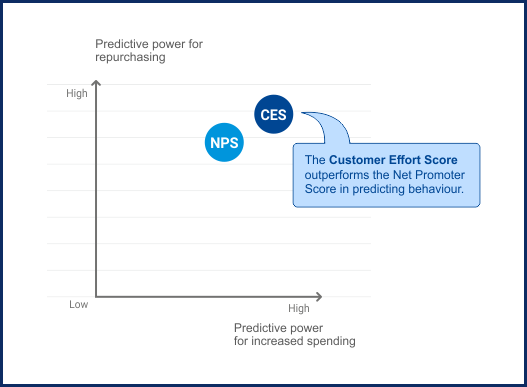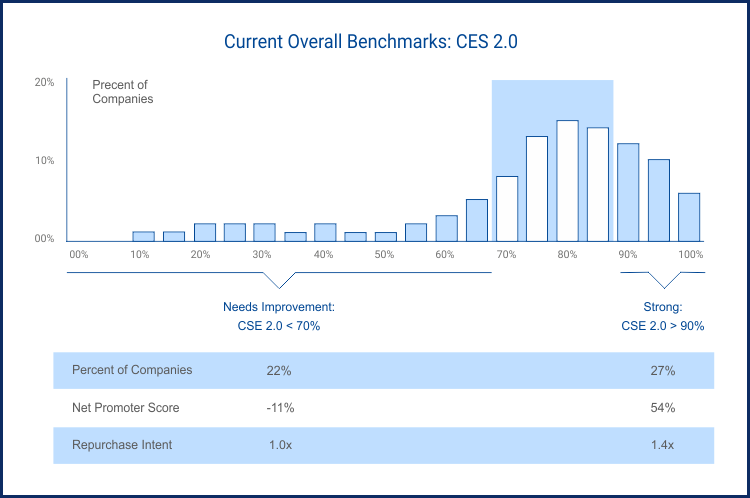 1:1 Live Online Demo: Measure Customer Effort Score (CES) quickly and easily with CX Software from QuestionPro
We present to you in a 1:1 live online presentation how you can quickly and easily measure the Customer Effort Score (CES) and clearly analyse and interpret the data from the Customer Effort Score.
Test the software for measuring Customer Effort Score now 14 days free of charge
Do you have any questions on the topic of Customer Effort Score? Simply contact us via the contact form. We look forward to the dialogue with you. Test QuestionPro's web-based survey software, market research software and experience management platform 14 days for free!