Communities
How to easily create an online community for market research and customer insights
A professional online community software has important tools and instruments for market research
Customers today want to have a say when it comes to product development. And that is a blessing. Increasingly, companies are therefore adopting strategies to involve customers more and more in the development process of their products and services, starting with blogs with comment functions, profiles in the social networks, the introduction of customer advisory boards, the operation of intensive market research and ending with dialogue-oriented portals in the form of forums of an online community. QuestionPro has innovative and professional online community software that enables you to set up and administer a virtual community for your customers quickly and easily. Powerful tools and functions are available to you.
An online community is particularly suitable for real, unfiltered and also actively initiated customer feedback. Because a professional online community platform for gathering customer feedback or for market research purposes can be controlled excellently. For example, you can quickly and easily initiate online surveys and distribute them within the online community. Focus group discussions can now also be conducted quickly and easily with an online community.
Create your own online community platform
Taking the first step in creating and building a customer community is often a major challenge for small and medium-sized enterprises. In contrast to a clearly defined customer event, commissioned market research by an institute or even the maintenance of a customer advisory board, the introduction of an online community platform often lacks a basis of experience for a cost calculation and an idea of how intensively the company's own staff will be involved in the community processes. And how such a customer community is built up in the first place!
With QuestionPro's online community software you can create your own online community platform "out of the box".
Back to the starting point. It takes simple, easy-to-integrate technology with a clear licensing model to create an online community platform cost-effectively and easily. Our web-based online community software offers you the possibility to create a vibrant online community from a rigid customer list, for example from your CRM or ERP system, with just a few mouse clicks. To build your community platform, you basically have to do nothing more than import your customer data into QuestionPro's online community software and, with the help of the integrated mail management, invite your customers to participate in the community via serial mail function.
There are many good reasons for building an online community
You already have the most important thing you need to provide an online community: customers! What you are now missing is basically nothing more than a platform, a technology, with the help of which you can detach your customers from a rigid database framework and convert them into a real, vibrant online community – for a lively dialogue between customers and the company. And this dialogue not only brings you as a company considerable added value in the form of valuable information, ideas and thoughts from your customers. Your customers themselves will also greatly appreciate the online community because they can contribute their experiences, feel part of a brand and community and, above all, have an opportunity to actively participate in the development of features and functions. Not to be neglected is the moment of brand identification on the part of the customers. They will experience it as positive to actively participate in the development process and talk about it accordingly! So there are plenty of reasons for building an online community!
QuestionPro's Online Community Software has a variety of features and functions for recruiting members, increasing engagement, collecting feedback and data, incentivising members and analytics.
---
Outstanding features of QuestionPro's online community platform
QuestionPro's professional online community software (SaaS) as a web-based platform includes not only a community management dashboard, member administration or an integrated tool for online surveys, but also other exciting functions for gathering customer feedback. For example, you can set up a virtual focus group and hold virtual discussions with the members of the online community. You also have access to an idea board where the members of your online community platform can let off steam creatively and make interesting suggestions. Other exciting features are the many evaluation and analysis options, incentivisation, participant recruitment as well as gamification, the leaderboard and social listening.
Online community for market research and customer experience management
QuestionPro Online Community Software is a powerful marketing and market research tool. The virtual communities bring customers together in one place where they can discuss brands and products, provide support to each other, participate in group discussions, get first-hand information about innovations, updates, additions and provide important feedback for product improvements. Community members like to participate in customer surveys, brand understanding surveys and provide important input for product managers and marketers. A well-managed online community platform is a treasure trove of insights into the world of customers. Here are some examples of features that can help increase engagement within your online community.
Easy administration via central community management software (SaaS)
With QuestionPro's online community platform, you can set up your new customer insight or market research community quickly and easily. The intuitively and clearly designed admin interface of the web-based community software allows you to manage and administer the community with little effort. Send surveys, conduct group discussions, define incentives, manage your media library, documents, members and events with just a few mouse clicks within a clear and structured navigation.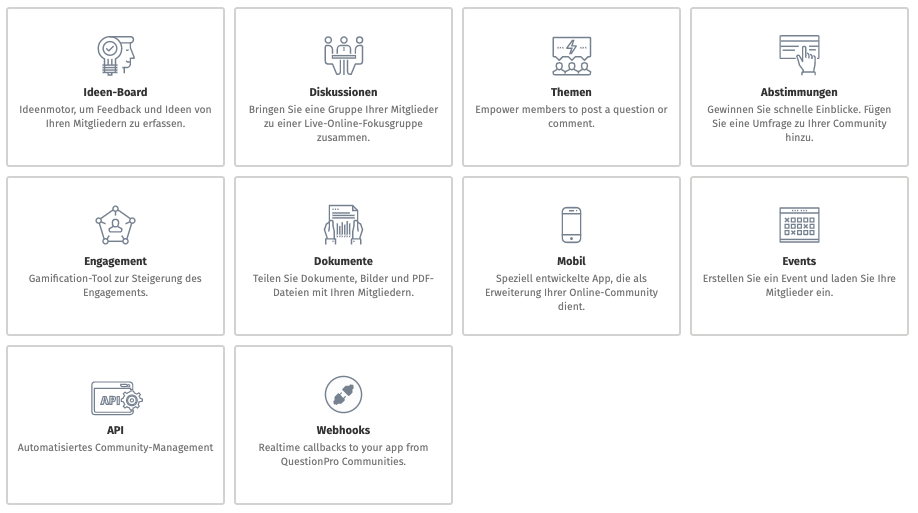 ---
Ideas Board
The Ideas Board offers members of your online community the opportunity to contribute ideas and suggestions, which can then be commented on and evaluated by other community members. A true, bubbling source of inspirations! These inspirations can be liked, disliked, commented on and marked. And of course, as an administrator, you have an "overview" of all ideas and evaluations. So you always have an overview of which ideas meet with high acceptance – and which do not.
Conduct online focus group discussions
Conduct virtual focus group discussions in a time- and cost-saving way. Use the chat and video functions as well as the whiteboard of QuestionPro's online community. Save the money you would otherwise have to spend on renting premises and come together virtually.
Central dashboard
The clear and easy-to-interpret dashboard of QuestionPro's online community platform will be the first thing administrators see when they log into the community. Here, what is "going on" is clearly displayed. Everything at a glance in a real-time overview! And the whole thing also looks very clear on a smartphone!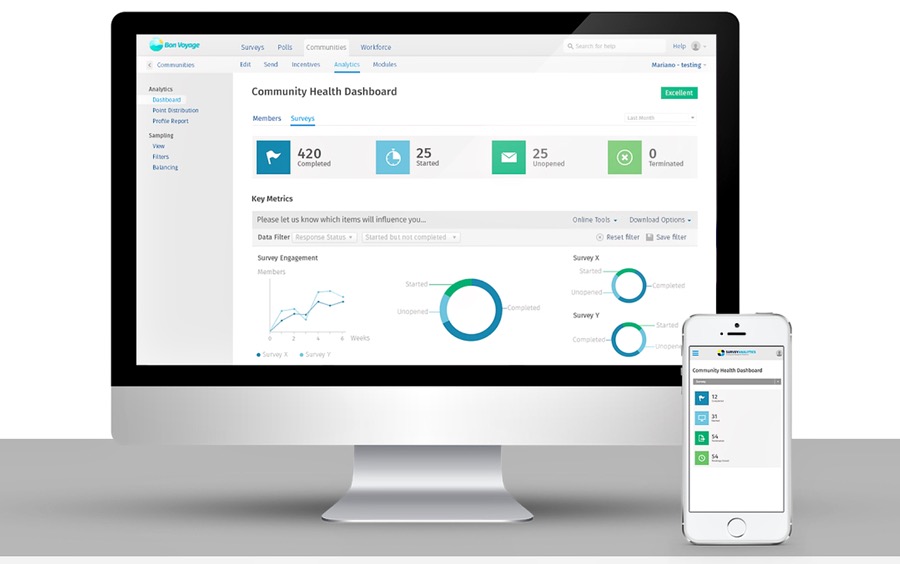 More engagement of the participants of your online community through a sophisticated gamification and incentivisation function
Gamification and incentives are real drivers of an online community. With QuestionPro's online community software, you have a more sophisticated process that rewards members according to your specifications, for example when members fill out their profile completely or participate in surveys. In the profiles of the community members, you can then see how active and committed they are in the form of a leaderboard. Other incentives can include vouchers that community members can redeem in online shops.
Distribute and analyse online surveys
QuestionPro's community platform has a survey and voting module that allows you to quickly and easily create online surveys with the integrated survey software and feed them into the customer community. Community members are notified of incoming surveys. You thus receive immediate feedback, which you can evaluate in real time.
If members of your online community use a certain hashtag when tweeting, QuestionPro Community automatically pulls the tweet and publishes it within the system. So if a community member finds something exciting during Twitter exploration or sends out an interesting tweet himself, it can simply be tagged with a defined hashtag and the online community will listen in.
Clear, multilingual member portal
The members of your online community log in to the community portal with their user name and password. Here they can manage and edit their own profile, participate in surveys and discussions and view activities of other members. QuestionPro's online community software naturally supports multilingual member portals, where any language can be the main language.
Online community software for all industries and sectors
With the QuestionPro Online Community Platform, you can realise a wide range of community portals, such as customer, university, feedback, market research, customer insight or employee communities, thanks to the broad range of features and functions.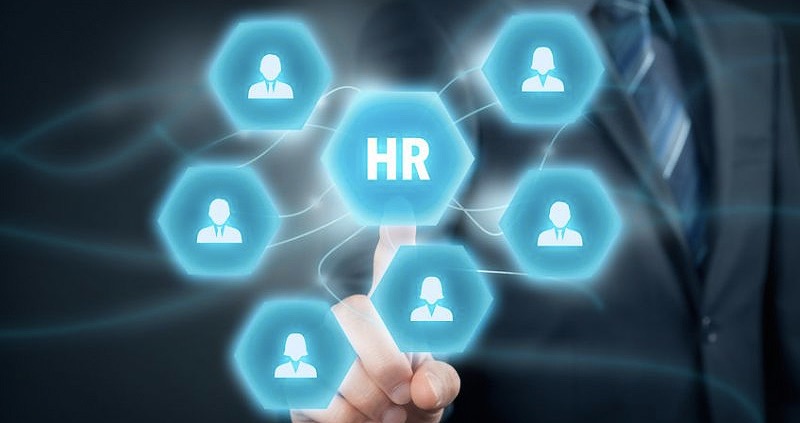 With QuestionPro's online community software, you can design the member portal according to your individual preferences and requirements.
---
The QuestionPro Online Community App: More insights and engagement through quick, easy and clear access via mobile devices
QuestionPro's online community software has an app that gives community members easy and quick access to the virtual community, no matter where they are in the world. The Community App includes valuable features and allows quick access to all functions. This gathers even more qualitative and quantitative insights.
Collaboration-Tab
The collaboration tab provides quick access to key community functions such as the virtual idea board or the possibility to participate in group discussions. The improved user guidance and simplified access creates more engagement among community participants and thus provides community operators with a higher data return and insights into the customers' world of thoughts.
Collection of geolocation data
The QuestionPro Online Community App receives geo-data and is therefore able to send surveys via push notifications to community members depending on their exact locations. When community members enter or leave a geofence defined by the community operators, such as an event or store, they can be automatically invited to participate in an event or customer experience survey.
Sending push notifications and displaying alerts
It is very easy to send push messages to members of your online community or defined groups of members, such as targeted invitations to discussions or surveys. Community members then receive a notification in the status bar of their smartphone or tablet PC and can reach the desired target page with just one tap.
User News & Activity Feed
This feature shows community members at a glance all the news that is happening within the online community, whether it is the release of new product features, deployed online surveys, upcoming group discussions and focus group invitations, shared documents, new entries in the idea board or new threads in forums.
Scores, Leaderboard & Rankings
Keyword gamification: The QuestionPro Community App shows which community members are particularly lively and active, which in turn should encourage other community members to increase their own level of activity. Community members can collect points for their activities, for example for participating in discussions and surveys. These points are added up and displayed in the form of a member ranking.
Refer-a-Friend: Referring new community members
This feature within the redesigned QuestionPro Community App supports users in recruiting new community members, for example via SMS or email, through improved and simplified access to their own contacts. Community managers can decide whether the recruitment of new members earns existing community users points within the framework of gamification, which significantly increases the engagement of the online community!
Intuitive and easy to use user interface
The user interface of the QuestionPro Community App is intuitively designed. Clear graphics and icons, easier access to all community functions and a contemporary, attractive look & feel increase the affinity to participate in surveys & discussions.
1:1 Live Online Demo:
Online community – set-up, configuration and functions
We will be pleased to show you in a personal live online demo how you can quickly and easily create your own online community for market research and customer insights with QuestionPro's online community software platform.
Arrange a personal appointment
Contact and 14 Days Free Trial
As always, we will be happy to answer your questions on the topics of online community software, cost calculations and staff retention when setting up an online community in a personal dialogue! Simply contact us via the contact form. We look forward to the dialogue with you. Test the web-based software for surveys, market research and experience management 14 days for free!